Looping a song on Soundcloud means playing it infinitely on repeat.
Sometimes when you love a track too much, you may want to listen to it again and again. Or you may find that a particular Soundcloud song makes you especially productive. In this case you'll want to keep listening to it until you are done with the task.
Here's how you can loop tracks on Soundcloud using your desktop browser or a mobile device:
How to Loop Songs on Soundcloud
To loop any song on Soundcloud, follow these steps:
Open the track in any browser (No need to sign in to Soundcloud)
Locate the player controls at the very bottom of your browser screen
Click "Repeat" icon that looks like an arrow to activate it (It will turn orange)
This track will keep playing until you click the "Repeat" button again.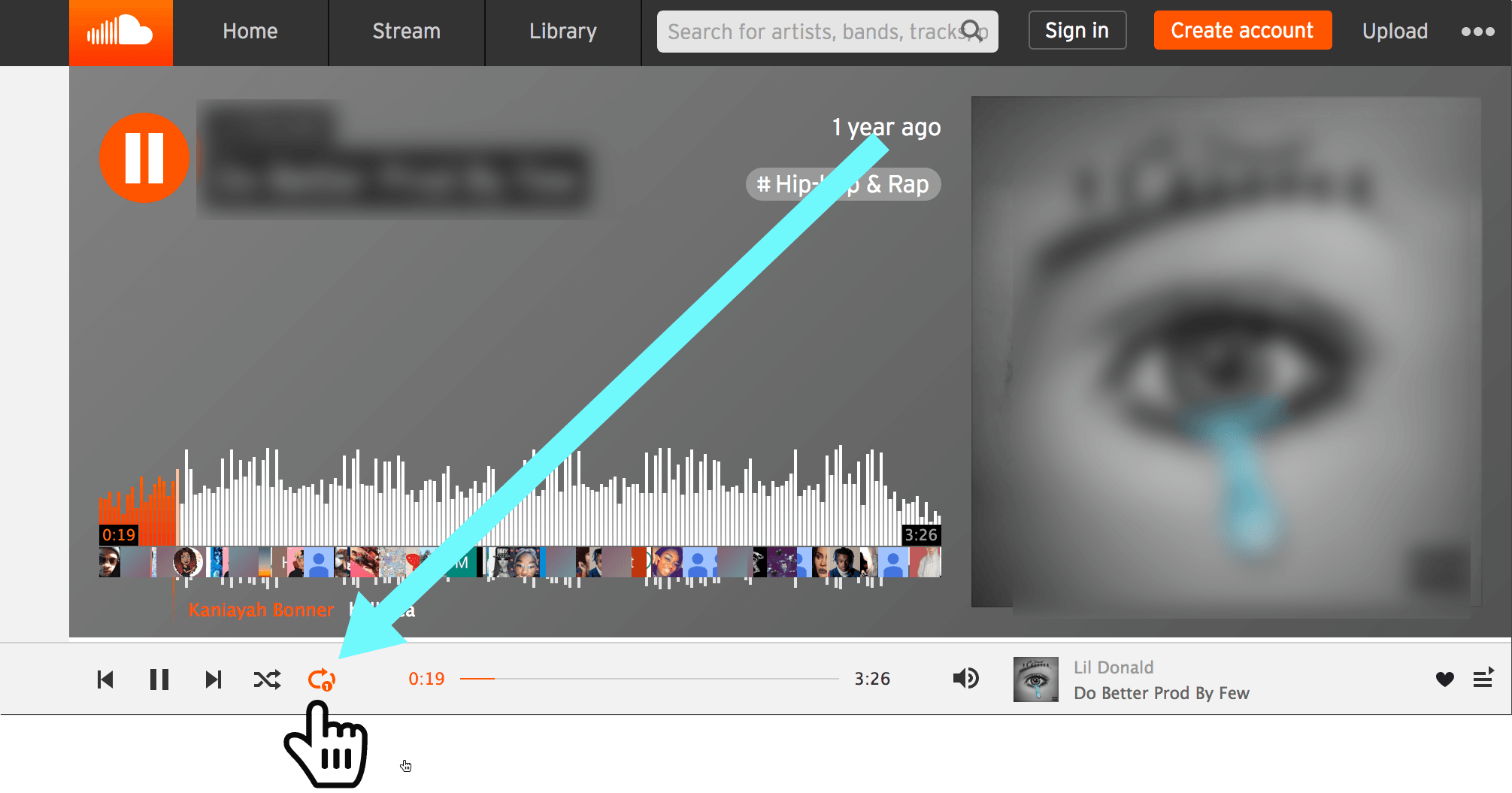 Once you loop the track on Soundcloud, you can continue browsing the site and the song will keep playing until you de-activate the looping icon.
Soundcloud Loop: Mobile App
To loop a Soundcloud song on a mobile app, follow these steps:
Login to your Soundcloud account using the mobile app
Tap player controls at the bottom of your phone screen
Tap the arrow icon to activate the loop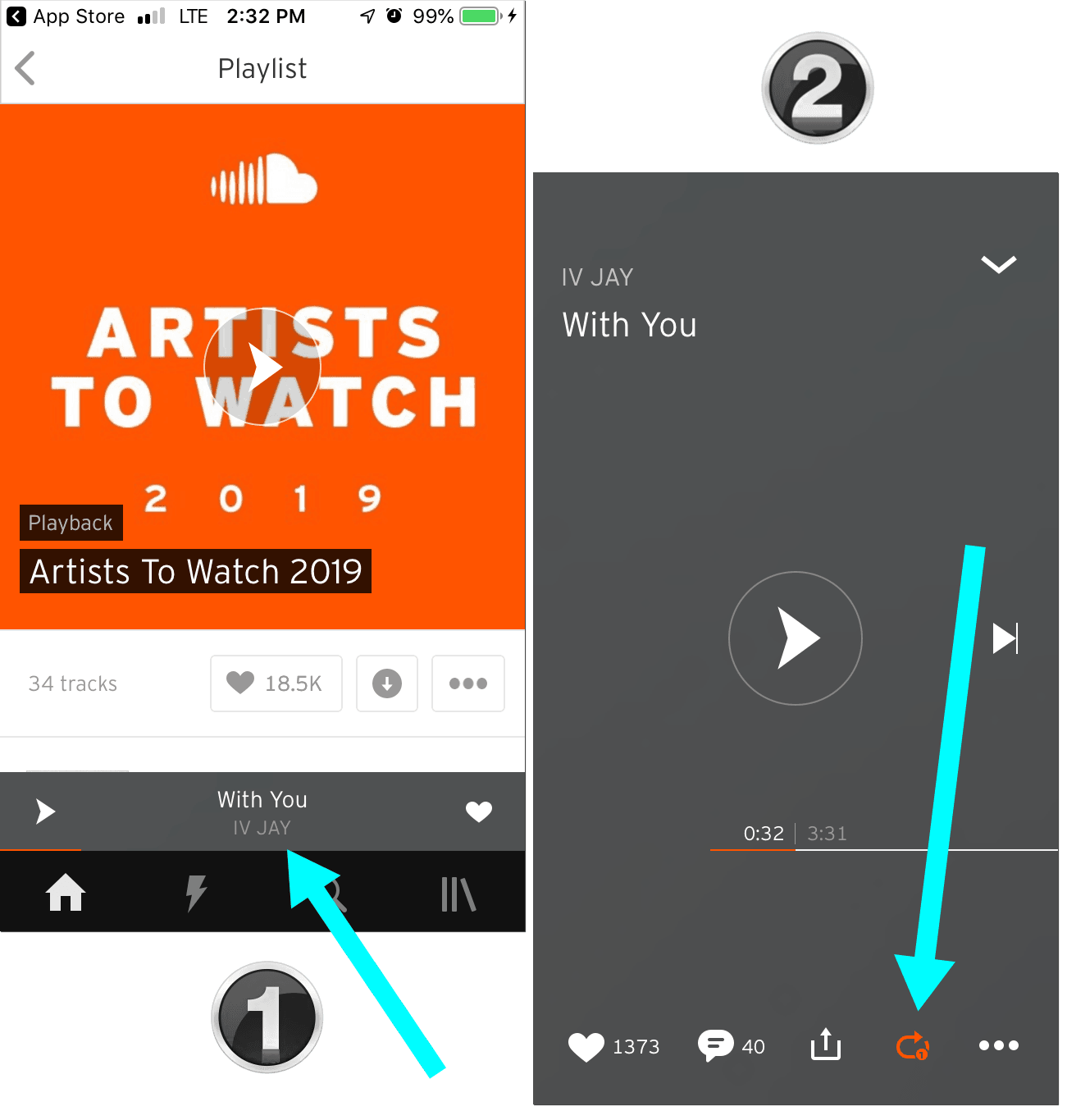 The looping feature works exactly the same on iPhone and Android.
Note: There's no looping option on the Soundcloud.com mobile site, so you'll have to install the official mobile app. Soundcloud iPhone / Android app is free unless you want to keep listening to your favorite music in an offline mode. In this case you can pay the premium app version which is about $6.
When to Use Soundcloud Loop?
There may be lots of reasons why you may want to listen to the same song again and again. Here's why I'd use the song looper:
Some tracks make me extremely productive or creative. Once I find myself feeling pumped, I activate the "repeat" button to keep the song playing in the background to stay productive.
When I exercise, I use certain tracks for specific workouts. These songs seems to match my tempo best. So I'll keep the tracks playing until I am done with the workout
If I happen to discover a new track which I really like, I'll replay it to thoroughly enjoy the sound effects
I have certain tracks that make me feel relaxed. When I am stressed, I'll loop one of those songs to free my mind of unwanted thoughts.
And what are your reasons to loop songs or videos?
About Soundcloud
Soundcloud has a huge repository of free music. Both independent artists and celebrities use Soundcloud to get their music found online. You can explore audio content by genre (Piano, Pop, Techno, Audiobooks, etc.) and style (Sleep, Workout, Relax, etc.).
Soundcloud is a great way to discover Royalty free audio files to listen to, find interesting podcasts and even free audio effects. If you are a content creator, you can use Soundcloud to monetize your music. Whether you are a beginner musician or a video creator looking for Royalty free music, you'll find SoundCloud useful.
As a listener, you can put together Soundcloud playlists to quickly access your favorite songs or share your collections with friends. Furthermore, you can follow your favorite artists to be alerted of their latest work.
Soundcloud is a great music content discovery platform: You can check their featured playlists and albums to find new music styles that are currently trending.
Takeaways: How to Loop Soundcloud Songs
On desktop, look for player controls at the very bottom of the screen and click the "Repeat" button to activate it
On a mobile app, tap player controls at the bottom to open them and tap the "Repeat" button