If you are planning to change your username on Instagram, think twice. Your friends and followers will have trouble tagging you once you change your username.
If you are sure about this, here's what you need to do:
How to Change Username on Instagram App
Time needed: 5 minutes.
Changing your Instagram username / handle is easy
Click your profile picture

(bottom right corner of your app screen)

Click "Edit Profile"

"Edit profile" option is located right below your follower counts"

Type your new username in the "Username" field

If it's available, it will become your new username once you click "Done"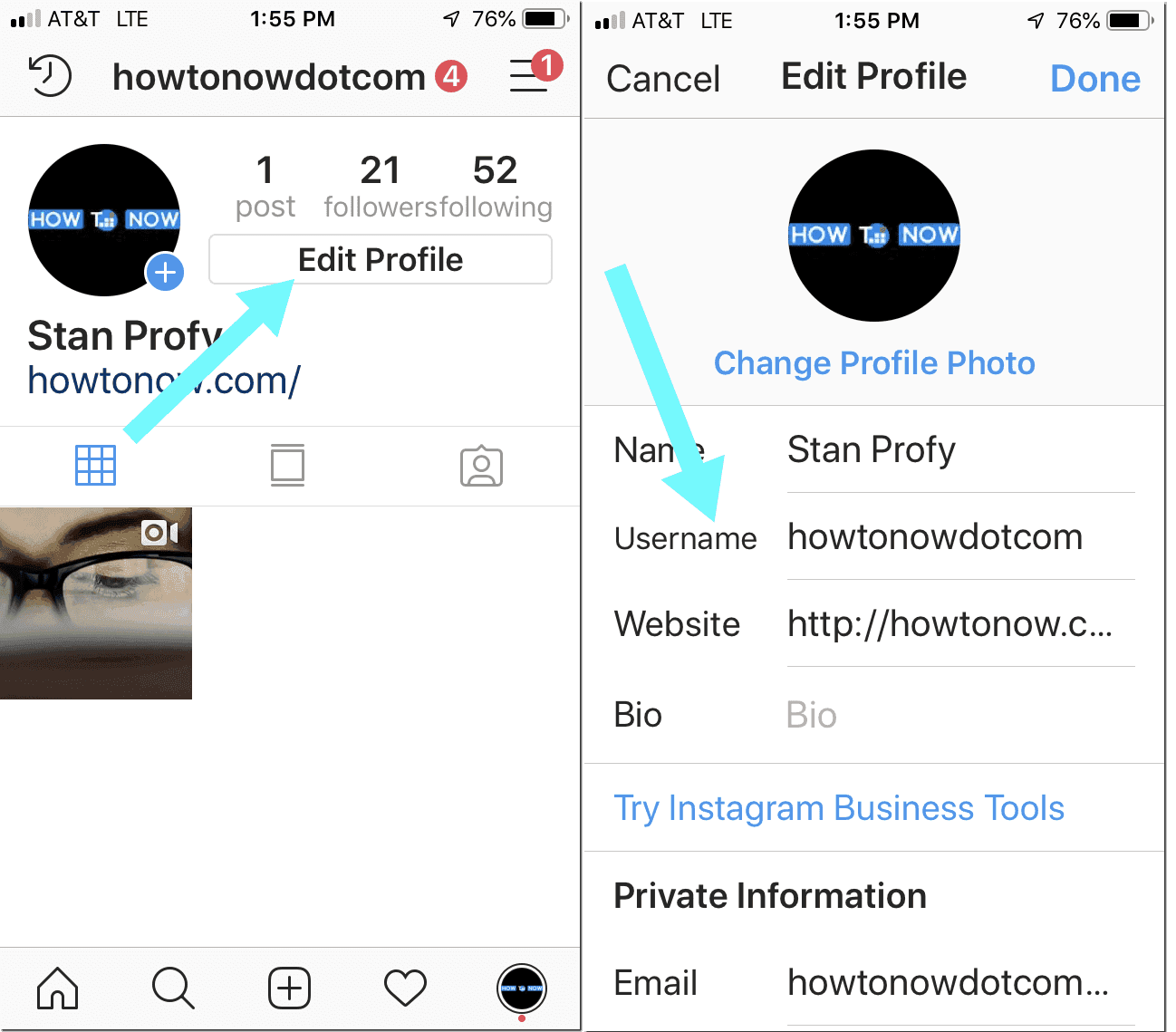 How to Change Username on Instagram (Desktop)
Login to Instagram using the web browser of your choice
Go to your profile instagram.com/yourusername
Click "Edit profile" next to your username
Type your new username in the "Username" field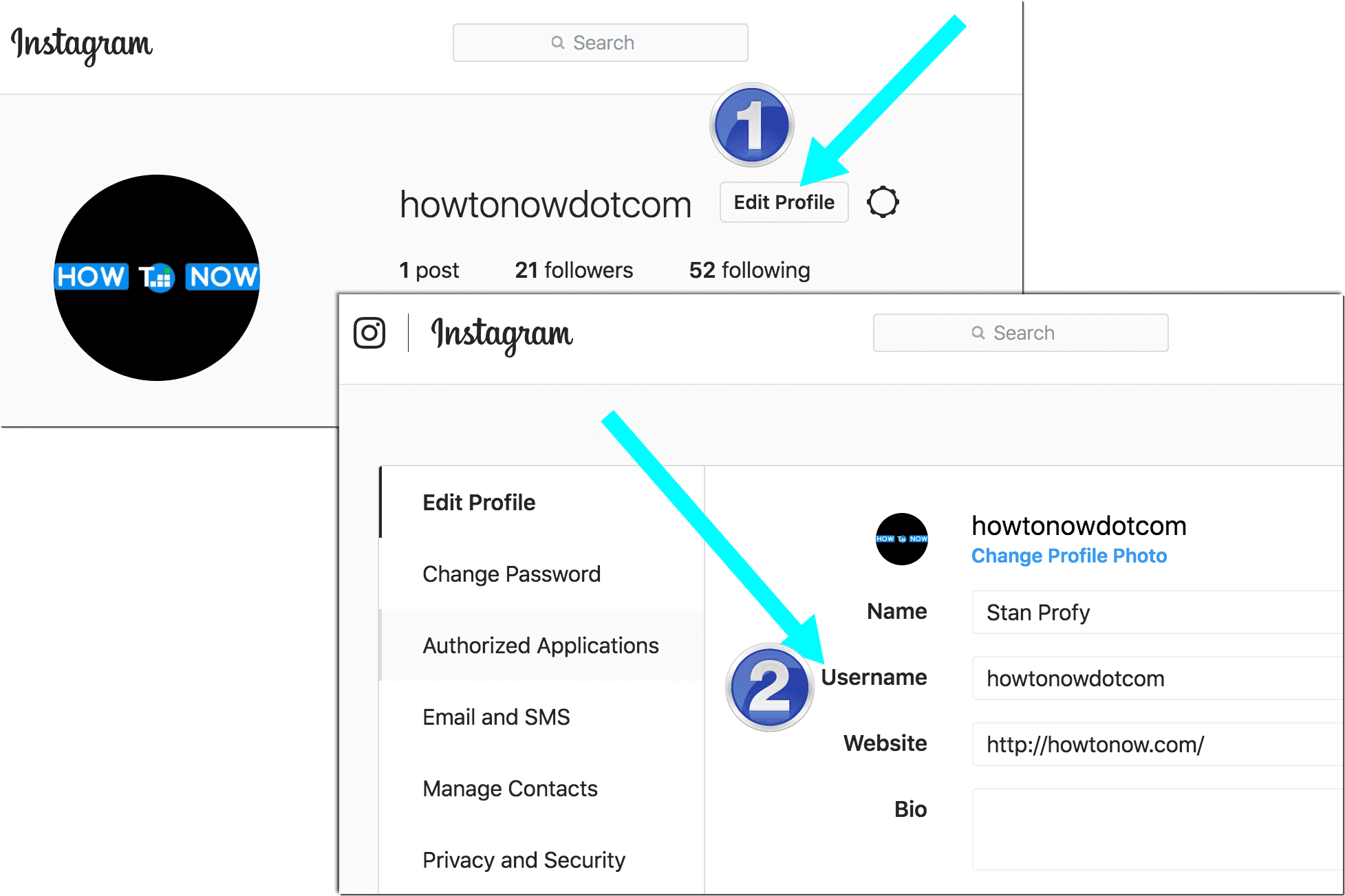 How to Change Your Instagram Name?
To edit your Instagram name, click "Edit Profile" on your Instagram profile page.
You can change both your Instagram Username (handle) and Instagram Name. The difference is as follows:
| | |
| --- | --- |
| Instagram Username (Also Instagram handle) | Instagram Name |
| Shows up in the Instagram profile URL Instagram/username | Shows up on your Instagram profile above your bio |
| Used when friends want to tag your on Instagram | Doesn't do much except for being used on your profile page |
| Usernames are unique | Names are not unique: You can find multiple Instagram accounts with the same name. |
The bottom line is: Changing your name is much safer than changing the username. Because by changing the username you are changing your profile URL and get your friends confused when they want to tag you in their updates.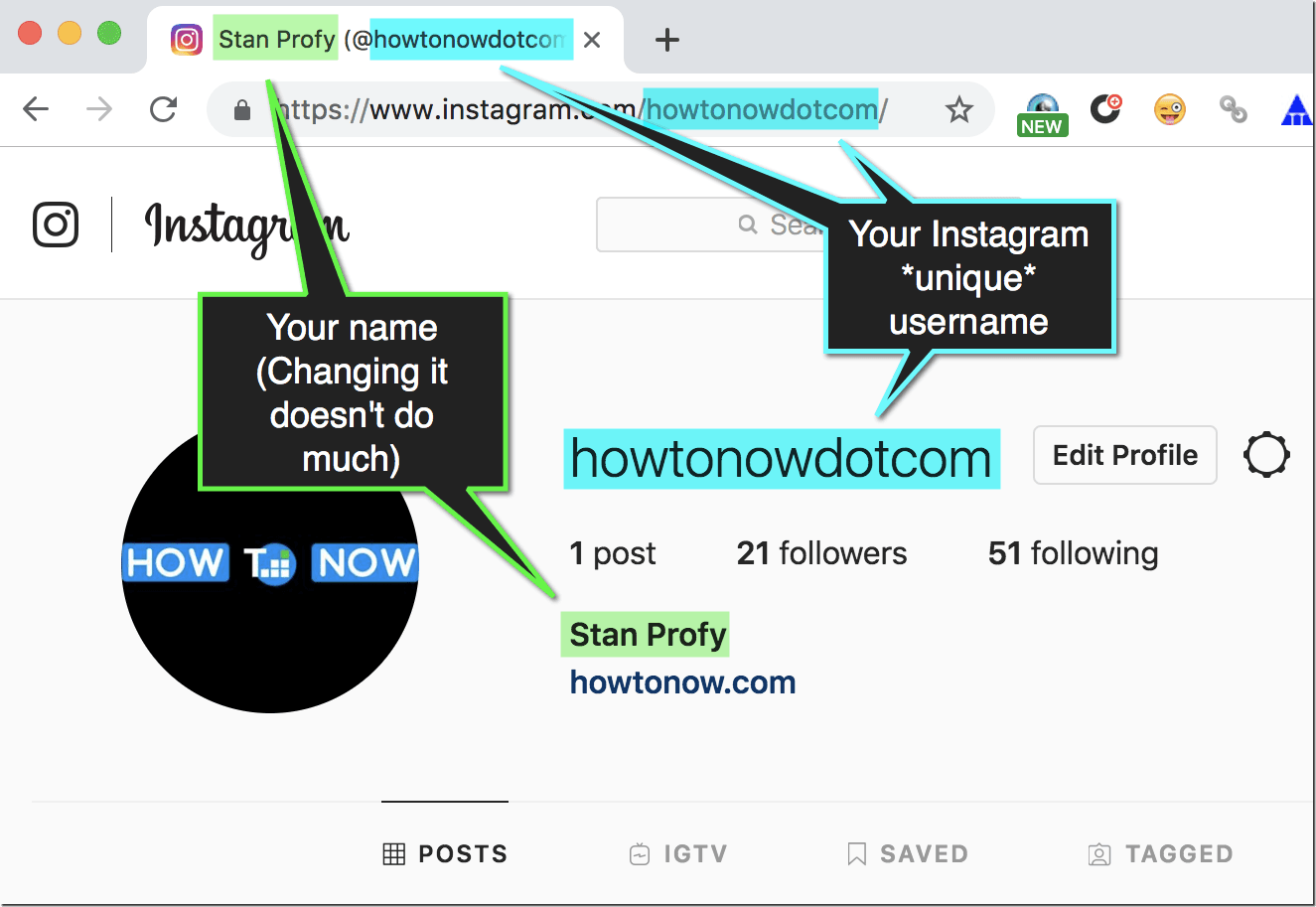 If you change the Instagram name, you can always change it back. If you change Instagram username, you may not be able to change it back if someone registers an account with it.
Once you change your Instagram username, your former username becomes available for someone else to register.
Your Instagram username is your unique identifier. Changing it changes your Instagram profile URL. Be careful with changing it.
How to Change My Instagram Name Without Losing Followers?
You will not lose your followers once you chance your Instagram username or name.
All your connections and DMs will remain intact.
They may be a bit confused not being able to tag your old username but otherwise there will be no change.
Also, if you have a website and you link to your Instagram profile from there, don't forget that you'll need to change the links there too.
How Can I Keep My OLD Instagram Username After Changing It?
It may be a good idea to try and keep your old Instagram username and I can imagine why you may want to do that (e.g. when rebranding you want to keep both). Or you may want to keep the old account to be able to announce the new username from the bio.
There's a slight risk though:
Your old username becomes available for others to register once you confirm to change it
If your old username was a common word, there's always a chance someone will grab it right away, so act fast.
Once you click DONE to confirm your new Instagram username, register your old username from a different device promptly.
You may need a new email address for that. If you are on Gmail, you can use the same email address. Simply user the dot (.) somewhere in the email address… For example, your.name@gmail.com
Instagram will see it as a new email address, while Gmail will deliver all the emails to the same inbox. You can have as many dots as you want – e.g. y.o.u.r.n.a.m.e@gmail.com – and Gmail will still treat it as your.name@gmail.com.
This is a nice trick to know if you want to register several accounts at the same platform – like Instagram – but don't want to use multiple email addresses for that.
Why can't I change my Instagram user name?
Anyone can change their Instagram username. If for some reason, the new username doesn't save, that means your new username is not available.
If you have trouble saving your new Instagram username, that means someone already has an Instagram account with that username.
Can I Change My Instagram Name Back?
If you change your Instagram name, you can change it back any time
If you change your Instagram username, you can change it back as long as no one else registers an account with me. You may want to keep your old username if you think you may need it back.
How to Change Your Username on Instagram NOW
Make sure you understand all the consequences (i.e. changing Instagram username will change your profile URL and prevent your friends from tagging your old username)
If you are really sure you want to do that, make sure you are logged in to the account you want to change
Go to your Profile and click "Edit Profile" to type your new username. This works pretty much the same whether you are using the app or trying to do that on any desktop browser.
If it doesn't save, your new username is already registered by someone else
In case you want to keep the old username, follow these steps: once you change your Instagram username, register a new Instagram account with your former username right away.
Do you have any other questions, ask them in the comments!