Thinking about creating an eBook to build up some passive income or simply package your earlier works together?
Writing an eBook is both fun and free, and it's simply amazing that authors and writers can bypass publishing hurdles and see their book published, free of charge, in a digital cross-device format.
Why Use Google Docs to Create an eBook Online for Free
There are a lot of reasons why you may want to consider Google Docs as your eBook editing software for several reasons:
It's free! No strings attached, no license to buy.
It's easy. Google Docs work pretty much as Microsoft Word, only it's easier, with less overwhelming features
Google Drive is perfect for collaboration. Add your editor (or your relative or your friend, whoever it is helping you to read through and find some errors) and track their edits and comments in real time. Google Docs also saves all revisions for you to see what has been edited and revert to any version easily
It's an (eBook) online editor: Nothing to install, access it from anywhere. Creating ebooks requires no extra desktop tools or addons to learn.
It syncs between devices: All you need is to remember your Google login details
It's real time. You can share your URL with your community for them to watch you writing your eBook in real time.
You can download your eBook as Word (in case you have your eBook styles saved there and want to format your text using Word), PDF (if you want to let people download it) and EPUB (default eBook format). With one click file-to-file converting, you can create fully formatted downloadable files and store the online version for further editing.
Get your whole workflow organized easily by using free tools
Google Docs actually make an almost perfect book creator, especially for first-time authors.
Now with that settled, why would you want to create an eBook anyway?
Digital publishing provides endless possibilities, here are just a few ideas:
Turn your several blog posts into one eBook to give your blog readers something long-form to read and show your expertise
Turn your kid's essay into an eBook: He/she will be so excited and will likely feel inspired to write more
Write an eBook to share your personal experience with anything: Stress, career building, gardening, home buying… there's always a story to share, so do that. You never know what door this opportunity will open!
Put those bedside stories in writing (Isn't this how Rowling got noticed?)
Writing a digital book is also not at all complicated:
What are the steps to writing an eBook online using Google Docs?
Step 1. Type in your text (i.e. manuscript). Don't think about formatting just yet. Just jot your thoughts down in a new Google Doc (or copy-paste if you have it written already). In fact, maybe even hide the editing menus for now: Focus on your content. How to write well is not the topic of this tutorial, but obviously it needs to be written well.
Step 2. Structure your document using subheadings. This is very important. No one wants to read a wall of text. Come up with intriguing, attention-grabbing heading. Break your content into sections and subsections and assign subheadings of logical order, for example:

Chapter names are H1 headings
Subsections inside those chapters are H2 headings
Subsections of those subsections are H3 headings and so on

Step 3. Whenever you are using your own styles (instead of default fonts), don't forget to select the option "Update (style) to match selection" for Google Docs to use the same styles for other subheads. This will create a consistent look:
Step 4. Re-read your eBook carefully to edit and create more paragraphs and subheads.
Step 5. Set up the header and the footer inside Insert -> Header and Page Numbers.
Some ideas include:

Add author name ("Book by")
Add your website URL: Feel free to hyperlink. Google Docs will keep all the links clickable when you download the book.
Add book name
Add your website logo / your headshot (to build recognizability)
Add your copyright notice
Add page numbers
Add a link to subscribe to your list
Request reviews (if you already have an author profile on Amazon, Nook, or others)

Step 6. Add your images: Here's a detailed article on how to find images online that are not copyrighted
Step 7. Generate the table of contents by going Insert -> Table of Contents (These will be clickable if you download the book in PDF, so your readers will find it easier to navigate your book)
Step 8. Set up your first page for it to include the book title and the author name clearly
Step 9. Download the eBook in PDF (to let your readers download it from your site) or EPUB (the format that is supported by most ebook reading and storing apps including iBooks, Kobo and Nook as well as by most ereaders). If you are planning to sell your eBook on Amazon, you can convert EPUB format into Kindle using a variety of converters. To download your eBook in Word, PDF or EPUB from Google Docs, proceed File->Download as and choose your format.
You can create a PDF file with one click of a mouse using Google Docs. PDF eBook can be distributed through your website, as a printable version of the books.
You are pretty much done! These are the step-by-step basics of putting and downloading your eBooks using Google Docs.
What's next?
Can you make money writing eBooks?
Yes, it will take some (a lot) more work and time commitment but you can make money online writing eBooks. To make it brief, here are a few of your options:
How to sell your ebook online?
Royalties (i.e. how much you earn from each sale)
Advantages

Kindle Direct Publishing (KDP)

70%
Biggest market

Nook Press (by Barnes and Noble)

65%
(for an ebook that costs $2.99 or more)
Easier and surprisingly more user-friendly
Apple Books/ iBooks
70%

Big market

80% (If it's sold on Smashwords)
60% (If it's sold through a retailer)

Smashwords

distribute ebooks to retailers expanding your reach
95%
Helps you set up an effective landing page for your eBook
You set up how much you want to earn yourself and Blurb adjusts the total price
Small market but it offers its own eBook editor for free
Note: Google Books used to be another worthy alternative but it's currently closed for new authors.
There's nothing preventing you from selling ebooks on all of those before you select the one that works best.
Of course you can (and should!) also promote your eBook on your own website (especially if you already have it) and sell your your book from it directly using PayPal to collect payments or integrated shopping carts by PayKickStart.
How much can you make writing a book?
70% of $3 = $2.1
This is a sample of one $3 ebook sale on Amazon.
So to earn $200 a month, you need to sell 100 books for $3
Sounds doable?
Now, if you followed the steps above, you made 0 investment to make that happen:
$0 + $200 -$0 = $200
That IS profitable: There's no investment and no shipping/printing costs.
To make money, you need to get more serious with your self publishing strategy. It requires some work and dedication, and of course patience. You cannot expect to start earning hundreds of dollars by just writing an eBook, even if it's great valuable content, and putting it for sale on Amazon.
You'll need to market it, build your authority as an author, utilize social media, and your own website to build up your sales and reviews.
Before you start selling your ebook, search Amazon to find your perfect pricing and selling models.
Provided there's no actual investment, what is it you are losing?
How to Create an eBook Online for Free NOW: eBook Templates and Takeaways
Google Docs offer a variety of cool-looking templates for you to get the head start with your ebook creation process. You can tweak and edit any of them but it is easier than starting from scratch.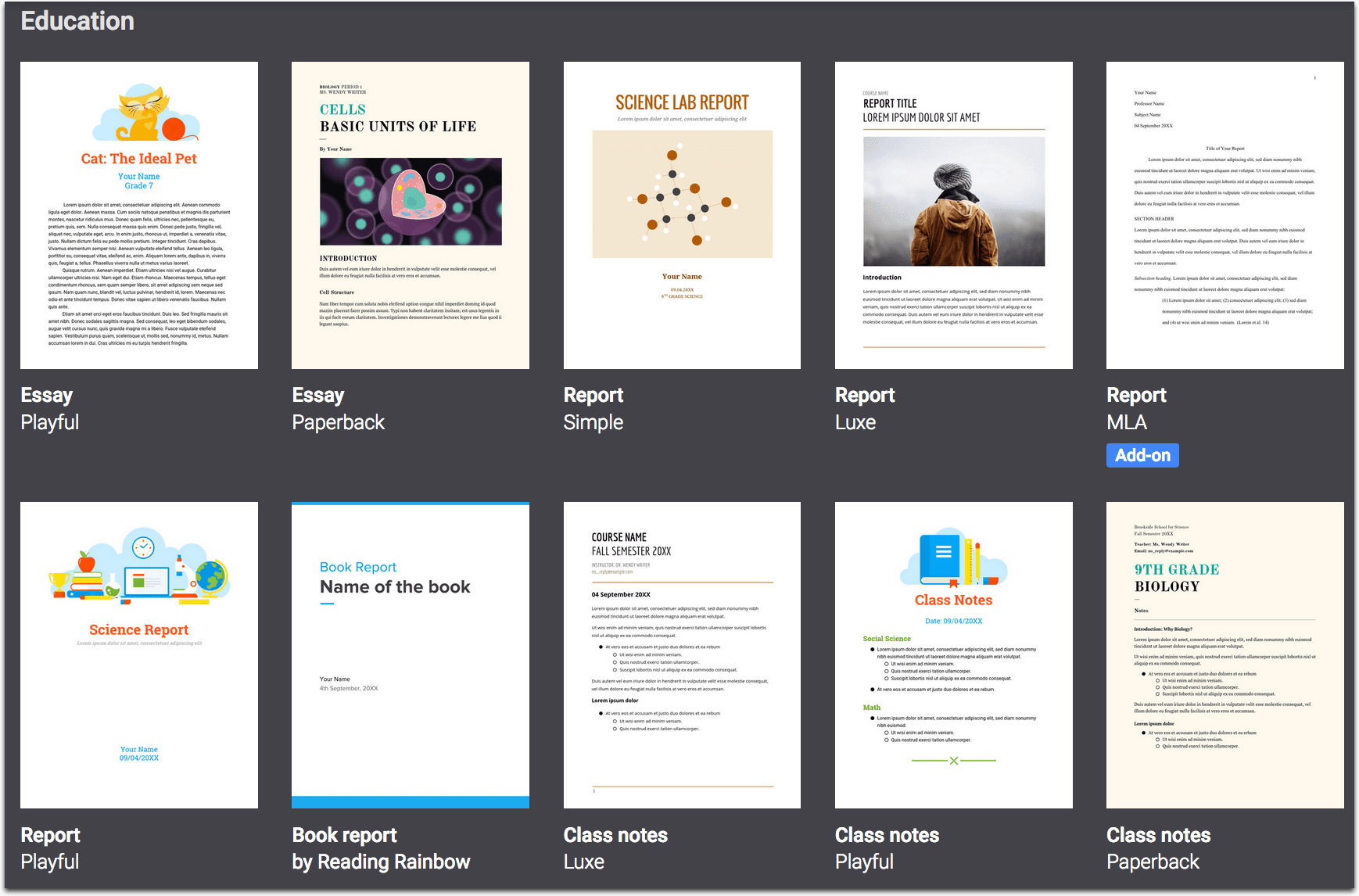 So go ahead and:
Pick your eBook template
Create your content
Structure it using paragraphs and subheads
Add images
Create your headers and footers
Generate the table of contents
Re-read and edit
Download your eBook in a doc, pdf or EPUB format
So what's your next eBook going to be about? Share in the comments!