These days we have access to so much information that it may be hard to concentrate on one source. Therefore many people find it hard to focus on reading.
Social media networks have taught us to scan through the headlines and move on. This has become a daily habit.
How to focus on reading? Here are five free checklists to help:
1. Create a Reading Log for More Focused Reading
Reading logs help you concentrate on reading by prompting you to find answers to questions, take notes on character development and more.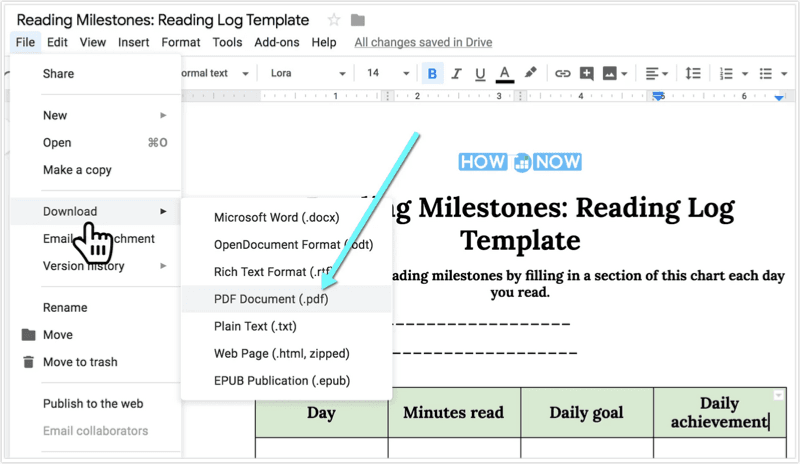 There can be a wide variety of possible reading log templates, so pick the one that works best for you. We have previously offered several types which are all editable:
2. SQ5R Reading Checklist
SQ5R is a reading strategy that helps you concentrate on reading by introducing you to the contents of the book first and piquing your curiosity.
The SQ5R reading concentration strategy consists of 7 steps: Survey, Question, Read, Respond, Record, Recite, Review.
Survey: Review the book to get an idea what it is about. Scan through the table of contents, introduction, author bio, and the end-of-book summary. This step aims at making you curious.
Question: Based on your survey, create a list of questions to answer while reading. This step aims at setting a goal for your reading.
Read: Start reading but for no more than 20 minutes. The idea is 20-minute reading makes it easy to concentrate.
Respond: After your 20-minute reading block, take a minute to think about the questions you set on step 2
Record: Take some notes of whatever you want from the reading session. This could be interesting ideas, new words or key concepts
Recite: Look away from your book and try to repeat what it was about
Review: Look through your notes and set your goal for the next day. This step can be done after the whole reading session. It can be one 20-minute block or several, depending on how much time you have. So feel free to repeat steps 2 through 6 prior to making your review.
Each reading block should take no more than 30 minutes (including 20 minutes of reading). Once you feel like your reading concentration is improving, feel free to extend your reading block to 30, 40 and 60 minutes.
Here's a handy checklist for you to start with this reading technique: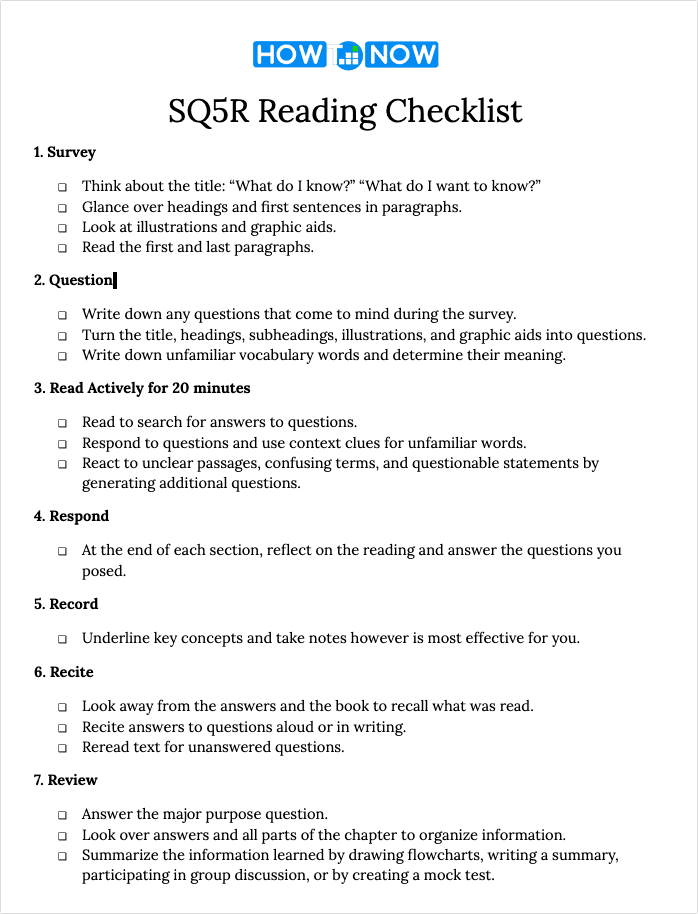 Quick tip: You can use Google as your time: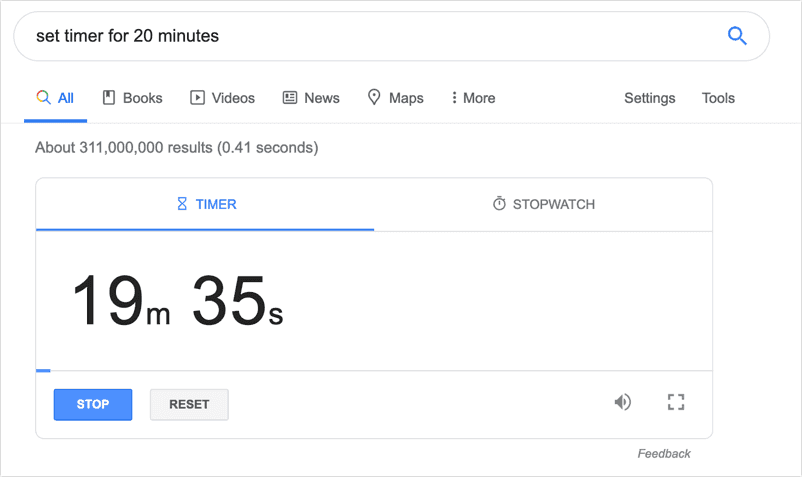 3. 7-Day Reading Planner for Detail-Orientated Reading
If you are looking for more detail-oriented reading experience, here's a seven-day planner for you:
Download the checklist here. Alternatively, you can make yourself a copy and edit it first to adjust it to your reading goals.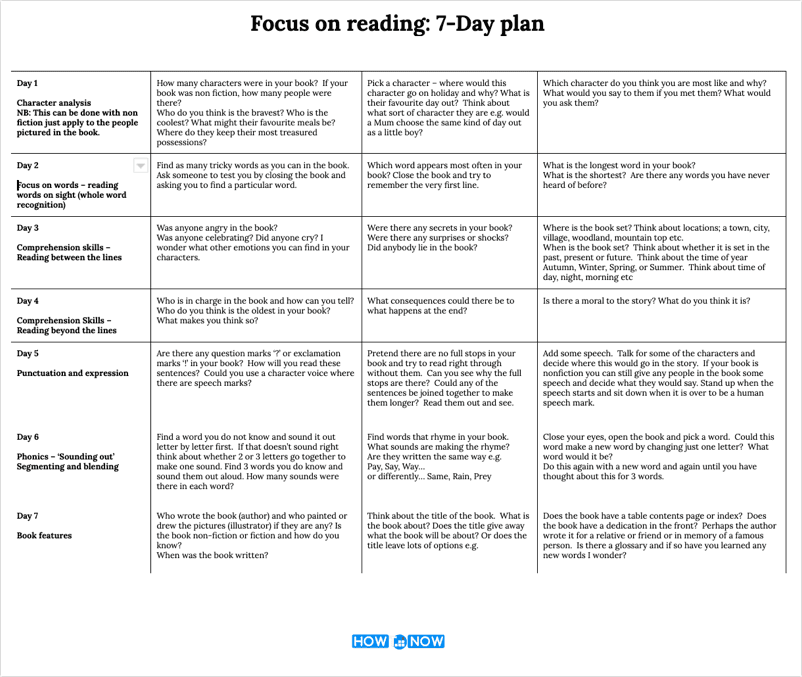 The checklist moves the focus to different aspects of reading every day and offers questions to guide you through.
4. Reading Comprehension Mindmap
This checklist helps you better understand and remember the book contents by creating a mind map.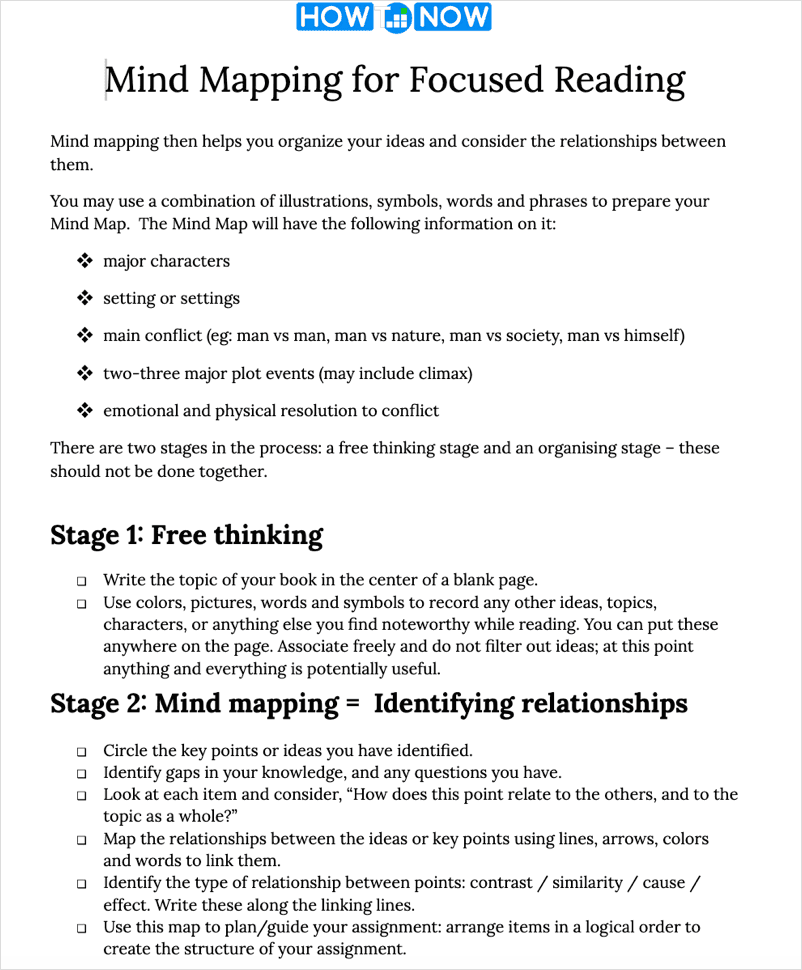 You can download the checklist here
5. Use Daily Planners to Plan Your Reading
We have compiled a few free printable daily planners to download instantly. You can turn any of them into reading concentration checklist:
Set the time when you are actually planning to read
Put down your reading goals for each day
Leave space for after-reading notes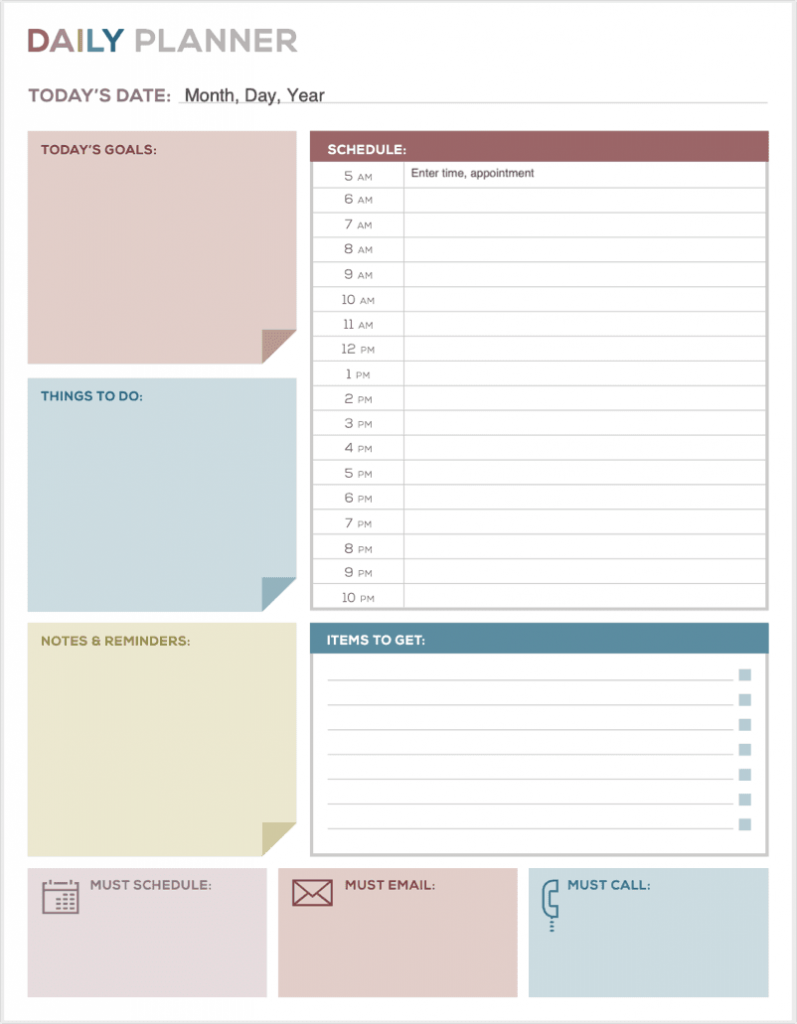 This reading motivation idea works both for non-fiction and fiction books.
How to Get Focused on Reading: More Tips
Find a favorite place to read and always read there.
Make your reading corner so nice and cozy so you want to return to it
Think about the book you are reading when doing chores or running errands. Teach yourself to anticipate that daily reading break
If you know other people who want to start reading, start a reading club
A:
Checklists
help improve focus by forcing you through going well-defined steps. They can also be quite motivating giving the feeling of accomplishment each time you are using them.
A: There may be various reasons behind that including
racing thoughts
, stress, information overload and more. Any persona can have trouble concentrating on reading from time to time.
SQ5R reading
strategy is said to be the most effective way to
get back into reading
.
A: There is no single way to concentrate on reading but there are various strategies that can help, based on your personal circumstances and temperament. If you are a visual learner, for example, creating a
mindmap
may help. If you like to-do lists, include reading into your
daily planner
. For detail-oriented people, here is a
7-day reading planner
.
Do you have any more tips and checklists for more focused reading? Please share them in the comments!