A footnote (also referred to as an endnote) is a piece of information that you put at the bottom of a page. Within the main body text, the footnotes are labeled with superscript numbers.
Adding footnotes is a handy way to give reference or add a comment on whatever you are writing about without breaking the flow of your text.
How add footnotes in Google Docs? How to add and edit footnotes using Google Docs mobile app? Here's everything you should know about Google Docs footnote formatting as well a quick way to navigate to the part that solves your particular problem:
What Do You Put in a Footnote?
Here are a few ideas of what yon put in your footnotes:
Reference to a source of a quote, event or stats you mentioned in your paper or article
Cross-reference to related papers and documents
Translation of the foreign word you included
In the research paper, footnotes can include formal citation of the work you mentioned (the author's last name, the year or date of publication, and optionally the page number)
For digital documents (like eBooks), include clickable links to a helpful resource, tool or tutorial that helps further with a mentioned task or problem. A foot note is a perfect place for online sources as they are not distracting
Term definitions or even synonyms (in case you want to enrich your students' vocabulary)
Sometimes endnotes are used by authors for sarcastic and witty remarks and comments.
How to Add Footnotes in Google Docs
To create a footnote inside your Google Doc:
Highlight the word the footnote will refer to
Navigate Insert -> Footnote
Type your footnote in the field where you see your cursor: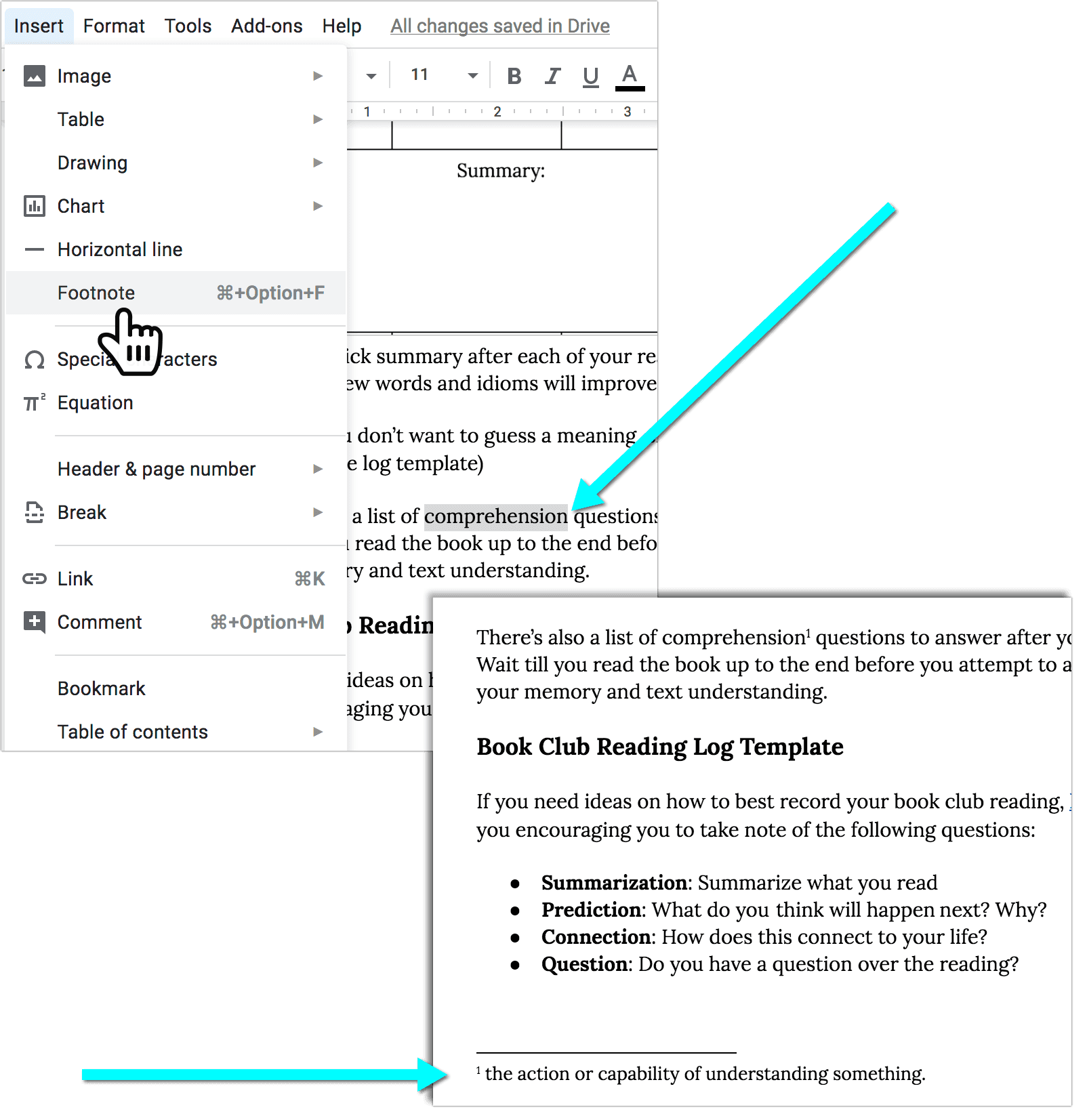 You can style footnotes using all regular formatting options, including bold or italics font, link insertion, highlighting, text size and alignment, etc.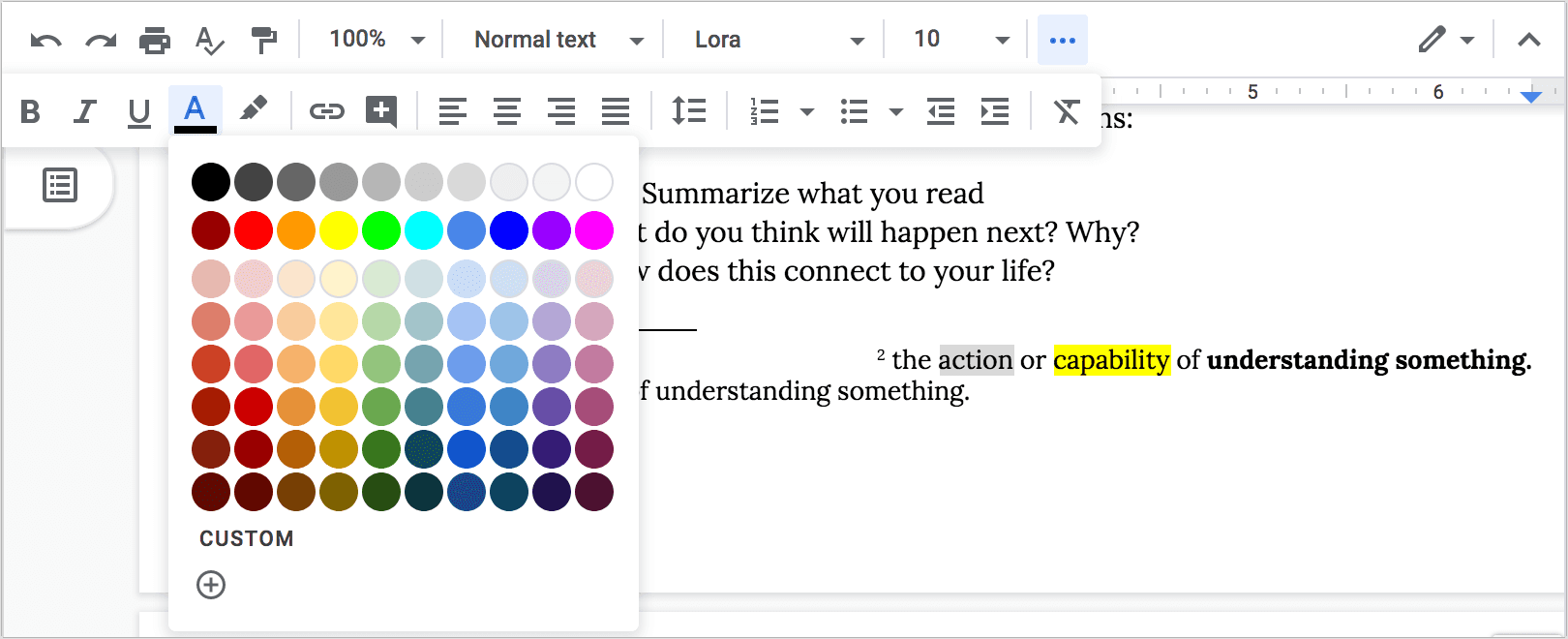 A nice thing is that if you download this Google Doc as a Microsoft Word document, you'll see the endnote content as a tool tip once you hover over the footnote number in text: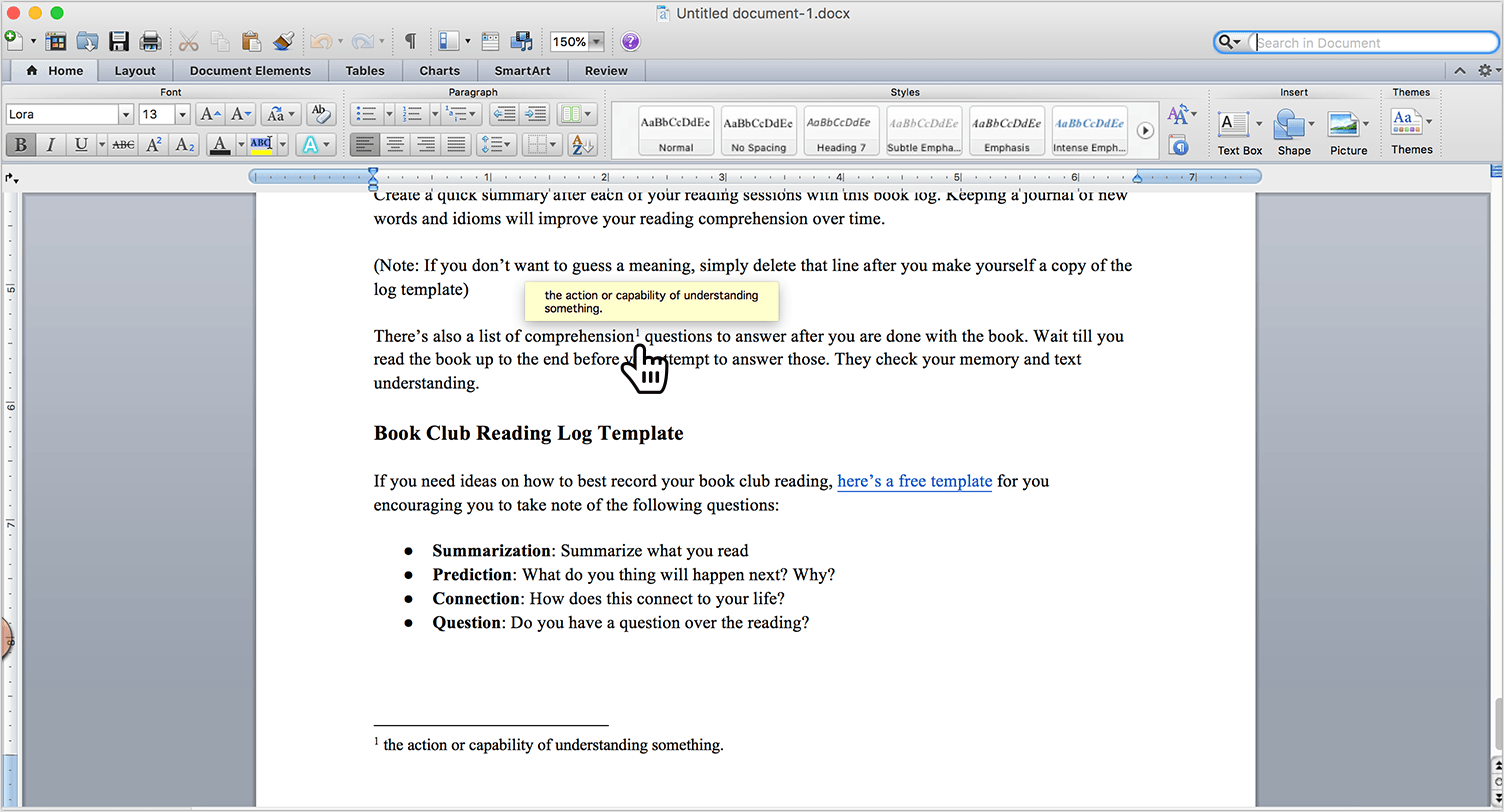 This saves so much time!
How to Add a Footnote in Google Docs App
To add a footnote using an official Google Docs mobile app:
Double-tap on the word you want the footnote to refer to
Tap + above
Tap "Footnote" in the menus below
Enter your endnote content
How to Copy and Paste Footnotes in Google Docs
You can easily copy-paste the full footnote to use the same one on a different page or even in a different document:
Simply select a word the endnote refers to as well as a word that follows it
Right-click to copy (or use keyboard shortcuts CTRL+v on Windows or Command+v on Mac)
Paste wherever you need (using keys CTRL+v on Windows or Command+v on Mac)
You can now edit the two words around the endnote number if you want. The actual note will remain the same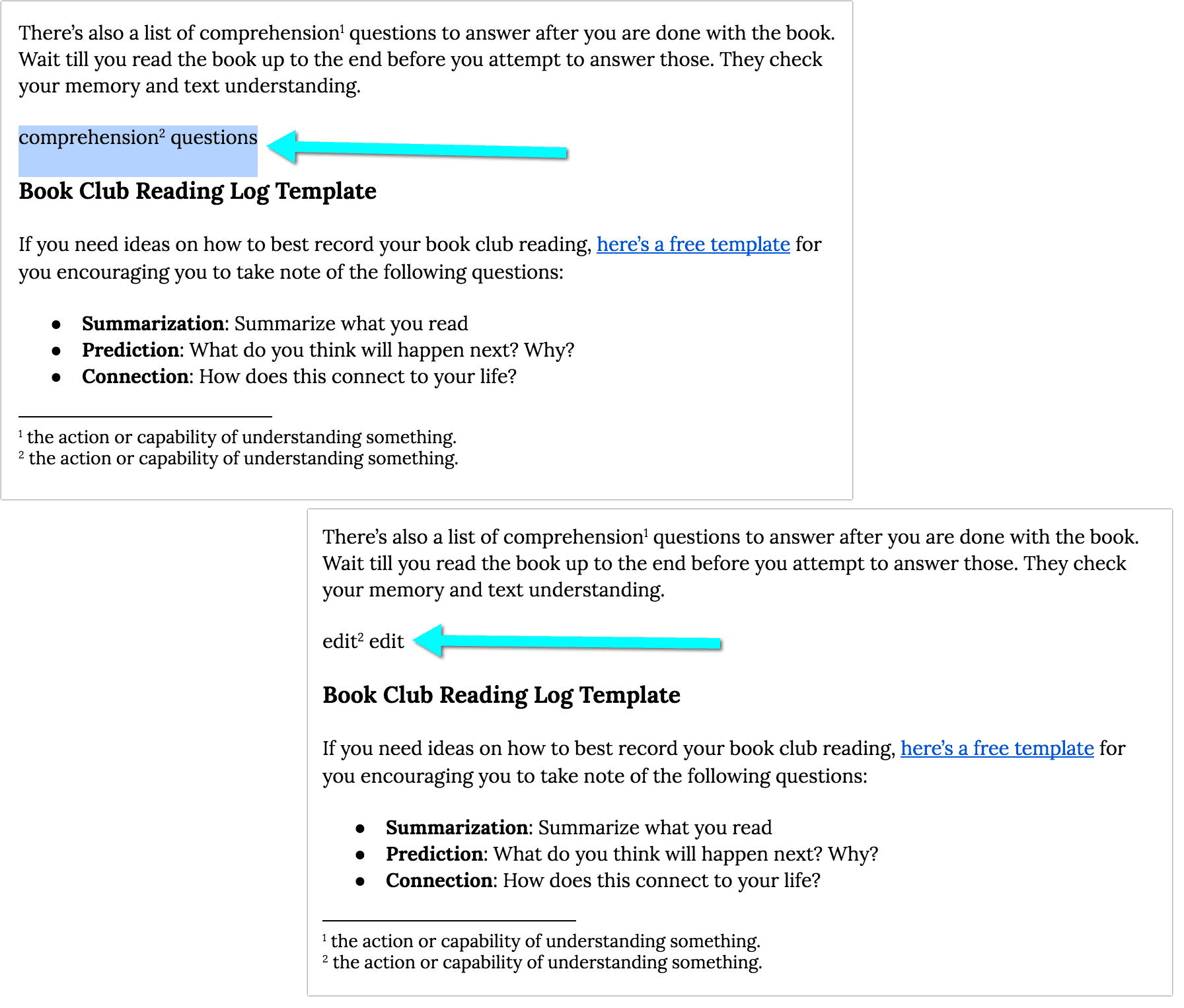 Google Docs will automatically adjust the footnote number based on other endnotes on the same page.
How to Use the Same Footnote Twice in Google Docs
With help of copy-paste trick above you can use the same footnote twice (or as many as you need) times around your document:
Copy both the words around the endnote number
Paste anywhere in the document
Google Docs will make sure the numbers will make sense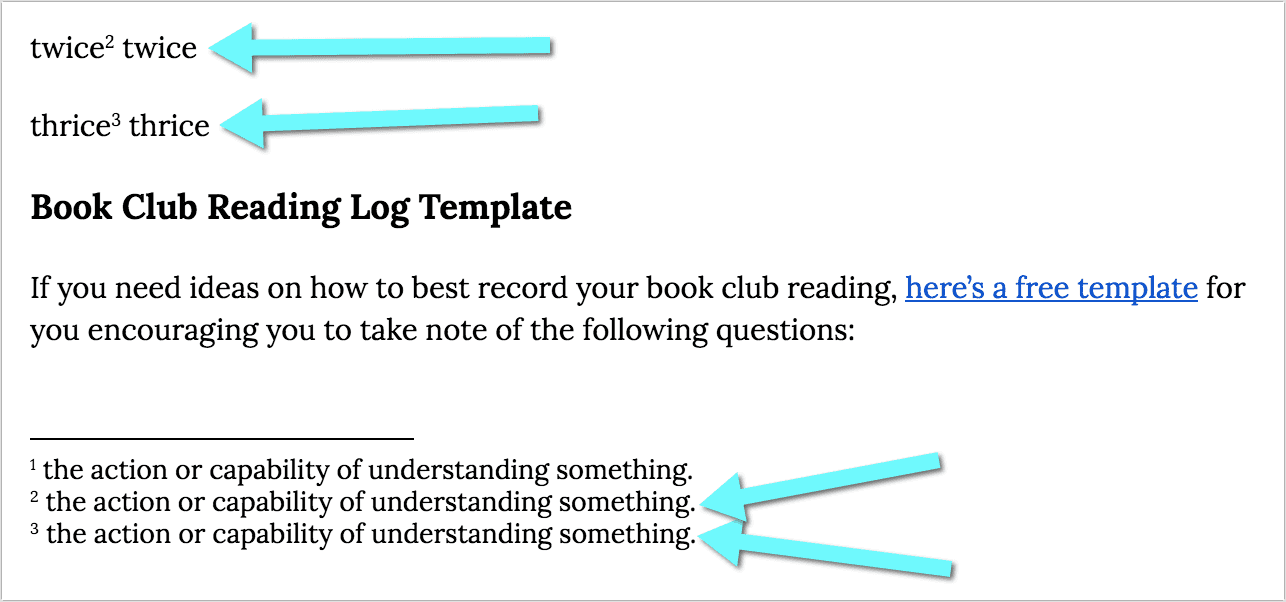 How to Move Footnotes in Google Docs
To move a footnote to a different place in the document:
Select the footnote number
Hold your cursor on it and drag it anywhere within the document where you want it to move it to: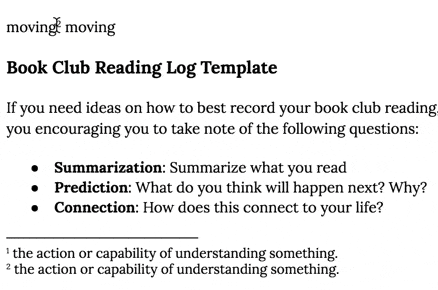 Google Docs Footnote Formatting: Tips and Tricks
To add a footnote in Google Docs, simply click Insert in the main menus and there "Footnote" (it works the same on desktop and using a mobile app)
In order to copy-paste a footnote in Google Docs, select two words around the number, copy everything and past wherever you need it to be
To move a footnote in Google Docs, select the number and drag it anywhere around the document
Don't forget to watch our video takeaways: How to insert and format footnotes in Google Docs
Footnotes are helpful in lots of ways: You can help your students by adding your comments to an assignment, explain any word, reference sources, provide formal citations or translations. Footnotes are retained whenever you download the document in a Word or PDF formats.