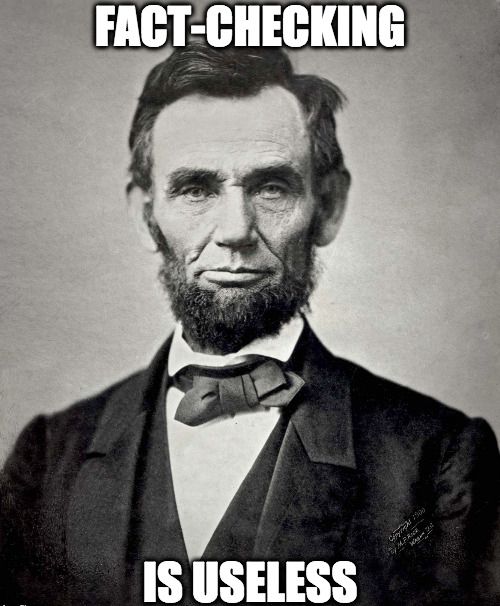 The Internet has given us the multitude of powerful research tools and information sources. These days you can find any answers in the matter of seconds.
But this overwhelming information access comes at a price. It has become too easy to spread misinformation, wrong attributions and biased statements.
How to conduct online research like a pro?
This article will hopefully be helpful for various purposes:
Journalists will be able to provide more unbiased content including more perspectives and angles
Teachers can find resources to teach critical thinking and information literacy. An educator will discover lots of ideas on how to develop kids' research skills
Students will find tools and research methods to put together a more indepth research project or to write a more insightful paper.
Anyone will learn how to look for authoritative sources to cite in presentations, training, and more
Additionally, anyone will discover ways to identify more angles, opinions and insights as well as track down viral headlines and false claims. Include some of these resources in your writing checklist.
Masking ownership and true intentions on the web has become so sophisticated, you can never trust one single source of a claim or a quote. After all, once a lie is published online, it'd difficult to trace, retrieve or debunk it.
In addition to that, the emerging trend to give an online researcher a quick answer to anything makes it even worse. No search engine results or digital magazines are trustworthy enough: Do your own research:
How to Verify the Authenticity of a Quote
Two major tools for quote verification are:
Wikiquote.org
QuoteInvestigator.com
1. Wikiquote.org
Wikiquote is the wiki-type website which means it's user-generated and user-edited. In addition, it also saves the record of the quote-related discussions for each quote. Incidentally, whenever researching any quote, make sure to check the "Discussion" tab to check if there were any contradictory statements in regards to the quote: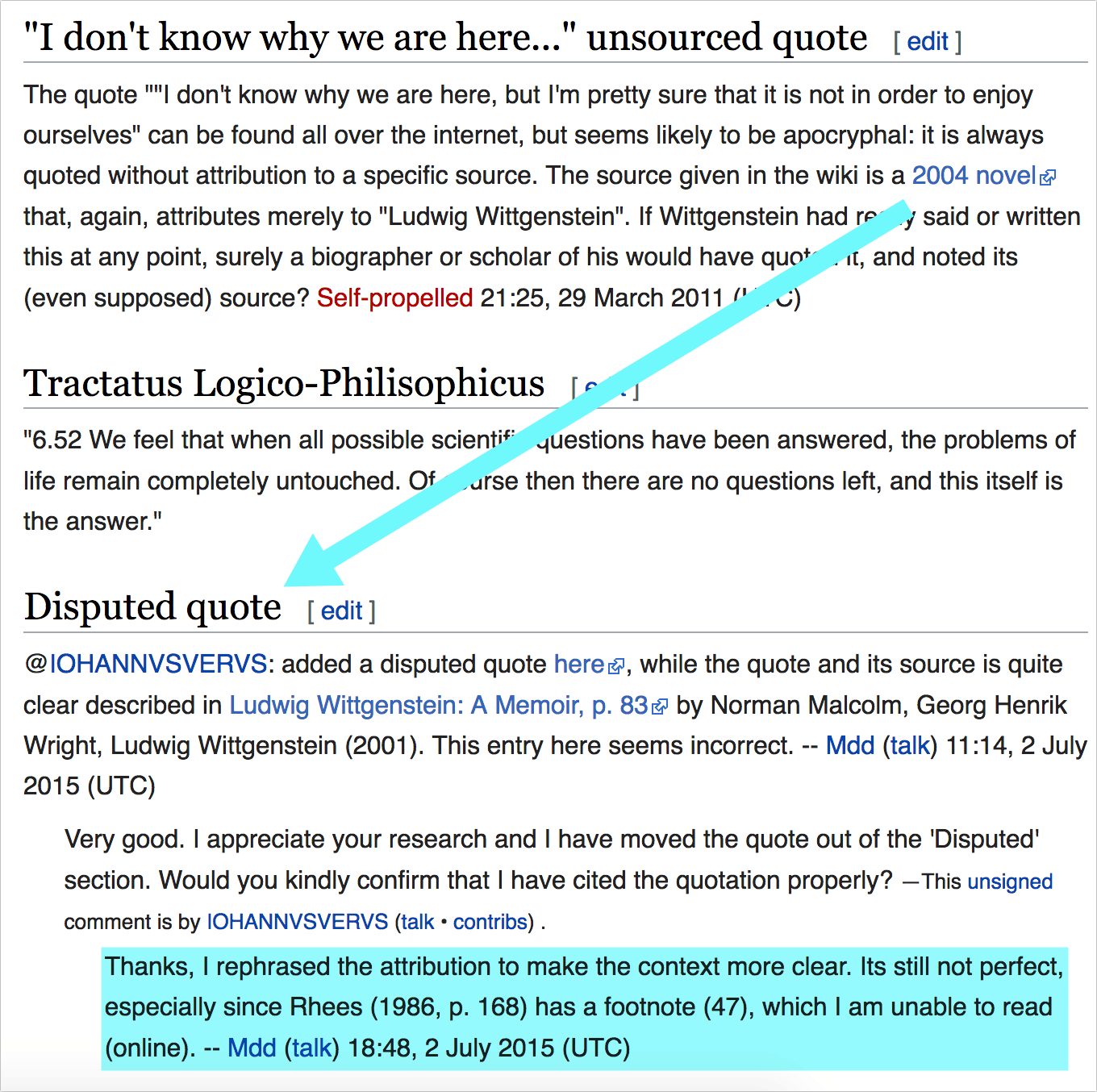 2. QuoteInvestigator.com
Quote Investigator, a project by Garson O'Toole, is a blog that tracks the history of quotes. What's more, the site has a very active Twitter account @QuoteResearch, so you can tweet your quote to him and you are likely to get help very quickly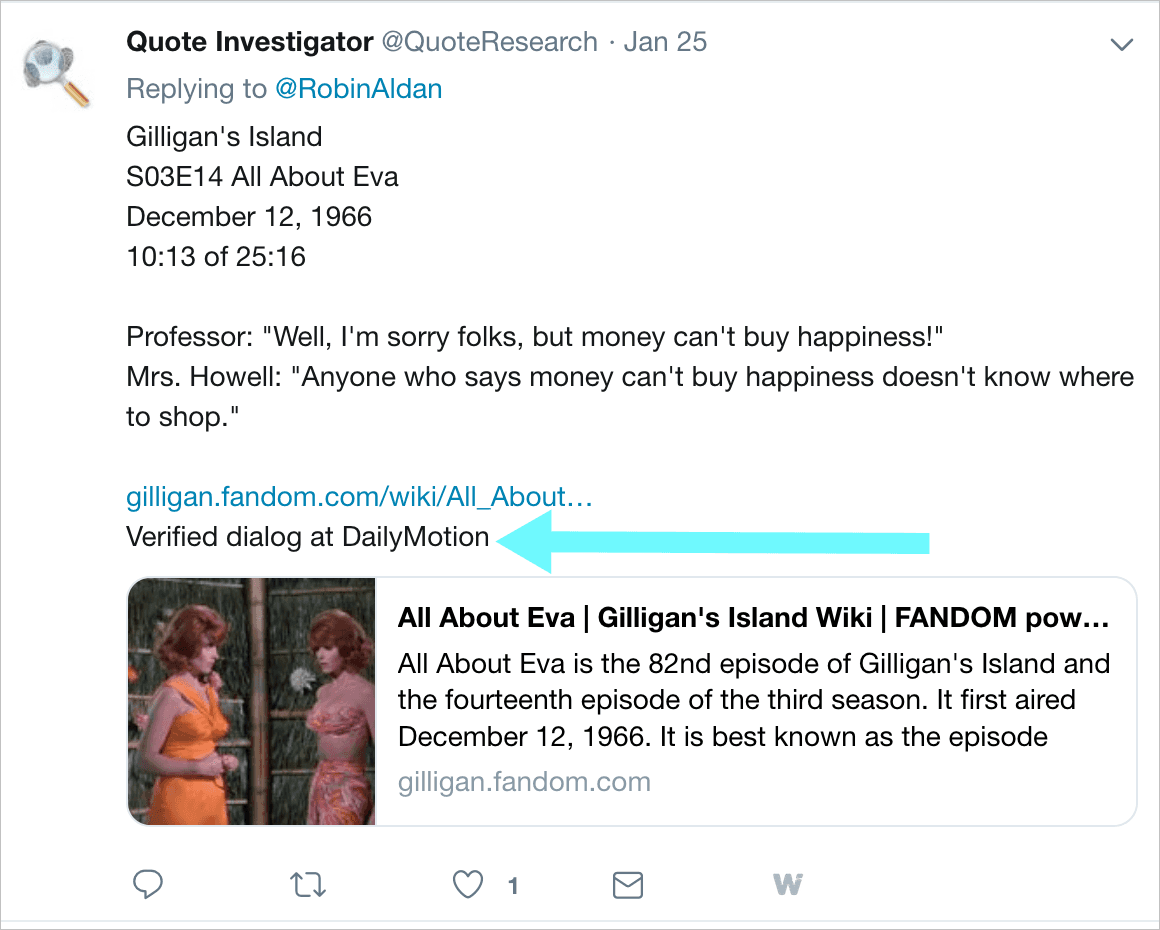 What Is a Misquote?
A misquote is a remark that is inaccurate, i.e. either assigned to a person who never said that or re-phrased. Sometimes taking a phrase out of context to the point where it changes the initial statement can also be misquoting.
Loads of quote websites allow user submissions and do little to no work in verifying those quotes. This results in hundreds of misquotes floating around the web and social networking sites.
Misquotes make any statement look more trustworthy. Hence misquoting can be a dangerous propaganda method. Therefore it's important to always verify any online quotes before jumping to conclusions or spreading the misinformation.
What Are Sources of Verified Quotes?
No resource can be 100% reliable or objective, as there's always a human error or bias possible. However these resources are more closely moderated and verified than other sources of quotes:
Sources for Quotations: Library of Congress has collected some of their trusted sources that you can use to find or verify quotes
IMDB is a good source of movie and show quotes (Make sure to select quotes from the drop-down before searching)
Phrases.org.uk provides verified quotes from Abraham Lincoln, Albert Einstein, and Marilyn Monroe. Additionally, it provides a few cool quote collections, e.g. list of famous last words. On top of that, the site is also a great resource for tracking down the origins of idioms and proverbs.
Narrow down your online research to trusted and verified quote sources. If you have found your own source, do some evaluation of how trustworthy it is. For instance, libraries and universities are more reliable than web based (user-generated) databases (like search engines and directories). In addition, well cited and well organized scholarly studies are more reliable than blogs and ebooks.
On top of all, do try and find any quote in context. Remember context matters!
How to Fact Check: Unbiased Resources
Fact-checking site
MBFC score*
Project background
Funding
FactCheck.org
Least biased
nonprofit
PolitiFact
Least biased

Started in 2007
Won PolitiFact Pulizter Prize for National Reporting in 2009

nonprofit
Snopes

(previously known as Urban Legends Reference Pages)

Least biased

Founded in 1994 as the resource to research and debunk urban legends, fake pictures, etc.
Referenced by lots of media outlets including Fortune, Forbes, CNN, and The New York Times

On-site ads
* MBFC (i.e. Media Bias/Fact Check) is a widely-cited source that rates news organizations based on their political bias and factual accuracy. It has been criticized for lacking any scientific method of assigning their ratings. Consequently, it's not your ultimate resource but only an additional criteria in evaluating any news outlet reliability.
Note: none of the above fact-checking resources is obviously 100% accurate (because there are people behind them who can never be 100% unbiased). The point is, the more resources you use, the closer to the truth you get. So check all of them before making your decision whether any claim or information is trustworthy.
Google's Fact Check Tools
Google's The Fact Check Tool includes two tools Fact Check Explorer and Fact Check Markup Tool, neither of which is endorsed by Google. Google only includes sites that include a special schema called FactCheck, so it is a bit lopsided. Still it provides a nice additional research tool to keep an eye on.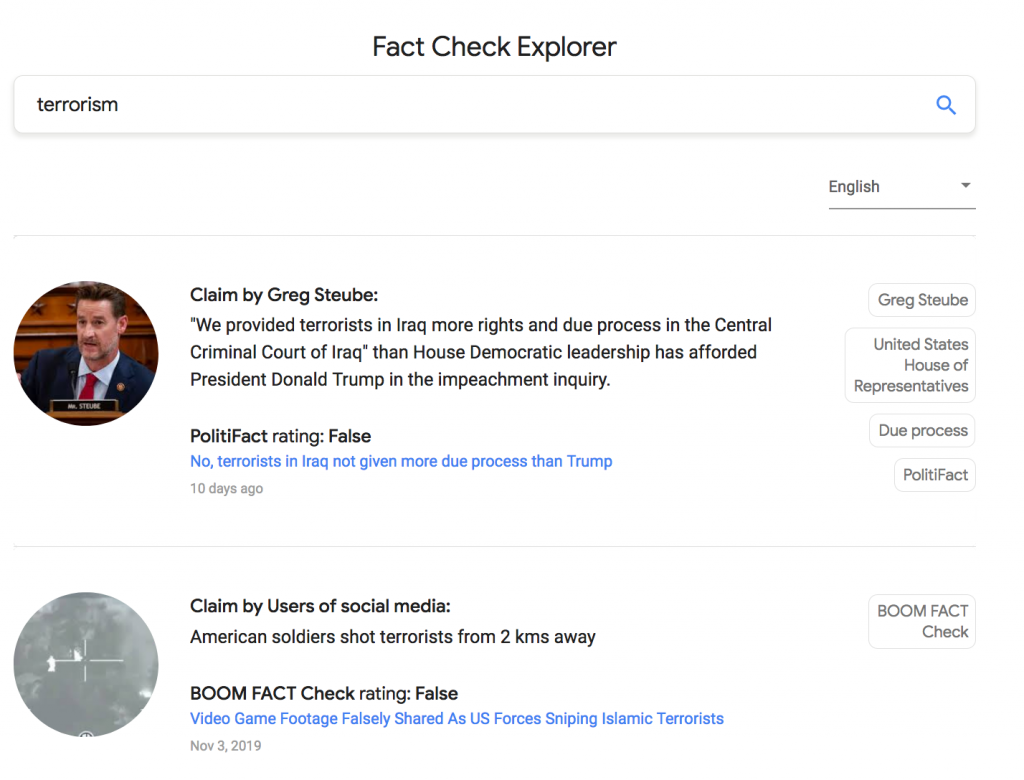 How to Find Reliable Statistics Sources
These days it has become too easy to make up numbers and publicize them online. How to find real statistics obtained by trustworthy organizations and through reliable methods?
Reliable stats sources:
1. Official Government and Educational Sources for Stats
There are normally whole departments behind each data set that appears on official GOV and most EDU sites. To find those, search Google using the following search trick:
Use Google [site:gov OR site:edu] search
This will force Google to limit search results to only .gov and .edu sites. For example, here are the results for
[site:gov OR site:edu mobile usage stats]: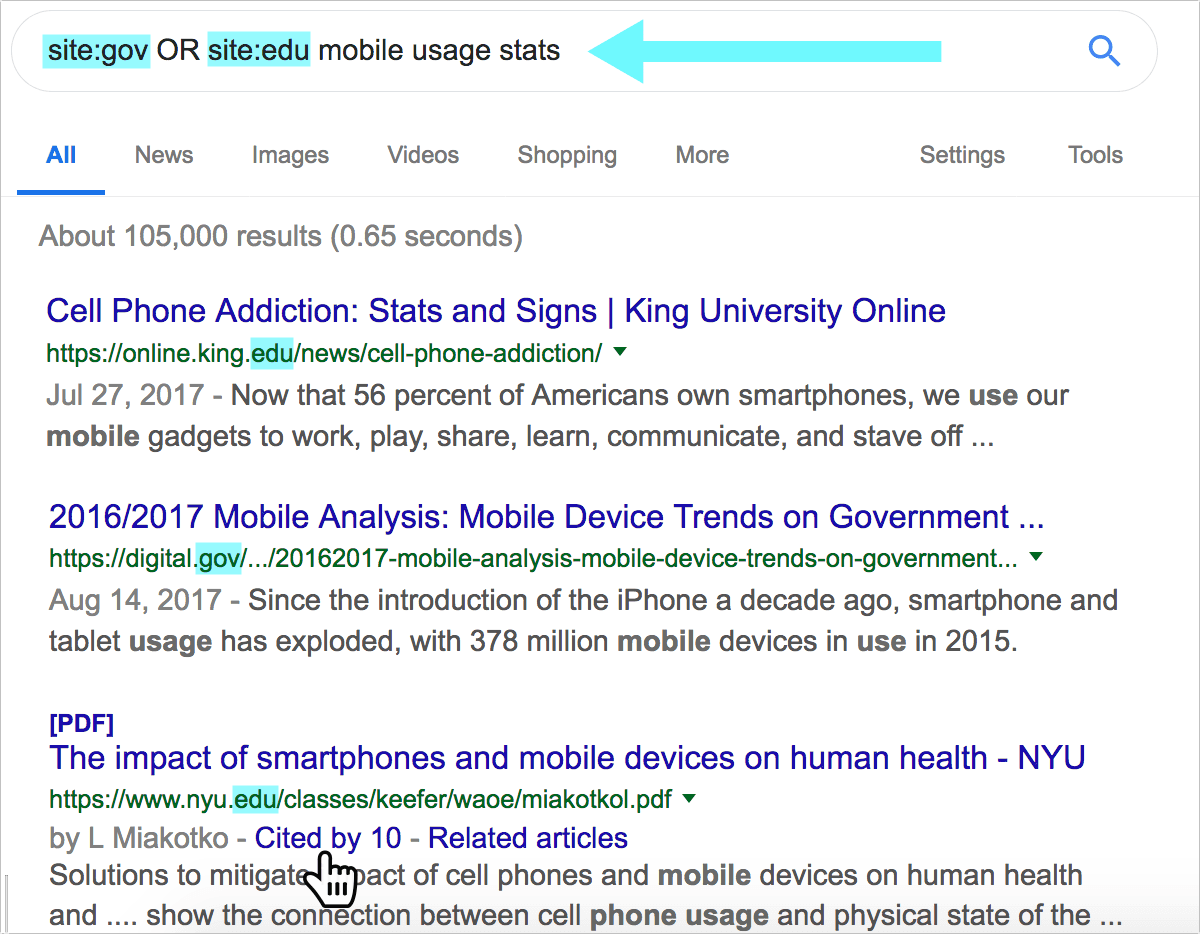 Moreover, you can play with Google's tools and force it to include only recently published data. For that, click "Tools" and then choose "Past year" option in the "Any time" drop down. This way you'll see statistics data that's no older than a year old: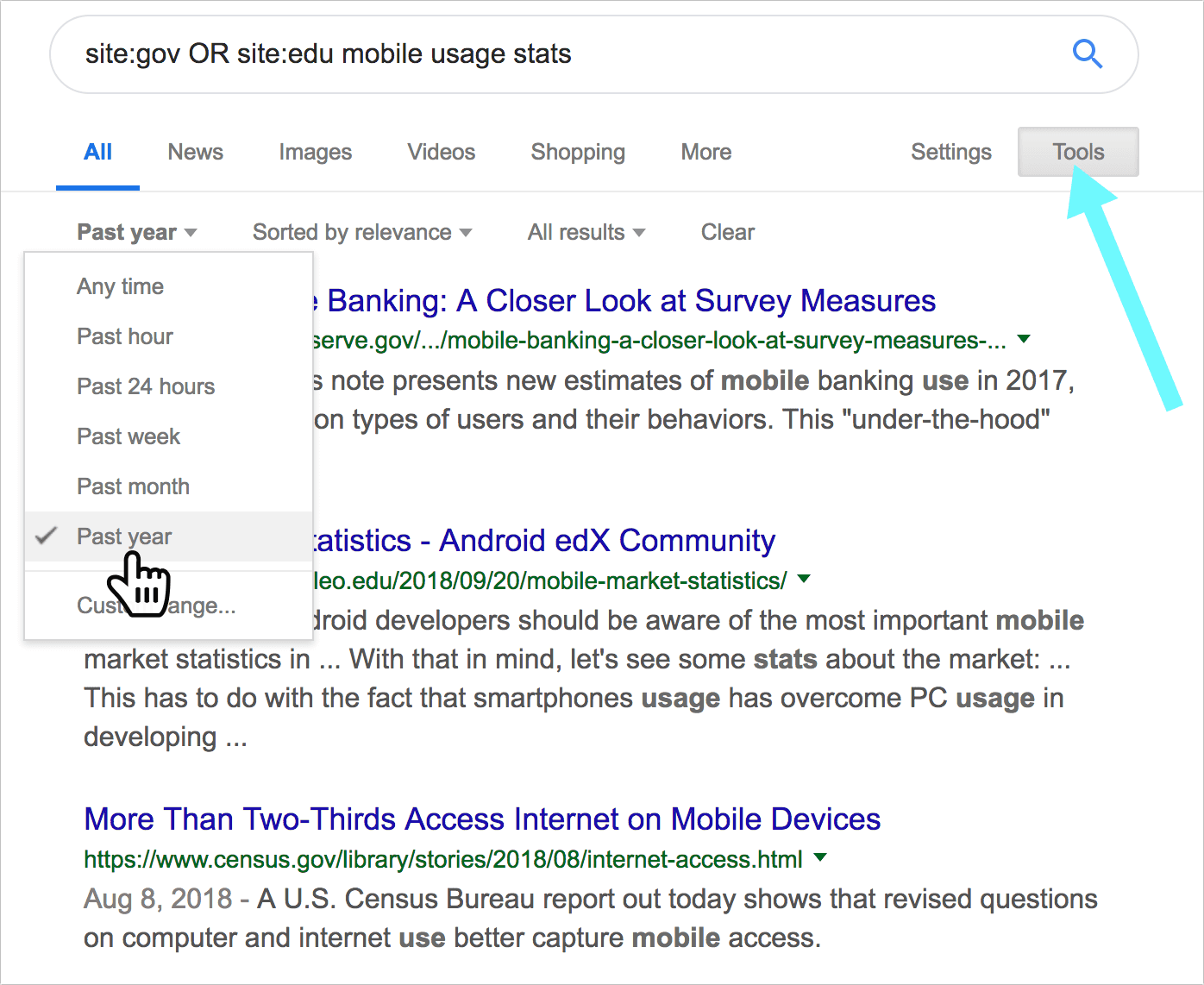 Furthermore, honorable government and official statistics sources include
Data.gov collects all kind of numbers that get fed to it directly from government data publishers
Data.Worldbank.org collects data on wealth, development index and quality of life around the world
Census.gov provides statistics (population, housing, demographics, income) for all the US states and counties, and for cities and towns with a population of 5,000 or more
2. Statista (*Needs More Verification)
Statista is another source of statistics on a variety of topics. It comes as highly recommended on multiple official college websites. Although I failed to locate an exhaustive information on how they actually verify the data they are visualizing via graphs and tables.
Is Statista a Reliable Source?
Statista is not quite a reliable source but you can make it work if you do some additional research.
Statista does mention that their ~22,500 sources are "trustful" but there's no mention on the verification process.
All in all, the reputation of the resource is pretty solid. Keep in mind though that it's not easy to find the actual sources of the numbers they are using unless you register an account.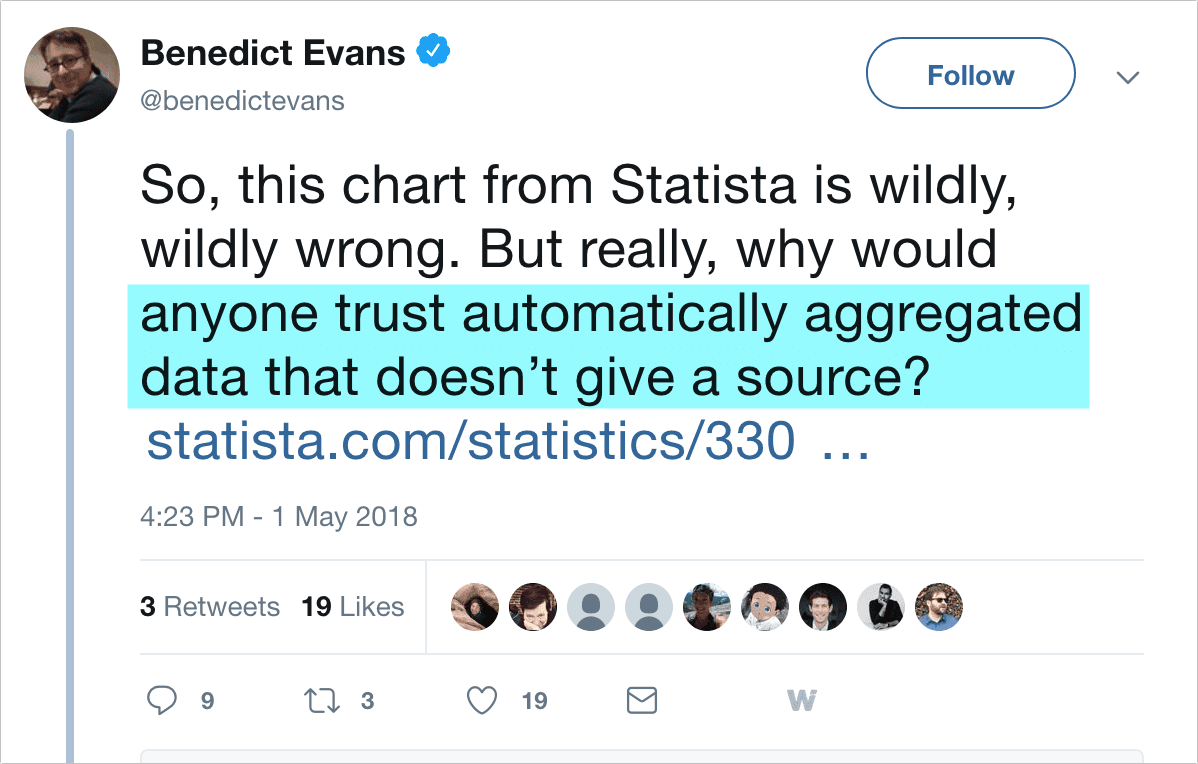 I spent hours trying to learn more on why I have to trust this site and couldn't find any actual facts. I had to register to access their "Data sources" information. Once my free account was activated, I could finally see the sources: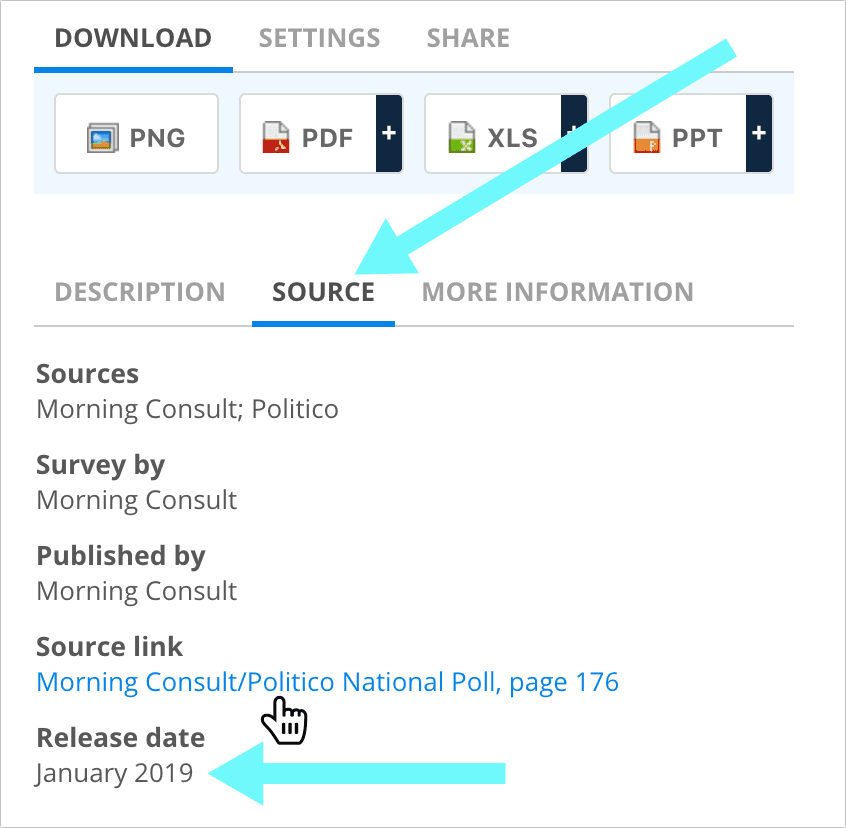 How to Do Online Research Faster and Better: More Ideas
Once you get your sources sorted out, don't forget to use the following approaches and guidelines:
More online research tools:
Search Google for the author name to find information on who the person behind the article is, and whether he/she is considered a niche expert. Additionally, check out their social media profiles and look for the "Verified" √ check mark. Obviously, when running your authority check, give preference to external sources rather than the author says about herself/himself.
Use archive.org to find what the web page used to look like and if there's anything fishy possibly going on: How old is this information? What did the look like a couple of years ago? Looking back at the site, you can find answers to these and more questions.
Spot and analyze signs of trustworthy content in order to write a better article: Look for methodologies , bibliographies, copyright information, detailed and dated citations, etc.
Always look for original sources. If the source or citation is not mentioned or linked to, it's the worst sign. Look for the primary source of any data. Exact-match keywords (i.e. putting words in "parentheses") is an effective method to trace any quote or claim down in Google and assess its trustworthiness. Exact-match keyword searching is also a great way to find plagiarism.
Always, always read comments, including comments on Twitter. Those are usually eye-opening and let you broaden your outlook. Yes, fact-check every comment you picked. Comments are not reliable sources of information. Instead, they should be used to give you an additional reason for doubting the initial article or claim.
Don't believe viral lists and headlines: These are usually poorly researched.
Gather and organize information using spreadsheets. Keep as much record as you can (including links, names, notes) to create a searchable database for your digital research.
Use Google Reverse Image search (i.e. search by image) to find more sites that used a graph / visualization and track down the source.
How to use Google's visual search for fact-checking:
Proceed to google.com/imghp,
Click the "photo camera" icon,
Upload your graph you are verifying
Let Google find where else on the web it was used.
Click "All sizes" next to the image thumbnail
This works especially well for fact-checking infographics as well as tracking down viral images and memes: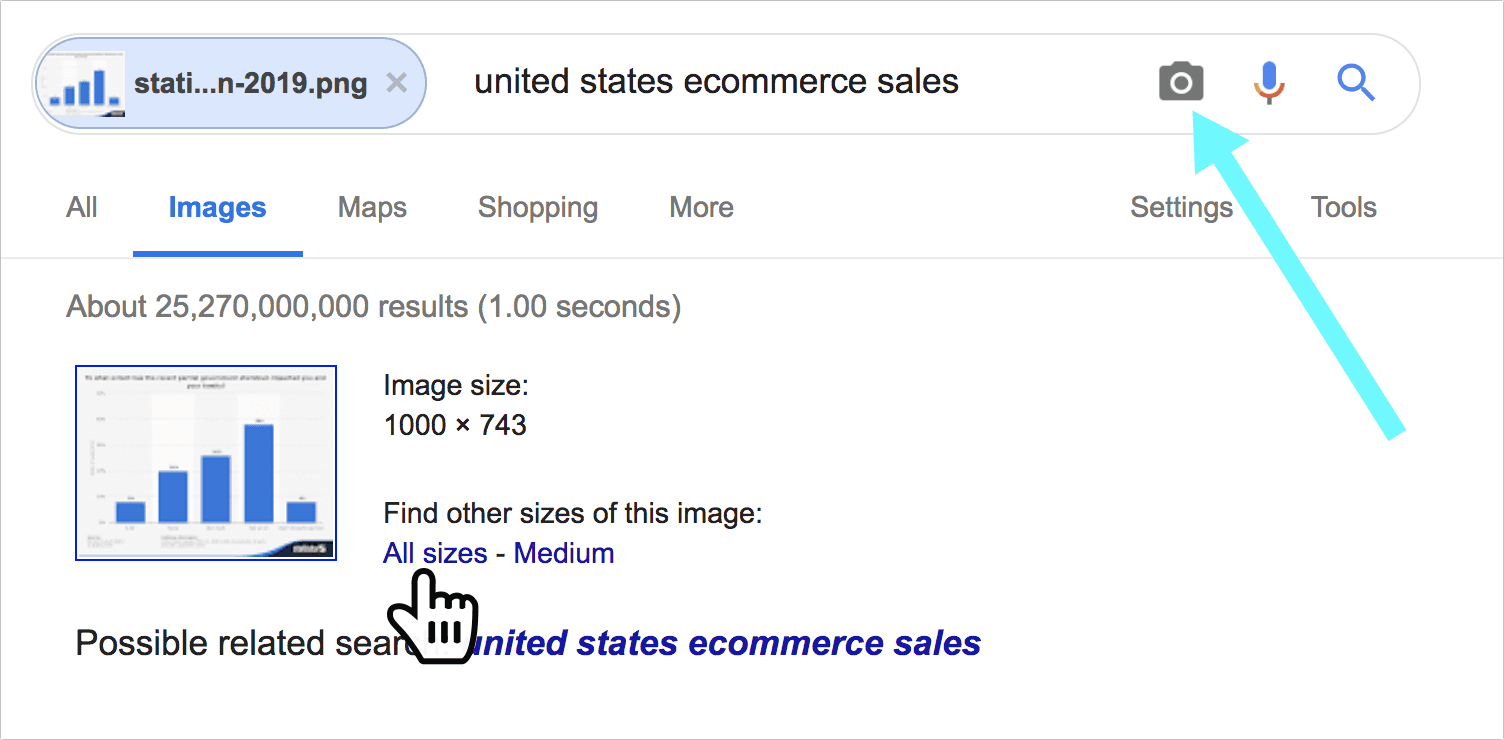 Engage with the source
Comment to ask for details. Hoaxers often lack details. They tend to be vague. Ask questions like "who exactly", "when exactly", "where exactly", etc. If it's an online survey, try and become better informed on how the respondents were chosen and if there's any bias possible.
Ask the interviewed person directly. If you have found an interview (especially an older / outdated one), go ahead and reach out to the interviewee directly to inquire if they may have an update on the topic or if the cited information is accurate. Collaborative research that involves more people and takes different angles into account is always the best kind of research. Also, interviewing niche experts is easier these days as you can approach them on social media and hear back immediately.
Again, no single method above is effective in isolation. It's about assessing all your gathered information.
How to Do Online Research NOW
Use misquote debunking platforms to check if the quote you found is valid
Stick to trusted and verified quote sources
Use unbiased fact-checking sites to analyze any claim or viral headline
Pick trusted statistics sources in your research process
Investigate further. More ideas include researching the page author name in Google or Bing, checking Way Back Machine to see how outdated the content is and using reverse image search to track down any graph sources
Don't be afraid to reach out to the primary source of an interviewed expert to obtain updated details and quotes
Conducting online research takes time and persistence. However it's also unbelievably fascinating and rewarding, especially when you do dig out gaps, real facts and myth-busting information.
Gathering, documenting, evaluating and organizing online data can be truly exciting. In addition, exploring a different perspective is valuable because you can expand your horizons.
Innovation always brings both opportunities and challenges. Whether you are able to benefit from the former and overcome the latter defines you as a successful thinking human being. Online research is a useful skill to master but it takes time.
In conclusion, with those tools and strategies above, become an online detective! Please share your favorite research tool in the comments below!