Google Forms are pretty awesome: They are free to create and free to share, so you can easily create simple surveys to collect data for your research paper or an article.
But how to share your Google form in order to obtain more answers to your survey? Here are the steps as well as ideas on where to share your Google Form link to get people participate in your research study without having to pay them to participate.
Step 1: Create a Public Link to Share Your Google Form
Once you are done typing your questions and answers, click "Send" in the top-right part of the screen
Click the "chain" icon
(Optionally) check "Shorten URL" option to create a prettier URL to send by email or social media

How to Publish a Google Form
If you have a website, you can also embed your form for your site visitors to submit their answers right from your page without ever leaving your site: Select the code width / height and copy the code to embed to your page: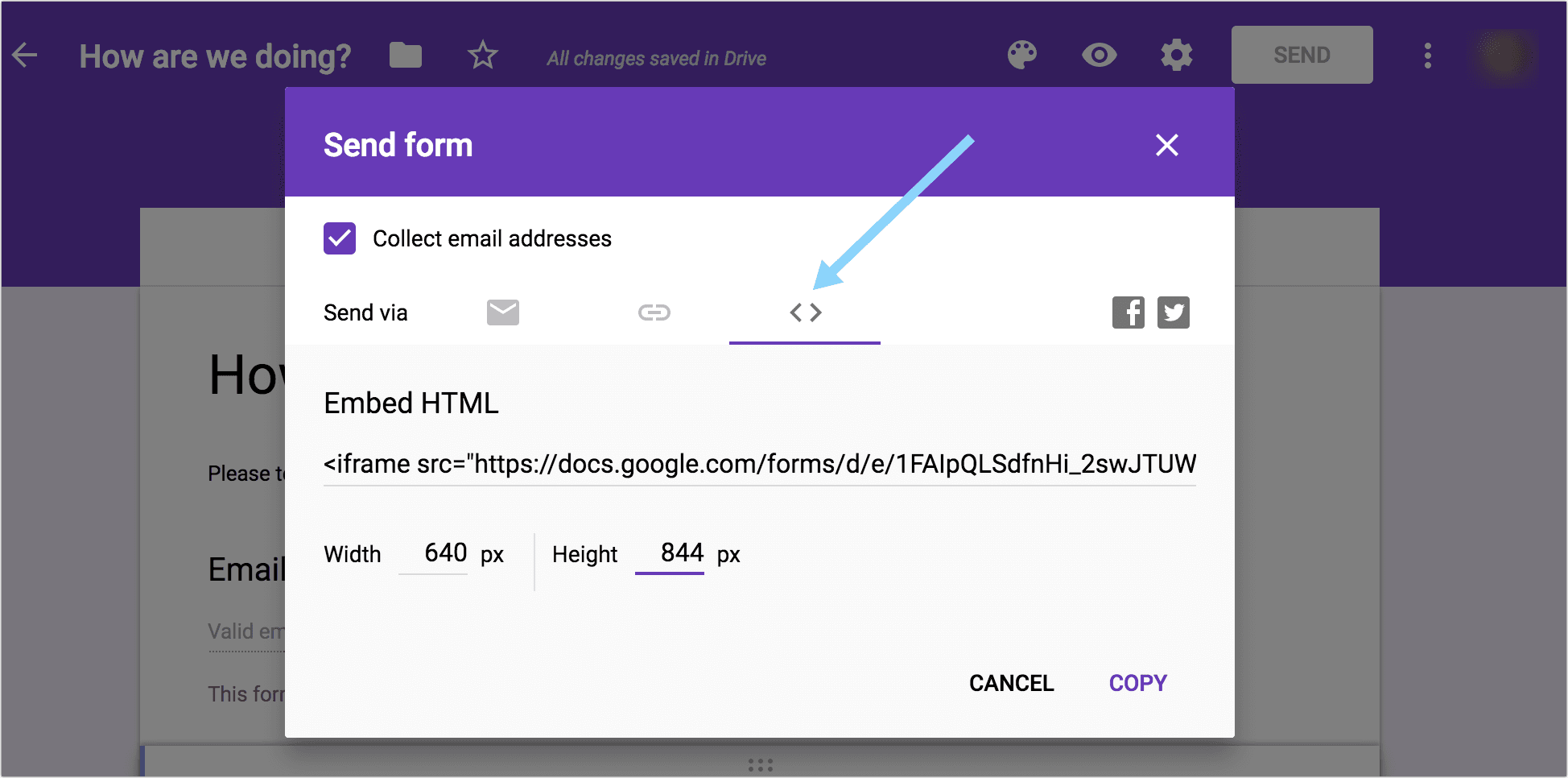 This is what it is going to look like:
Adding Collaborators Versus Sharing Your Google Survey
If you are used to various Google Drive products (like Google Spreadsheets, Google Docs, Google Slides, Google Drawings, etc.), keep in mind that sharing Google Forms is a bit different.
Be careful allowing other people to edit your Google Form because any edits to questions will skew all existing answers
Google Forms don't save revision history, so you cannot revert any previous version once your survey has been edited (by someone else)
Form editors are able to view and delete form responses, so you may lose your data (especially when any of your contributors are not sure what they are doing or why you invited them).
That being said, there's an option to invite contributors to your Google Form for them to edit your survey but handle it with caution.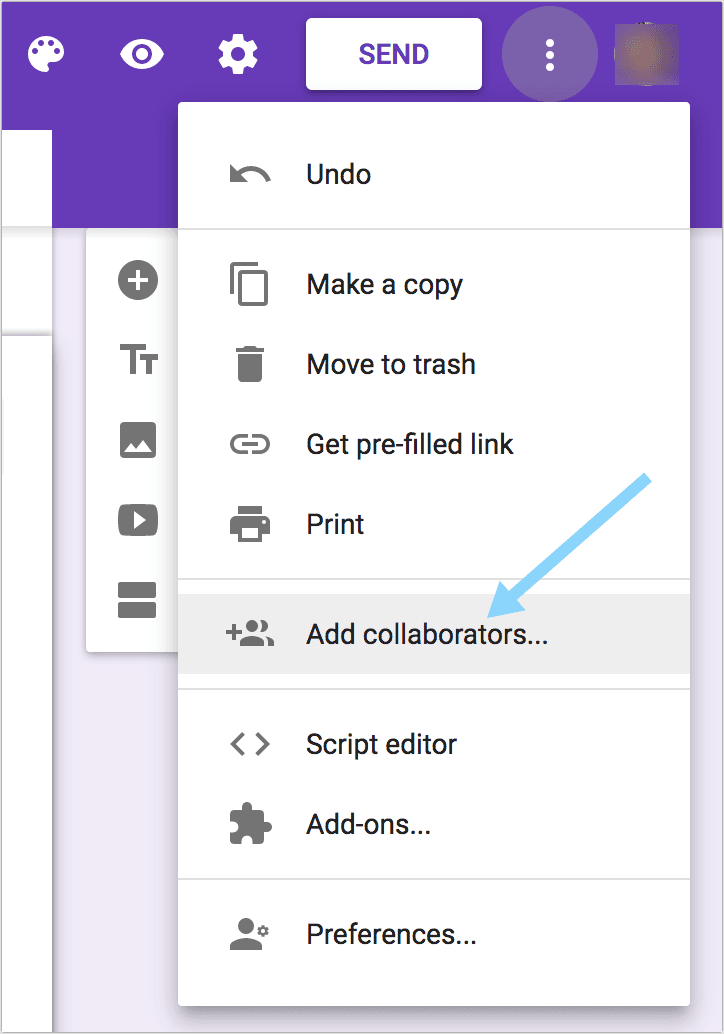 If you ahve to invite collaborators to your Google Survey, consider limiting it to only specific people you have added: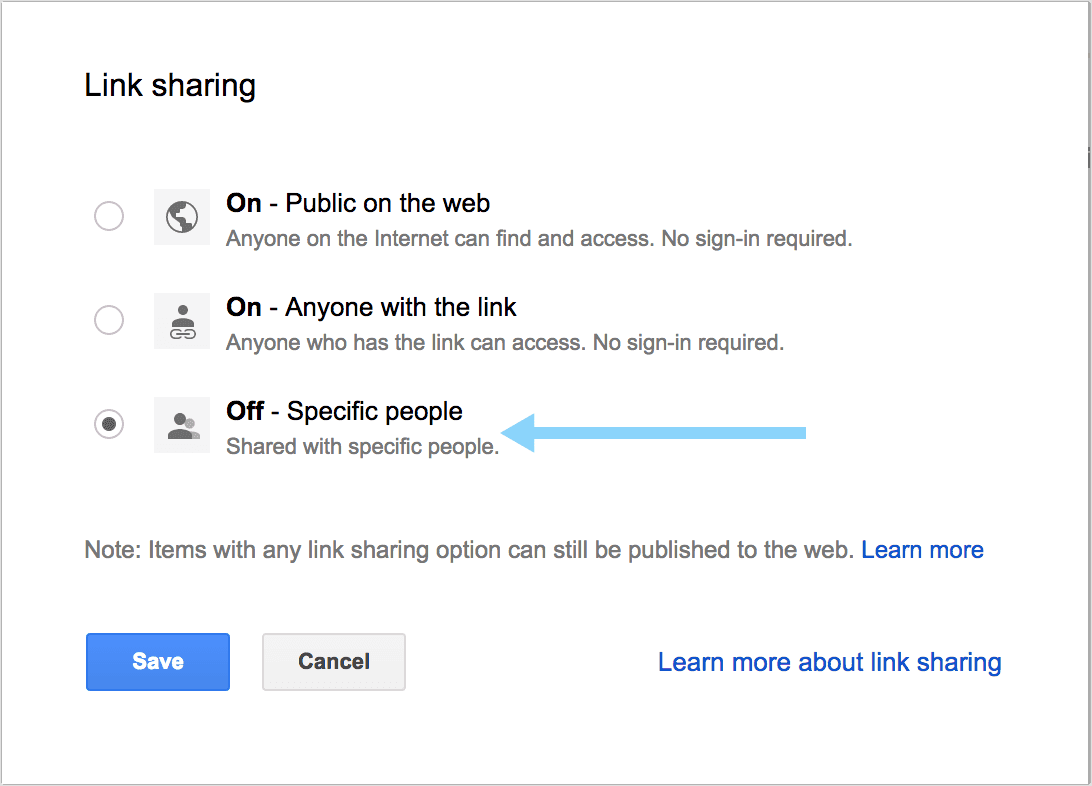 Google Forms are a bit more basic platform than other Google Drive products, so be careful with it. If you collect data from your friends or readers, you don't want to lose any data by sharing a wrong link.
Step 2: Share Your Google Form Link to Collect More Aswers
Now that your survey is created and you have generated a link to share, where do you actually collect answers. Of course, there are several answers helping you to find people to answer your survey but this is usually quite expensive.
Are there any free ways to get people answer your survey? For starters, there are a few obvious options you may consider:
Send your Google form to multiple email addresses by simply listing all of them in a To: or CC: field
Share your survey link on Twitter and Facebook and ask your friends and followers to submit answers as well as re-share the link to their own friends and followers to collect even more responses. Simply asking nicely goes a long way
Send your Google Form link to any groups you are an active member of. This includes Whatsup groups, Facebook groups, Quora communities, etc.
Share your link at the Subreddit called r/SampleSize. The group helps you collect answers from random Reddit users who just like filling surveys for free. Use careful tagging in the thread title to be able to specify the type of the audience you are looking for:

Start your post with [Academic] tag if your survey is for studies done for academic purposes (e.g. high school classes, college classes, etc.
Use [Marketing] tag if your survey is for market research
Type [Casual] tag if your survey is simply done out of curiosity or the aforementioned two tags do not apply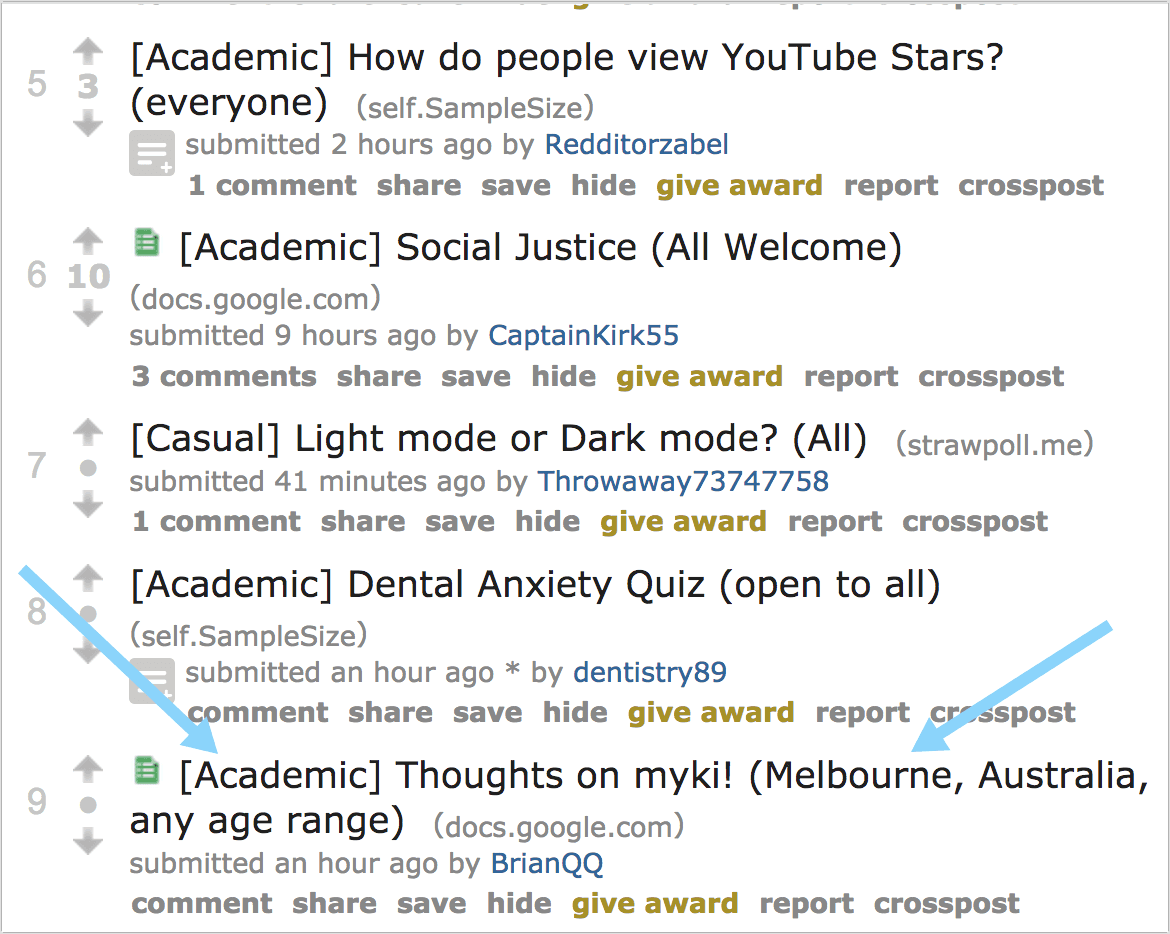 This Subreddit is a nice way to collect answers from random people.
Further Google Form Sharing Questions:
Are Google Forms Anonymous?
Yes
No one can see who the person behind the form when filling the survey.
Only contributors you invite will know who the invite is coming from.
Furthermore, your survey respndends will remain anonymous unless you choose to require their personal data like name and email.
How to Share a Google Form with Another Teacher
There are two options here:
You can share a public link with another teacher by email
You can privately invite another teacher as a contributor
How to Make a Google Form not Editable
Unless you add collaborators, your Google Form cannot be edited by anyone. To be on the safe side, if you are concerned about making your Google Form not editable, make sure to remove all collaborators from your form.
And what kind of research or study are you creating your Google Survey for? Do you need more help? Please ask your questions in the comments and we'll do our best to find answers!