Travel itinerary is basically a travel planner that includes all the essential details of your trip.
The common problem with travel itineraries is that they take longer to create than your trip itself.
Most travel itineraries I've come across were either too basic or too detailed, so I've created my own which is well-balanced.
Itinerary Template for Google Docs
Make yourself a copy of my free travel itinerary here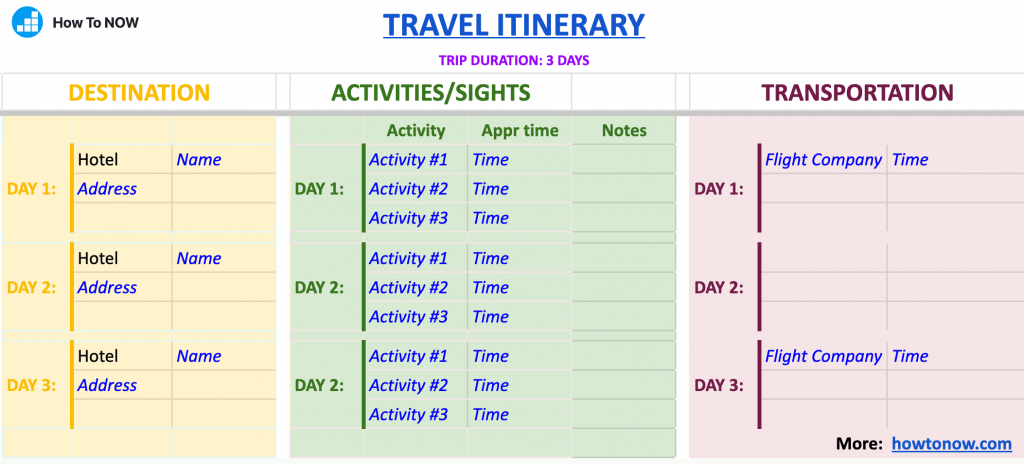 How to Use My Free Travel Itinerary?
Add/remove days: Adjust the number of days and add new days by selecting the last row and clicking "Insert one row below"
Adjust columns: If you are using your own car everywhere (for road trips), remove the "Transportation" columns altogether
Add your details: Blue italics means that you need to type your own data there (remove all blue if you are printing this out before completing)
Use estimates: Time column can be an estimate, or how long you plan to be there
Don't clutter with unnecessary details: Keep the document only for things you want to remember. For example, if you think you'll be using taxis as transportation, skip that information in the Transportation column.
Leave room for spontaneous events: No enjoyable trip is perfectly planned. You need to have some flexibility to do something spontaneous. That's why I don't include places to eat: I want to find something local when I am there. Some little places with no or few reviews. Those are usually the most authentic!
Why Google Docs/Sheets?
There are many reasons why I love Google Docs for my itineraries and planners:
Easy to share with anyone (And you get to control if that persona can edit, comment or view your planner)
Possible to be accessed from any device (All you need is your Google login)
Easy to download into any file type you prefer (pdf, Word, plain text, etc.)
The latter point means that you don't have to have a Google login to edit my template. Simply download it into any file type you prefer and edit it on your computer.
How to Download My Free Travel Itinerary?
To download my free travel planner, you have two options:
Option #1: Make yourself a copy and edit the itinerary using your Google Docs account
Option #2: Download it as your preferred file type and edit it on your computer:
Both of these options are available in the "File" tab of the Google Doc: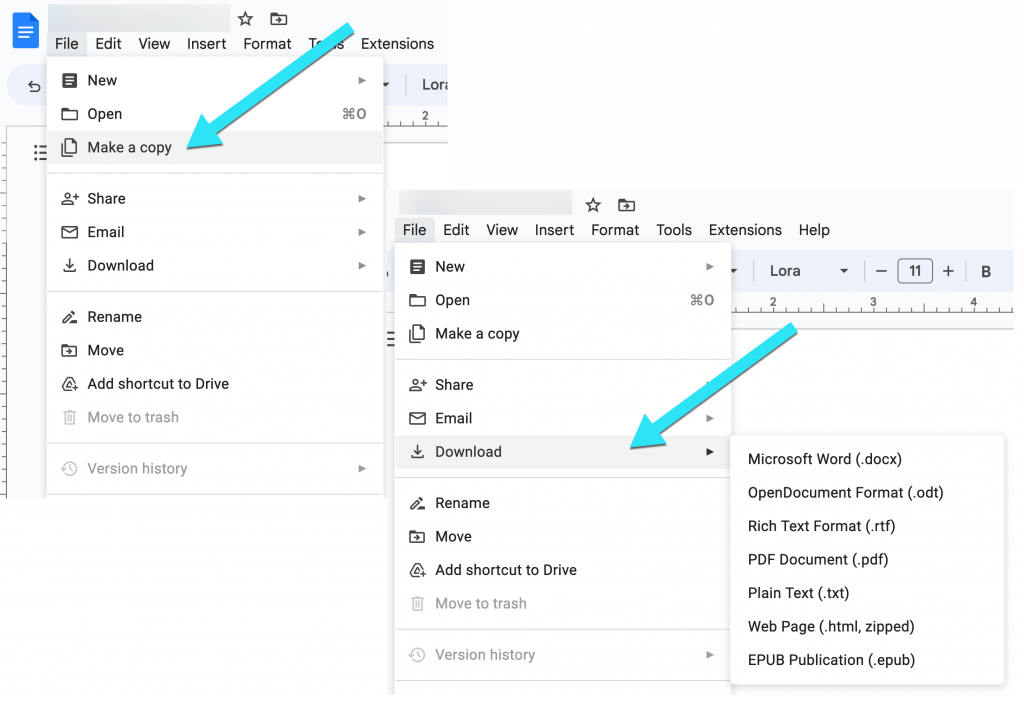 What Does a Travel Itinerary Include?
Trip details: Destinations, activities, sights, dates, etc.
Transportation (unless that's a road trip): Specify how you will be getting from one destination to another, such as by plane, train, bus, or car rental.
Budget: Keep track of your expenses for each day or activity.
Addresses and phone numbers: Add names, addresses and phone numbers of places you are staying at. This is useful if you lose connection and cannot check your phone app.
Notes: Add any important details or reminders for each day, such as dress codes, sights not to miss, things to ask hotel stuff or locals, weather forecasts, special events, etc.
Bottom Line: How to Create a Travel Itinerary?
What is your trip itinerary?
A trip itinerary is a plan of your trip listing essential details for every day. It is a good way to ensure you don't forget to visit all the places you have planned. Keep it on your phone or print it out (or both).
How do I make a trip itinerary in Google Docs?
To create a trip itinerary, make yourself a copy of my free Google doc and edit based on your upcoming trip. Then consider downloading it as a PDF to have on your device or print out (in case you have no connection during your trip).
What to include in your travel itinerary?
Keep your trip planner clutter-free and only include essential details (hotel names, airlines, time, important sights to see). Make some time for cool unexpected events and spontaneous decisions: That's what makes any trip fun!