Quora is a great platform allowing you to help and get help by becoming part of the community. But what if you want to delete your Quora account for whatever reason?
Before you do that, note that this action is final: You won't be able to reinstate your Quora account once you delete it. If you are sure you want, to proceed, find the easy-to-follow steps below.
For you to easily navigate this tutorial:
To Delete Your Quora Account:
Log into your Quora account you want to delete
Click on your profile picture in the top-right corner to open your settings menu
Select and click "Settings"
Click "Privacy" to the left and scroll down
Click "Delete account"
Enter your Quora account password to confirm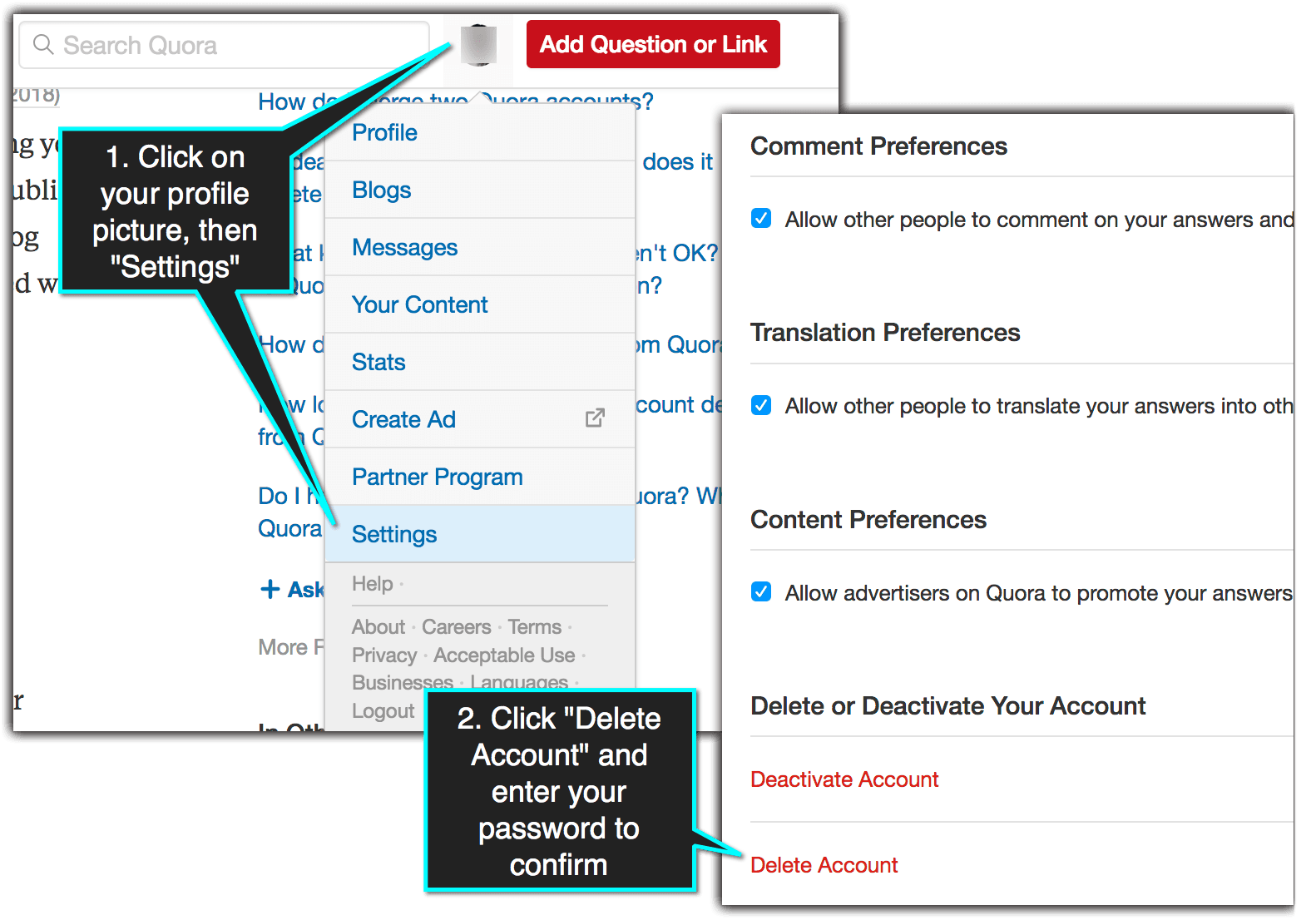 To Delete Your Quora Account from Within a Mobile App
Open Quora app on your phone (iPhone or any Android device) or tablet
Tap on your profile picture to the left to open the options pane
Now tap "Settings" menu at the bottom of the screen
Tap "Privacy"
Scroll to the very bottom of the page and tap "Delete Account"
Enter your Quora password and confirm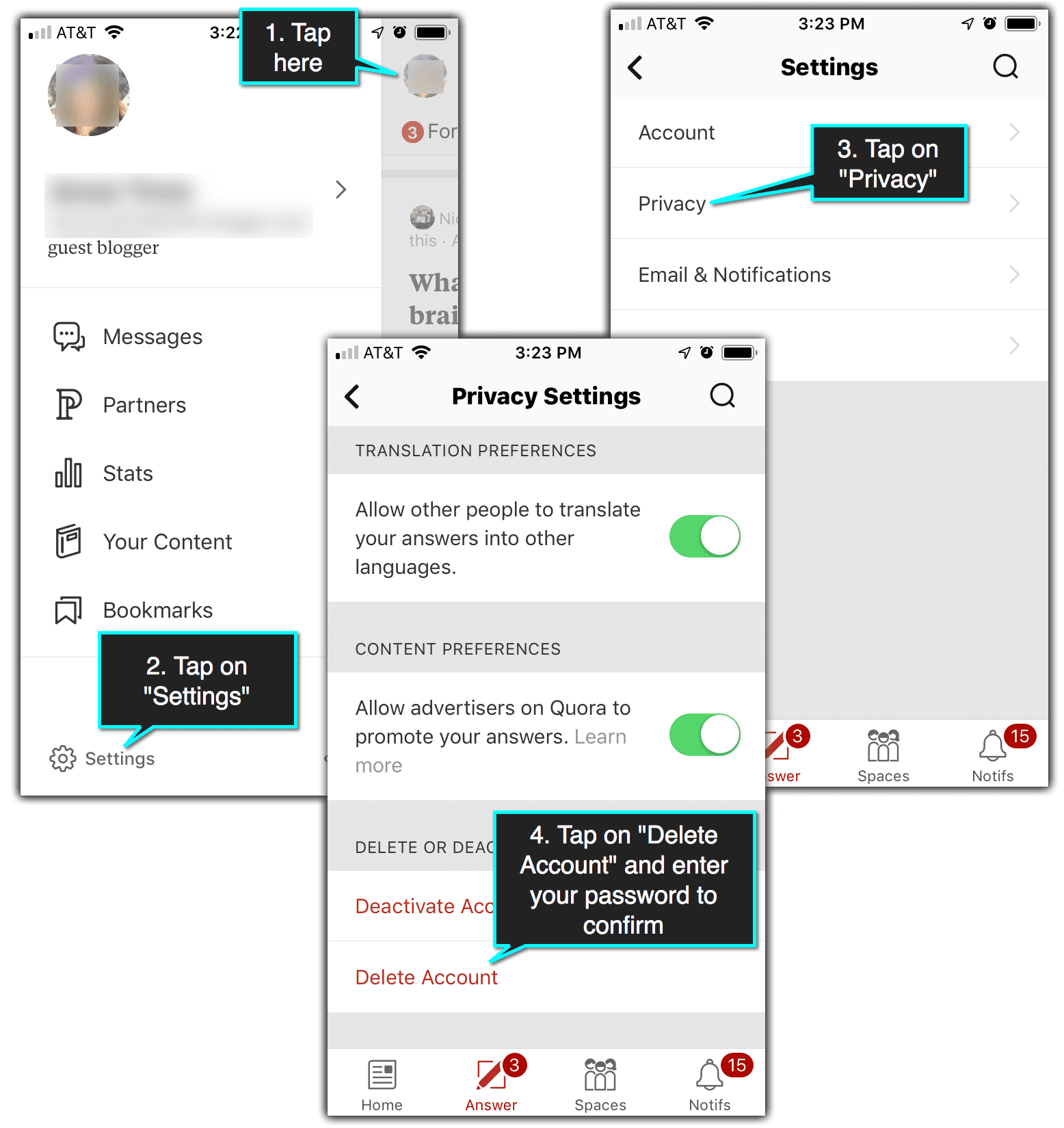 What Happens If I Delete My Quora Account?
Once you confirm the deleting, you won't be able to bring it back. All your Quora answers, blogs, messages, connections, comments and votes will be gone for good. By deleting your account, you'll erase all your Quora content, excluding your questions.
Questions you asked on Quora will remain on the site but they will not be associated with your name.
Once you confirm you want to permanently delete your account, you'll have 2 weeks (14 days) to cancel the deletion request. After 2 weeks there will be no way back.
Furthermore, you will be logged out of Quora and you'll be able to create a new account using the same email address or Facebook account. This new account will be empty (In case you want to start from scratch).
Alternatives to Deleting Your Account
As I said above, deleting your account on Quora is final. Once the 2-week period is passed, it can be undone. You will not be able to restore it if you happen to change your mind. I don't know why you would want to cancel your account, so I won't try to change your mind but just keep in mind that there are other options:
Deactivate your Quora account: This will act the same way as deleting it (your answers and comments will disappear) but there will be option to restore your account by activating it again. To deactivate your Quora account, proceed to your Privacy settings by following the instructions above and click "Deactivate Account". Deactivation is a softer version of account removal which you can reverse.
Hide your name from Search engine: If you are concerned about your answers showing up in Google, you can ask Quora to hide your name and answers from Google by unchecking "Allow search engines to index your name" check box inside your Quora privacy settings. Once you uncheck it, give it some time: Google needs some time to recrawl Quora and your content to "see" that you prefer to keep your name hidden.

In case you were wondering how this works, Quora adds "noindex" meta tag to your profile page preventing Google (and other search engines) from showing your page in Google. Again, this option does NOT make your answers private or anonymous. It only hides your name from Google.
Apart from deactivating your account and hiding it from search engines, there's no way to mass-change your answers and comments to hide your name or make them anonymous, unfortunately.
In closing, Quora has made a great progress when it comes giving its users the power to control their data and content. When it started, there was no option to delete your account whatsoever. You had to use some email to request deleting. It's nice that they are constantly improving the platform making it more usable and safe.
Takeaways: Deleting Your Quora Account
Deleting your Quora account is NOT reversible, you may sleep on this idea or start by deactivating it first before you are sure you want to remove your content forever
You can delete your Quora account by going Settings -> Privacy, clicking "Delete Account" and entering your password
If you need more help with Quora, please post your questions in the comments and we will find the answers for you!