Google is a great search engines which comes with lots of additional features, like quick tools and answer boxes.
And yet some of Google's usability decisions are quite questionable.
One of such annoying features Google introduced a few months ago is the infinite scroll.
What's Google Infinite Scroll?
Google Infinite Scroll keeps loading new results as you scroll down the page. Since Google does serve thousands of results for just about any search query, this feature is – in fact – infinite.
Google Infinite Scroll was a replacement to pagination (where you had to click "Next" once you reached the bottom of any search engine result page).
Apparently Google thought the infinite scroll provided for more effortless (clickless) navigation.
Yet, many people didn't like the feature as they preferred to have a better control over how they navigate Google's search results.
How to Turn off Google Infinite Scroll on Desktop
Google does give an option to disable its "continuous" scrolling mode, only it is hidden a bit too well.
To turn off Google's infinite scroll using your desktop browser:
Sign in to Google (this will ensure your preferences will be supported across all your devices)
Click the "Settings" button in the top-right corner of your screen
A panel will appear to the right. There, click "See all search settings" (below the "Quick Settings" subheading)
In the next step, scroll down to "Continuous Scrolling" section
Select "off" and scroll down to save your settings.
You are done!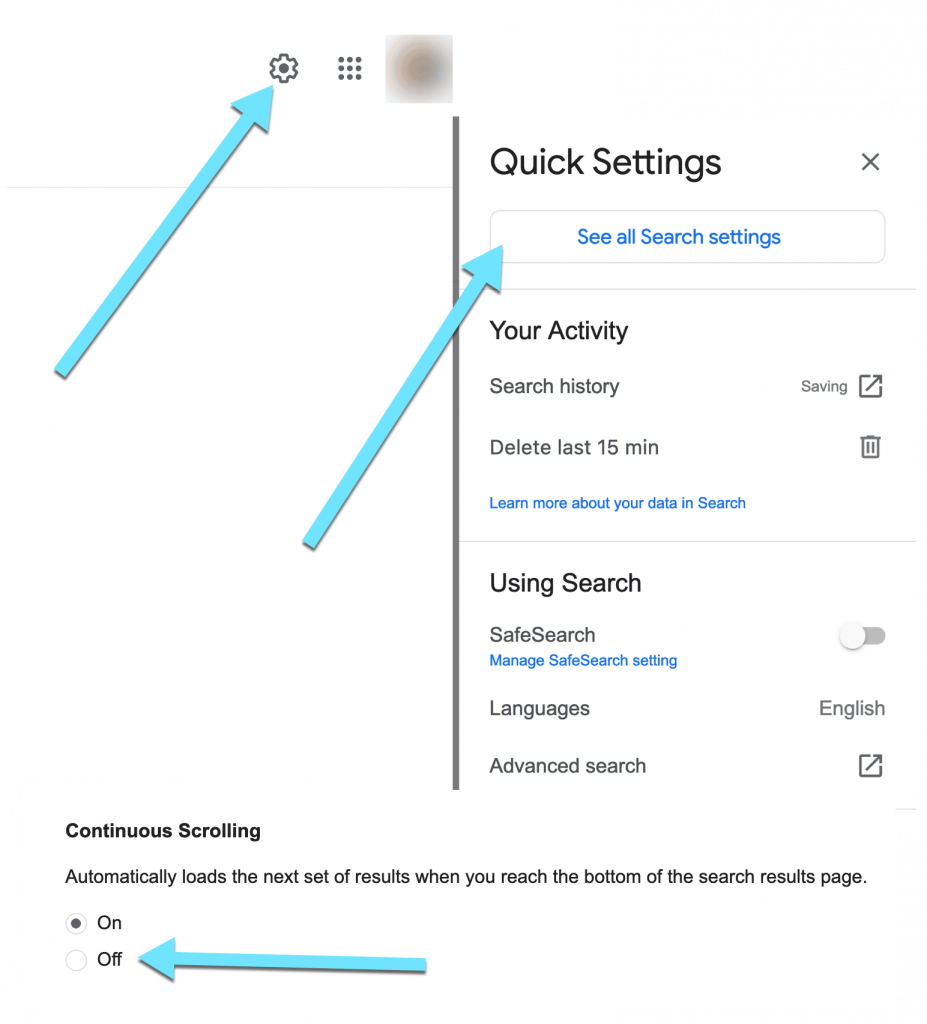 Once you choose the "Off" option, you will see "More results" link. Clicking it will load more results: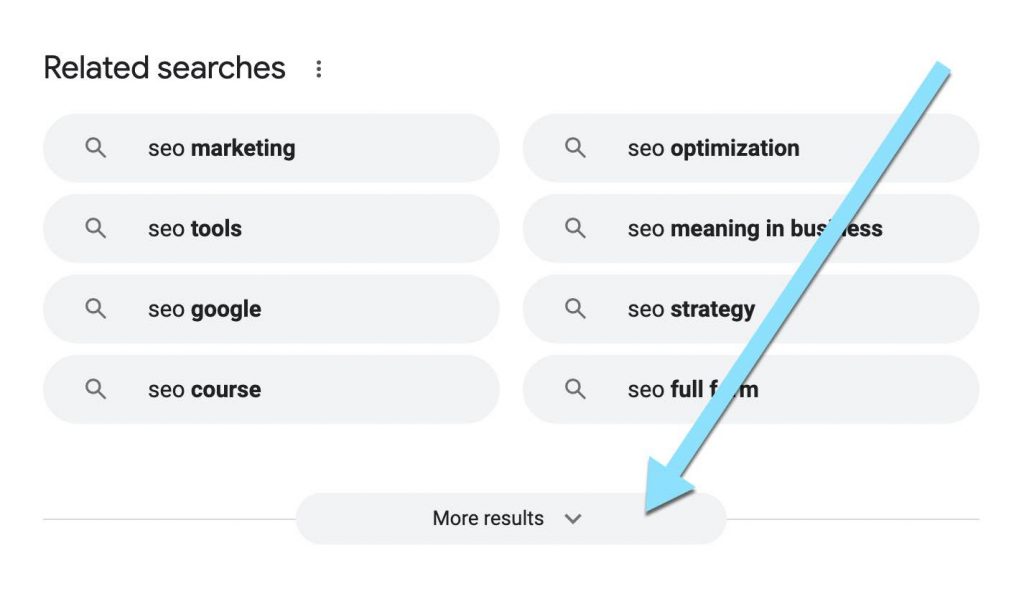 There's no more pagination available within Google results, even if you disable continuous scroll on your desktop browser.
Likewise, you can no longer set how many search results you see within Google search (previously you were able to choose a number between 10 and 100 to serve as many search results on page 1 as you wanted). So you will have to scroll quite a bit until you see the "More results" option.
But this way you will have at least some control over your scrolling.
How to Turn off Google Infinite Scroll on Mobile
To turn off mobile infinite scrolling for Google search, you will need to request your browser to serve the "Desktop" version of the site.
Here's the full guide on how to do that: How to View Full Site on iPhone: Facebook, Linkedin, Youtube, Amazon Full Site
Using Safari on any Apple device,
Make sure you complete the steps for disabling infinite scroll for desktop results first
Search Google for anything on a mobile device (make sure you are signed in to the same Google account)
Click AA button in the URL bar
Select "Request Desktop Website"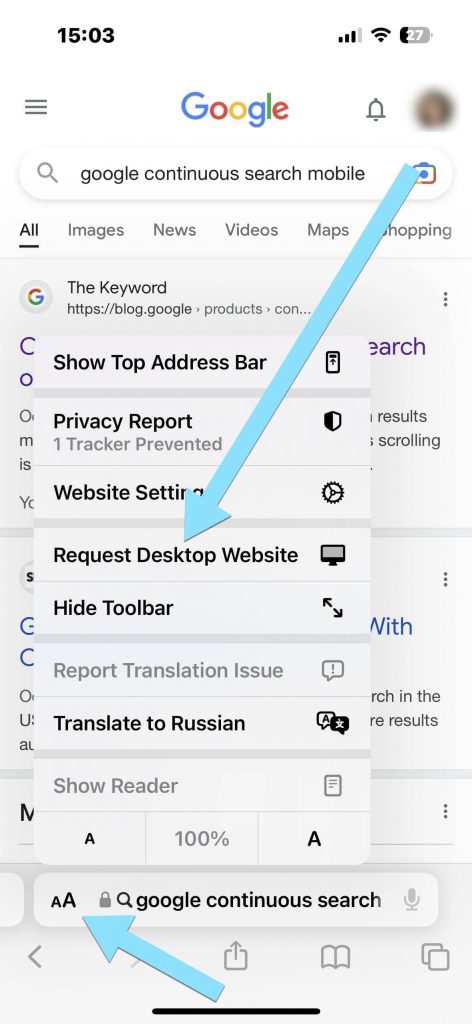 You will have to Zoom in a bit but you will see the pagination: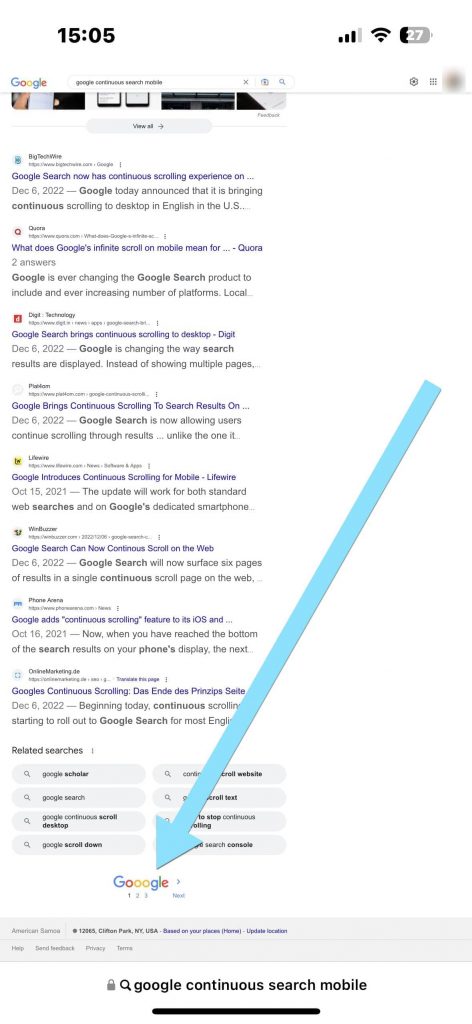 There is no official way to disable continuous scroll on a mobile browser, unfortunately. That includes Safari, Google Chrome or Google app. Whether you are signed in or not, Google will automatically load new results as you scroll down the page.
After 3-4 scrolls you will be able to reach the bottom of search results with some settings and options (so it is not actually infinite).
What is the Problem with Infinite Scrolling?
Google's decision and lack of control they offered to their users is questionable for several reasons, including:
Infinite scrolling uses too much RAM and data (which is especially important on a mobile device where you can potentially use all your cell phone data)
Continuous scrolling makes it impossible to reach static links (like About Us or Contact Us)
With it in place, a user is left with the sense of loss of control.
Overall, infinite scrolling was found dangerous and addictive leaving a web user wasting their time and often unable to stop.
Takeaways
Google's continuous scrolling loads more search results as you reach the bottom of a screen
Using a desktop browser, you can disable infinite scrolling option using Advanced settings. There's no such an option on a mobile device but you can disable continuous scrolling by requesting desktop version of Google search using your mobile browser settings
Google gives little to no control to a web user over how many search results they are able to see at a time, even with infinite scroll disabled (there's no longer an option enabling you to set the number of results per page)