Whether you are a book lover or an occasional reader, chances are sometimes you forget the book name or the author (or both) exactly when planning a trip to a library or a bookstore.
How to find a book without knowing the book title or author? Here are 4 tricks you can use right now by searching Google:
Search for the Book by a Vague Description
Type your vague description in Google's search box. Try to be concise and factual:
Try to remember unique details (Geographical names, instruments played, historical events that were taking place in the background)
Describe the characters (age, gender, first name, etc.)
Add the book type or genre (fiction book, non-fiction, science fiction). Get as specific as you can. For example, you can include words like "humor", "mysteries" or "memoir" to narrow your search down
Add [book] at the beginning or the end of the query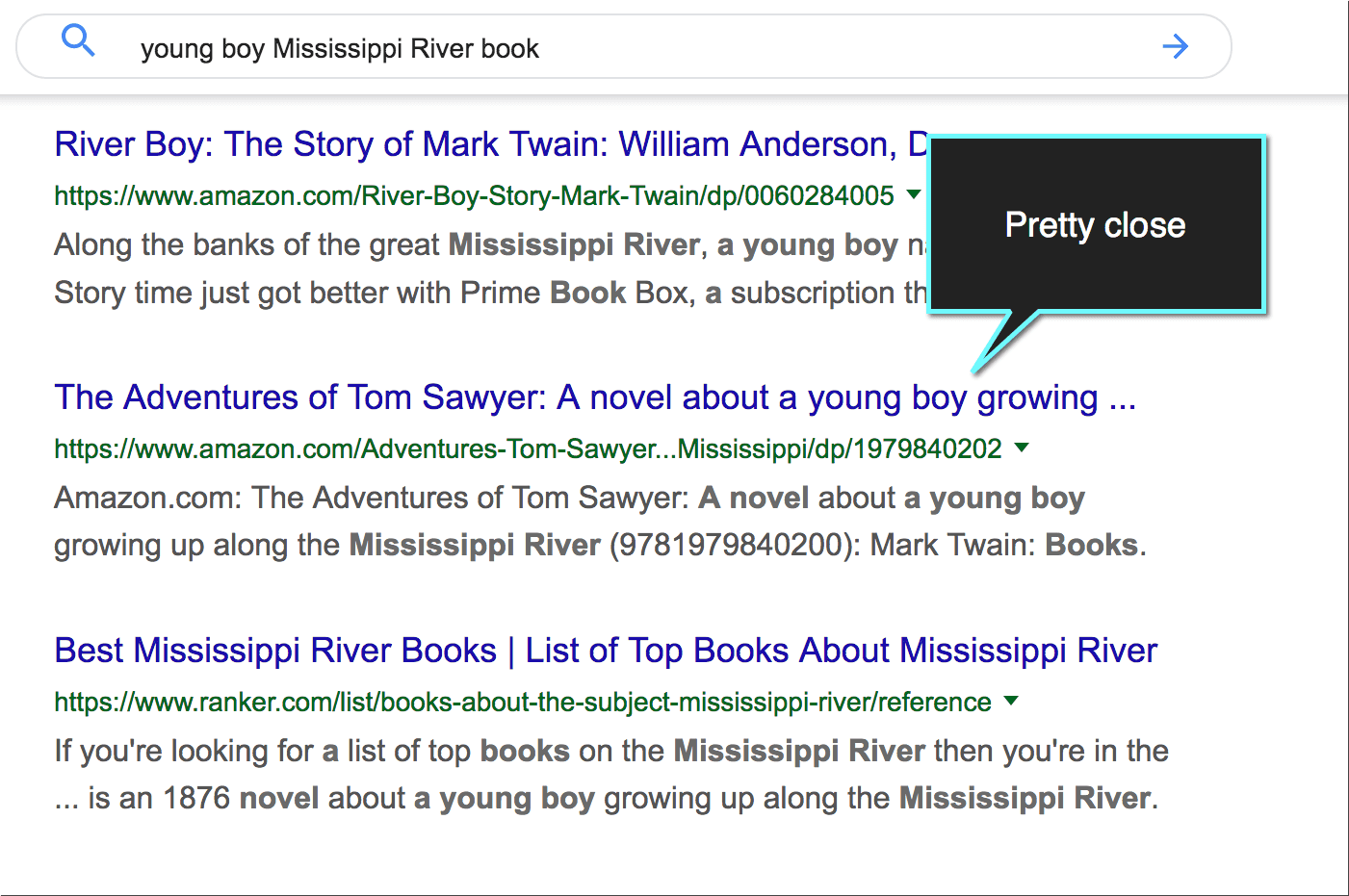 Generally your search query shouldn't be longer than 7 words (better if you limit it to 5 words). Otherwise search results will get almost crazy.
If this first step didn't do the trick, the next one almost always works like a charm:
Click through to Google's "Images" Tab
Right from your vague-description search above, click "Images" tab taking you to Google Image results.
Google Images provide visual search results which is very useful because you can quickly recognize the book by the cover.
Furthermore, Google Images tend to interpret search queries more vaguely, which is exactly what you need when you are trying to find a book without knowing the title or the author.
Here's what I typed into the search box and Google interpreted it too literally (showing all kinds of books about rivers): [boys traveling river book]
However, once I clicked through to "Images" tab, here my book cover was, right in the top row of image search results: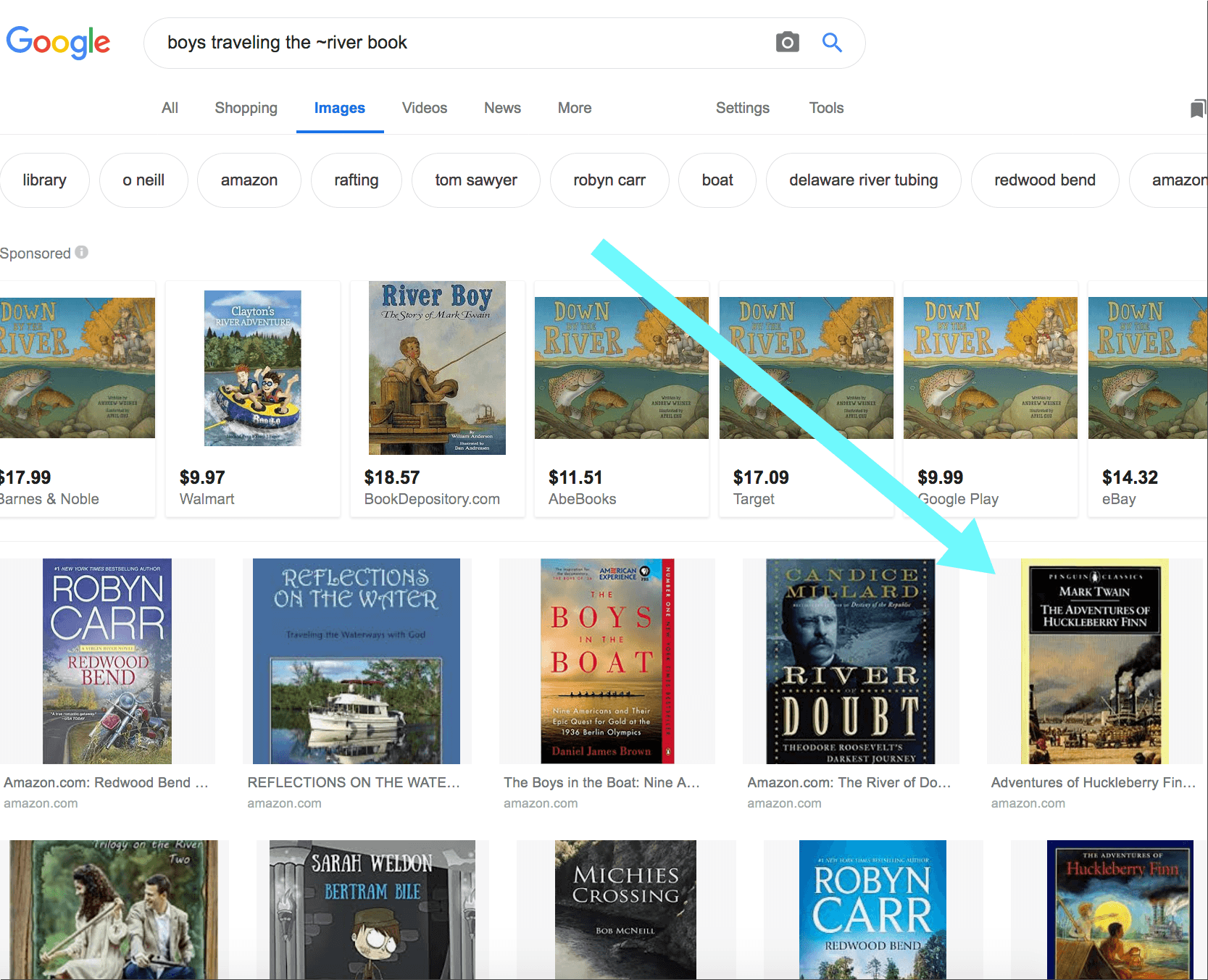 Search Google for a Vague Quote
If all you can remember is a vague quote from the book (from a school class or a podcast mention), you can still use it to find the book.
Google supports exact-match search, that is if you wrap the text in quotes, Google will do its best to find exactly the phrase you typed. This is a perfect quote search trick: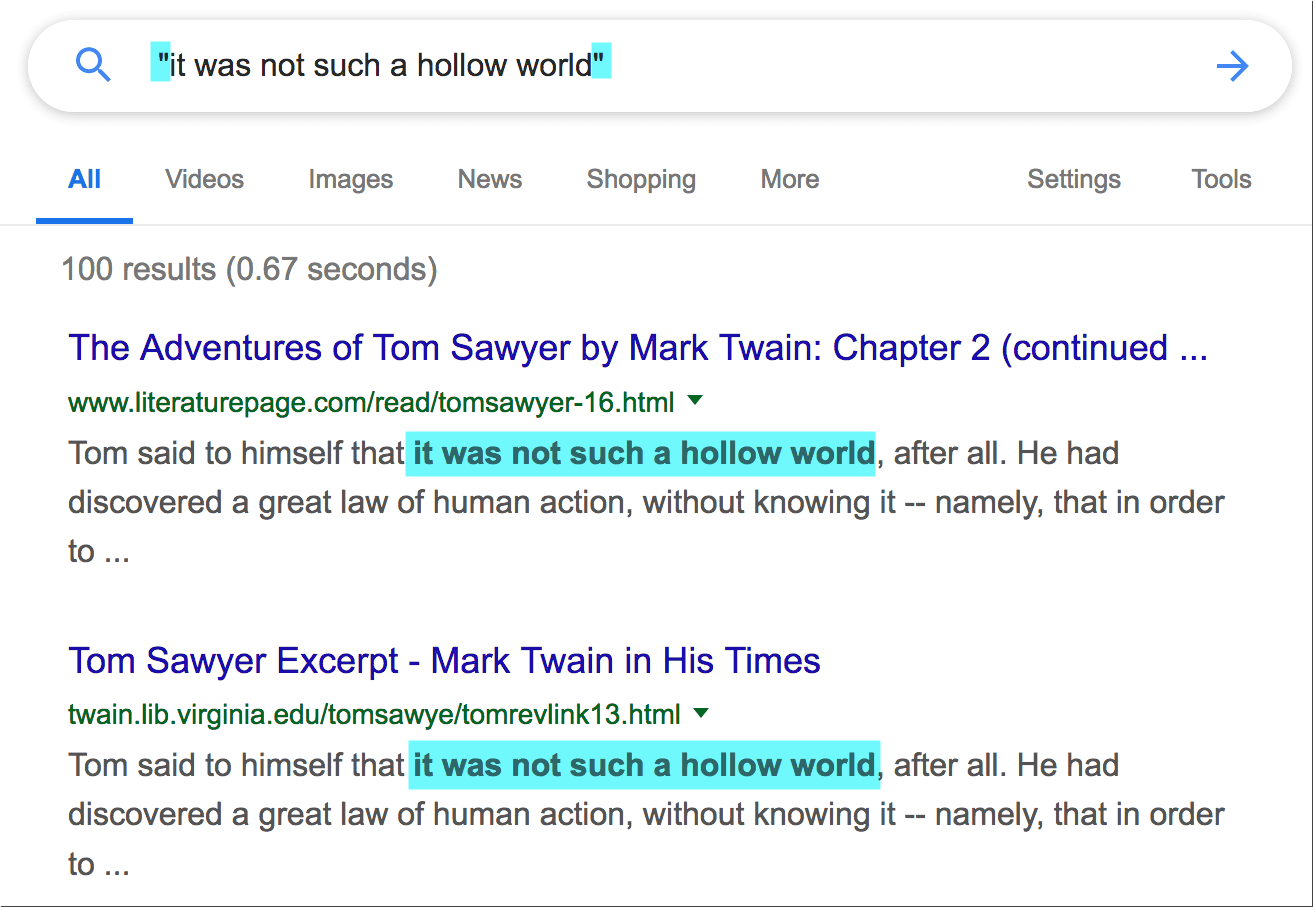 But what if you don't remember that quote that well?
Well, you can still search for your quote but make sure to use an asterisk (*) to replace parts of the quote you cannot remember: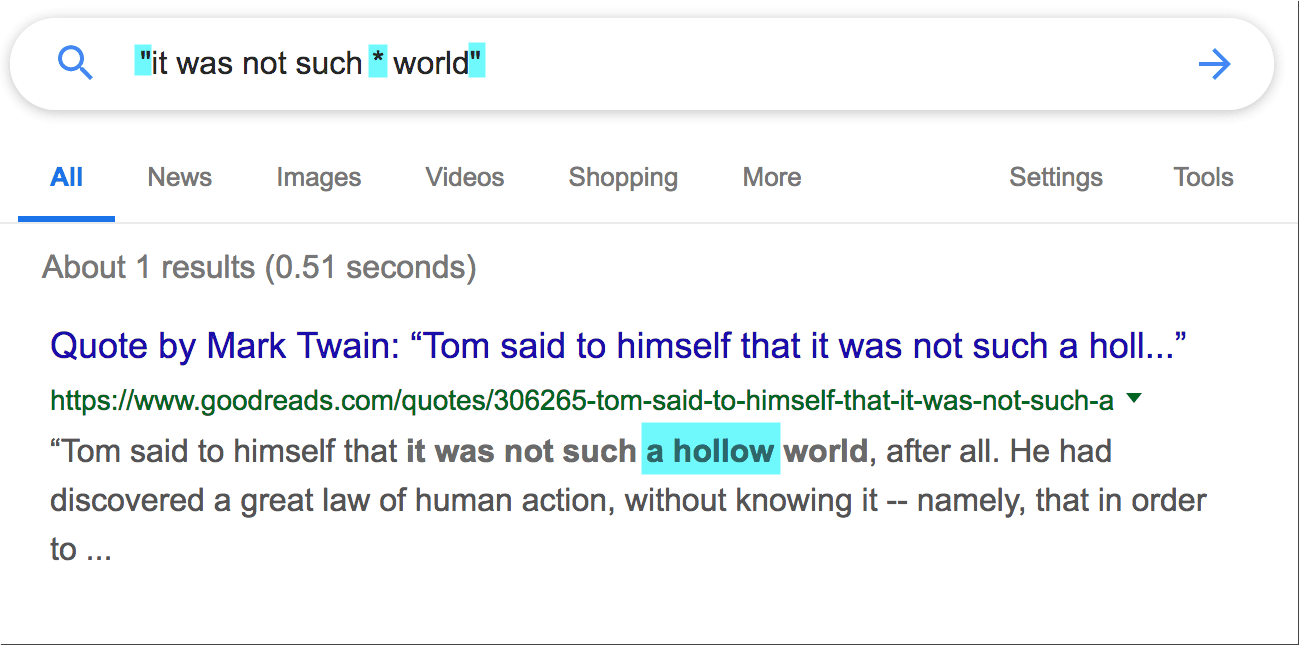 It's a great way to search when you are not quite sure what you are searching for.
Find a Similar Book to the One You Do Remember
Finally, if you like a certain type of books and can't remember a specific one, try using the old title of the book you liked previously to search Google for something like:
Books similar to [BOOK]
Books like [BOOK]
Books for [BOOK] lovers, etc.
This is a great new book discovery trick too in case you are looking for new books to read.
Google has that neat feature called "People Also Search for" showing up some suggestions based on what else Google users were interested in after searching for a particular query. This allows you to discover new literature and find books when you don't remember the title or the author: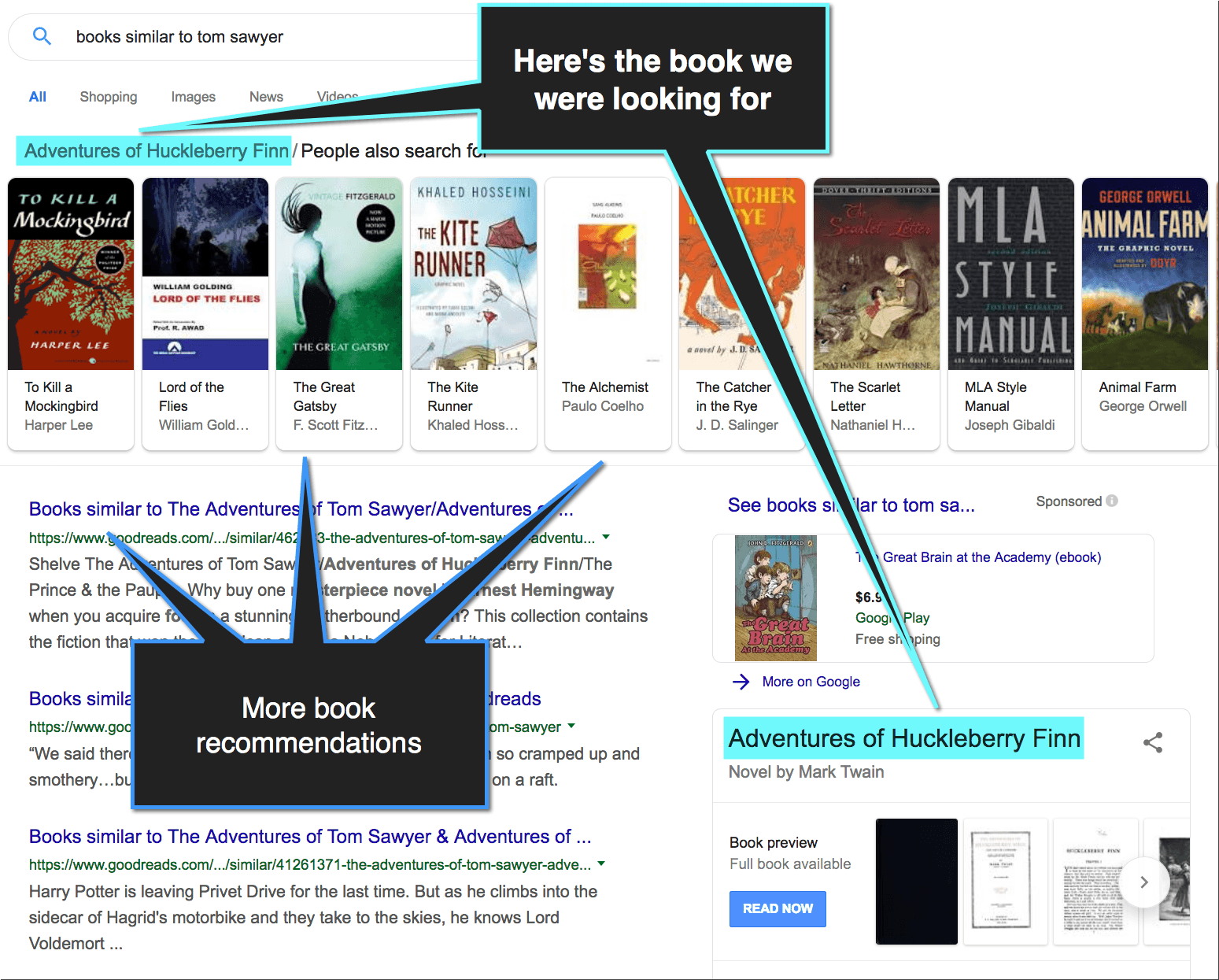 More Ideas to Find Books When You Don't Remember Much
Search Google for other books you think were written by the same author (Take your best guess). This way you will find the author name and will be able to find your book by searching "Books by AUTHOR"
Limit your search to a certain digital repository (a public library, a searchable archive or an online catalog, etc.) in case you remember seeing it listed or discussed on a specific site. Search SITE:domain.com for that. For example, to search within Goodreads, you can search [SITE:goodreads.com boys traveling river book]
How to Find a Book When You Don't Know the Title or the Author?
Search Google for a vague book description. Keep it short, yet very on point (type in names of places, years, historical events, etc.)
Search Google Images for a vague description and simply look through images of book covers
Try searching Google for a quote from the book, If you don't remember the whole quote, use asterisks to replace words to replace them.
Find similar books to the the one you do remember by searching Google for something like "Books similar to [BOOK]"
If you read books on a regular basis, it's hard to remember the authors and names, especially if you have a lot of favorite books. Of course, all of the above steps will work well for pretty popular books (bestsellers).
However it will be harder to find a self published book you once saw in an independent bookstore. Likewise, it's not easy to find rare books, especially if you don't have much information on them.
But don't give up! Browsing the web helps find many answers. Search books using and combining all the tricks above and you'll succeed!
Google can be an effective book search engine, especially in cases when you have a very vague idea what you want to find. You can use it to find both fiction and nonfiction books, especially if you know which keywords to use.
Have our online book search tips above helped you find your book? Please share your experience in the comments!
Don't miss more of our Google search tips: