Tumblr is one of the best user-generated resources out there. But how to discover interesting content there? Tumblr tag search is the answer.
Initially, Tumblr was one of the first microblogging and social networking platforms out there that introduced tagging, which was also the closest form to today's "hashtagging".
Hashtag search on Tumblr changed several times in the course of the years, so its new version is not always easy to figure it out.
How does Tumblr tag search work? Let's find out:
How to use Tumblr tag search (desktop):
Copy and paste this URL into your desktop browser address bar tumblr.com/tagged/XXXX
Replace XXXX with your tag. For example,
tumblr.com/tagged/gifs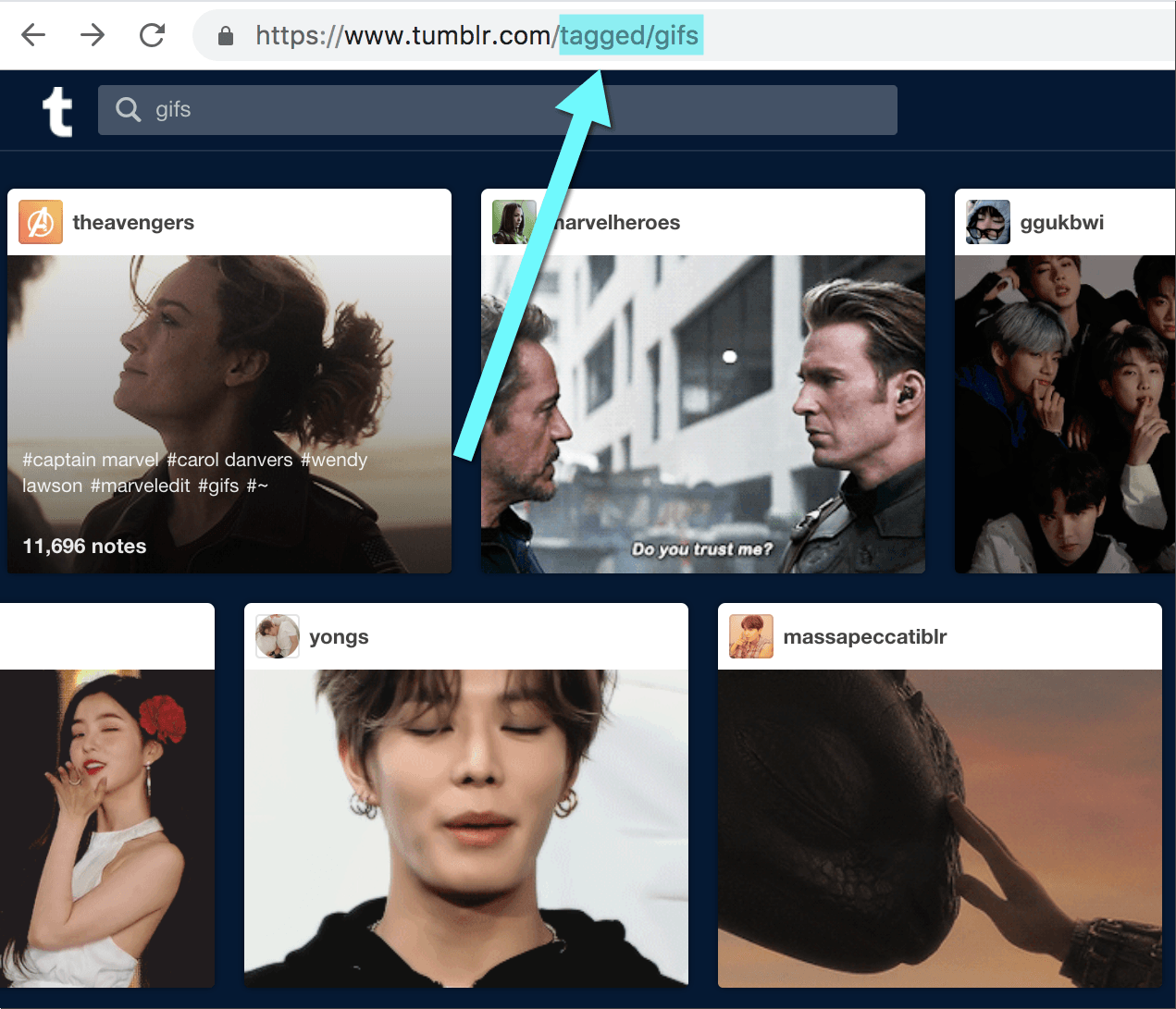 Unless you log in to Tumblr, you'll see all tagged updates in the order of their overall popularity (i.e. number of "nodes")
Search multiple tags on Tumblr
From there, you can add more tags into the search box, separated by commas, to narrow your search down: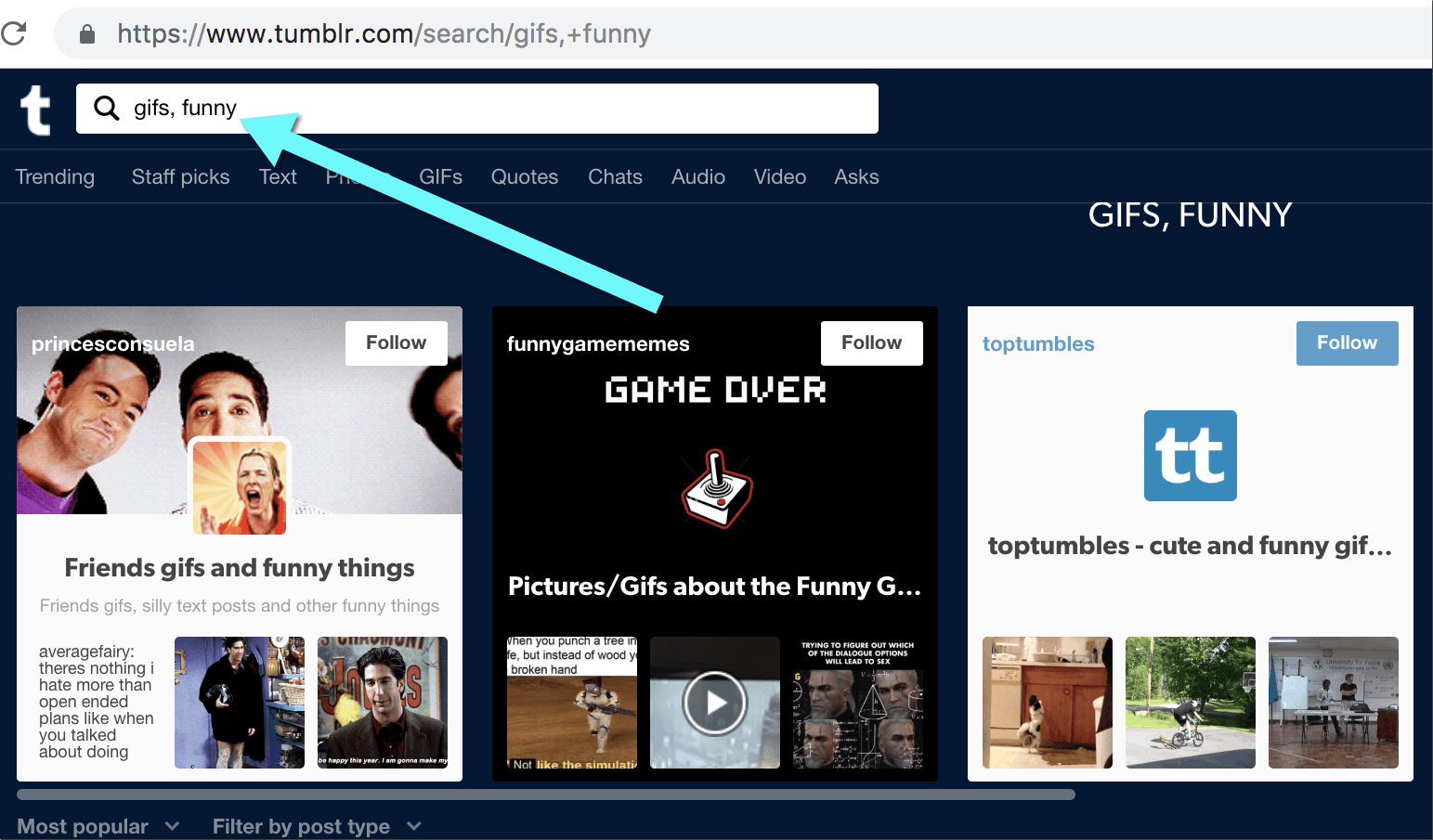 Once you login, you will have a completely different view:
Your tag-driven search results will be prioritized based on your connections (you'll see updates from people you follow first)
You'll see an option to "follow" this search to get alerted of new tagged updates from your friends
You'll see related related tags (to give you an idea of more queries you may search for)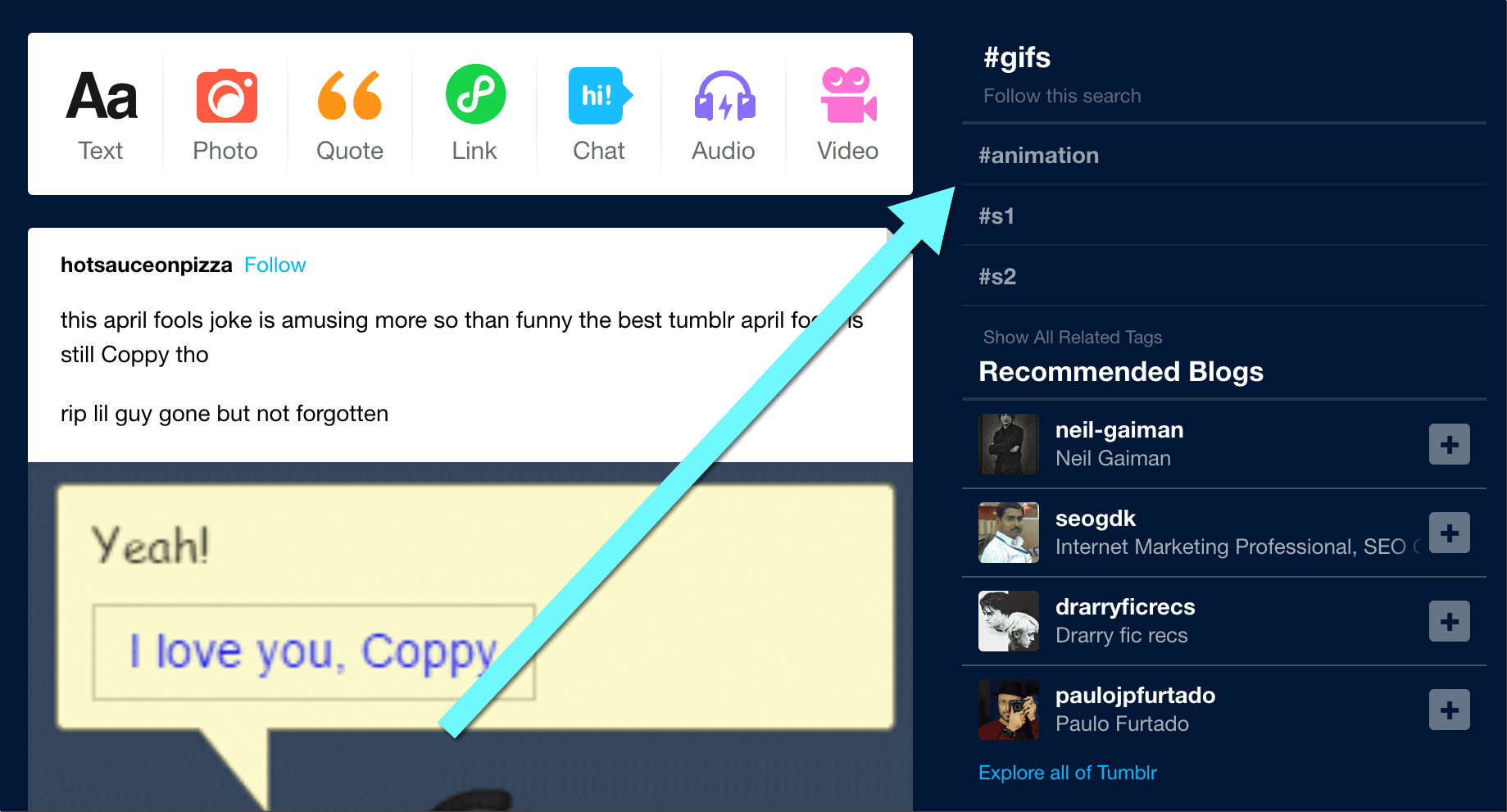 How to use Tumblr tag search on an individual blog
The same trick works for any blog powered by Tumblr. To search within a specific Tumblr blog:
Copy paste the blog URL
Add /tagged/XXXX at the end
Replace XXXX with your tag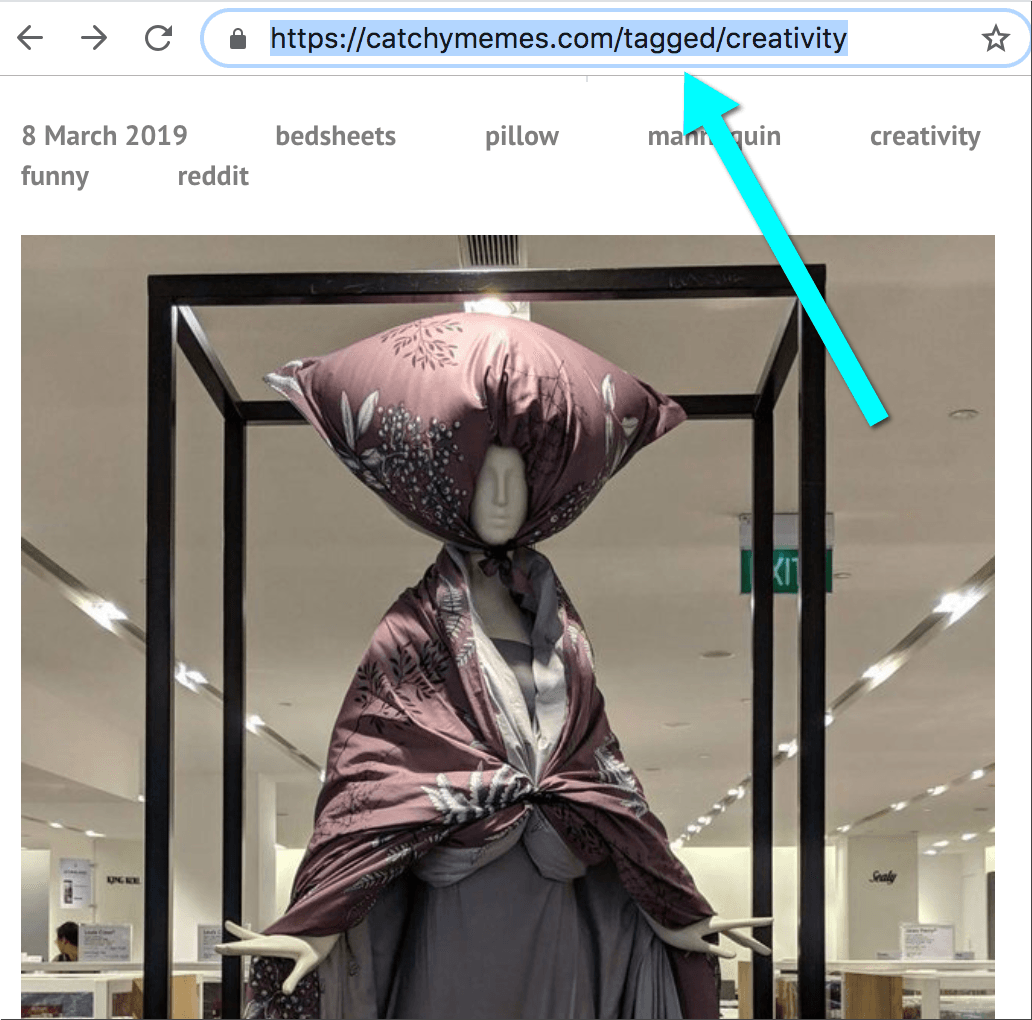 If you are using the URL trick on a specific blog, you can also add /rss at the very end to get access to the TAG RSS feed. Now use any RSS-to-email tool (like IFTTT) to get new tagged updates from that blog delivered to your email as alerts.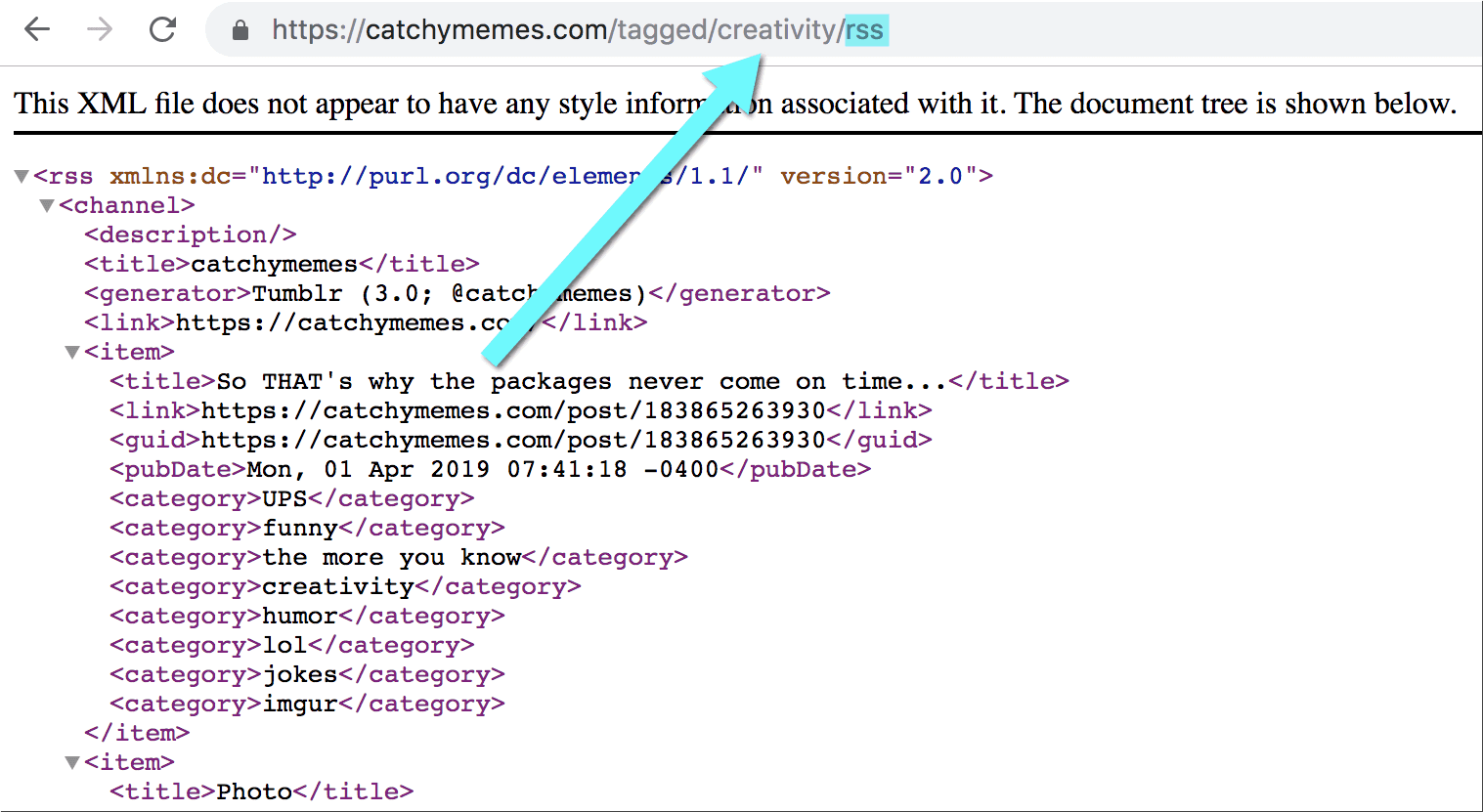 How to use Tumblr tag search (mobile):
Find Tumblr app on your phone home screen
Login to your Tumblr account (Android or iPhone app)
Tap "Search" icon at the bottom
Type your search query in the searchbar
Tap #Tagged section in the search options (in the search toolbar)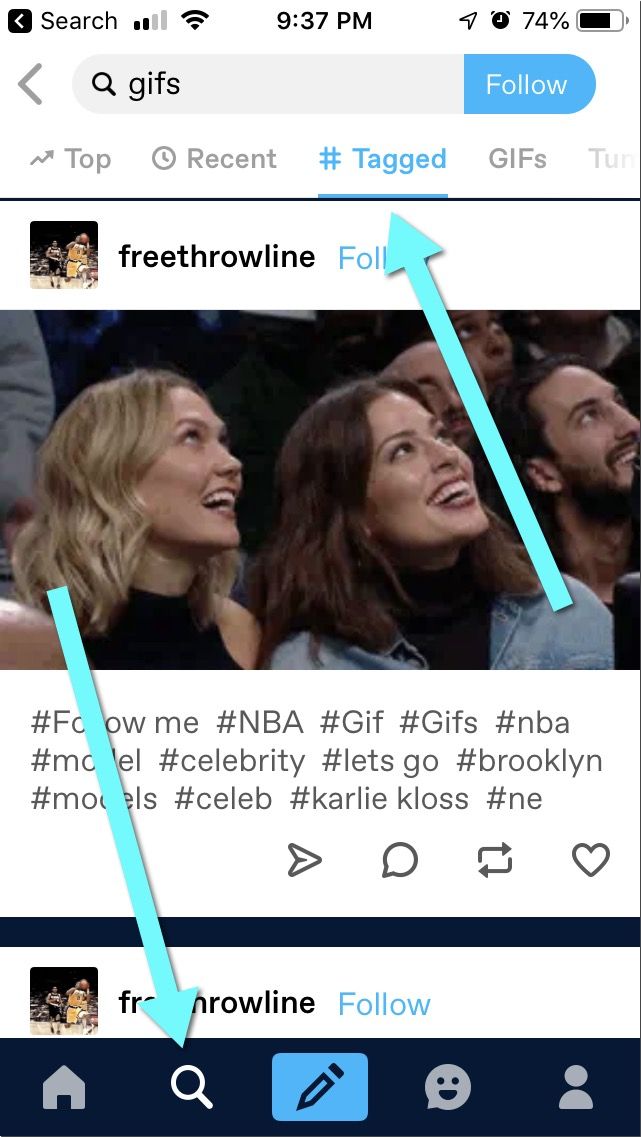 How to use Tumblr tag search NOW
Here are a few ideas to get started with Tumblr tag search:
Find awesome and popular animated gifs and images: Tumblr is a great resource of funny and inspiring animations. You may like it even more than Twitter GIFs
Play with search terms to discover interesting Tumblr blogs to follow
Find interesting web content to publish on your own blog by clicking "share" button (i.e. reblog content). Tumblr is one of the easiest and fun blogging platforms (which is also free).
Use Tumblr as a research tool for your online research and curation. Find information as well as sources to quote.
Save your searches to monitor interesting content and create a curated searchable archive of updates around the keywords you are interested in
Tumblr is a great blogging platform and social network allowing you to find interesting people to follow and get a daily dose of inspiration. By using its reblogging feature, you can curate content there.
If you find yourself struggling with Tumblr user interface, the above steps will override some of the weird functionality and help you find what you are looking for.
Are you using Tumblr search engine? Please share your tips!