Most popular digital news outlets including New York Times, Washington Post, and WSJ use paywalls to force you to pay before you can access their articles.
What if you want to bypass the paywall? Here are a few ways to get around newspaper paywalls and instantly access the article you need.
While it is not really doable at scale, you can easily get around digital paywalls easily, for free and without the need to install any (questionable) software on your computer.
What is a Paywall
A paywall is a way many digital publications hide content from readers in an effort to monetize it.
While it is not perfect (and may be quite annoying), it is quite understandable that online newspapers are trying to make money by generating digital subscriptions: News sites do have bills to pay.
Usually content gets hidden after you read several articles from the same site within a certain amount of time. That is, they want you to get a taste of their content for you to want to read more.
Plus, this is how digital newspapers manage to allow Google to access that content and show these articles in search results. Undoubtedly Google is a major traffic driver to all those digital publications.
The basic idea behind paywalls is to get you subscribe to a recurring payment (which is usually very small, to be fair).
So once you land on an article and click a link to see another one, you may see something like that: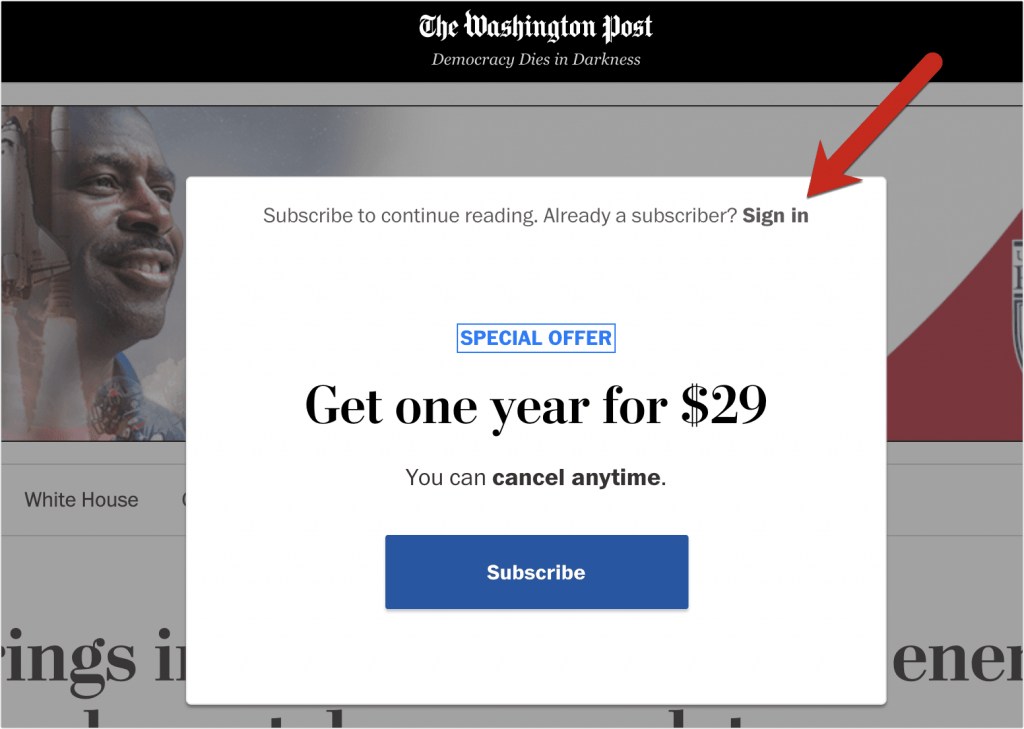 How to Bypass Paywalls Using Browser Extension
This browser extension (Google Chrome and Firefox) helps you remove paywalls on most popular websites including:
Bloomberg
Adweek
Daily Press
Financial Times
Fortune
Glassdoor
Harvard Business Review
Wired
The Washington Post
Vanity Fair
The New York Times
The Economist
The New Yorker
Herald Sun
Globes and more
How to Bypass Most News Paywalls Using Google Cache
If you have found an article when searching Google and you cannot access it, chances are it is cached by Google.
Google cache is the saved version of any page Google keeps stored on its servers.
To access Google's cache of any page type the following string in your browser's address bar:
cache:https://site.com/full-url

Use Google's cached copy of the page to bypass the paywall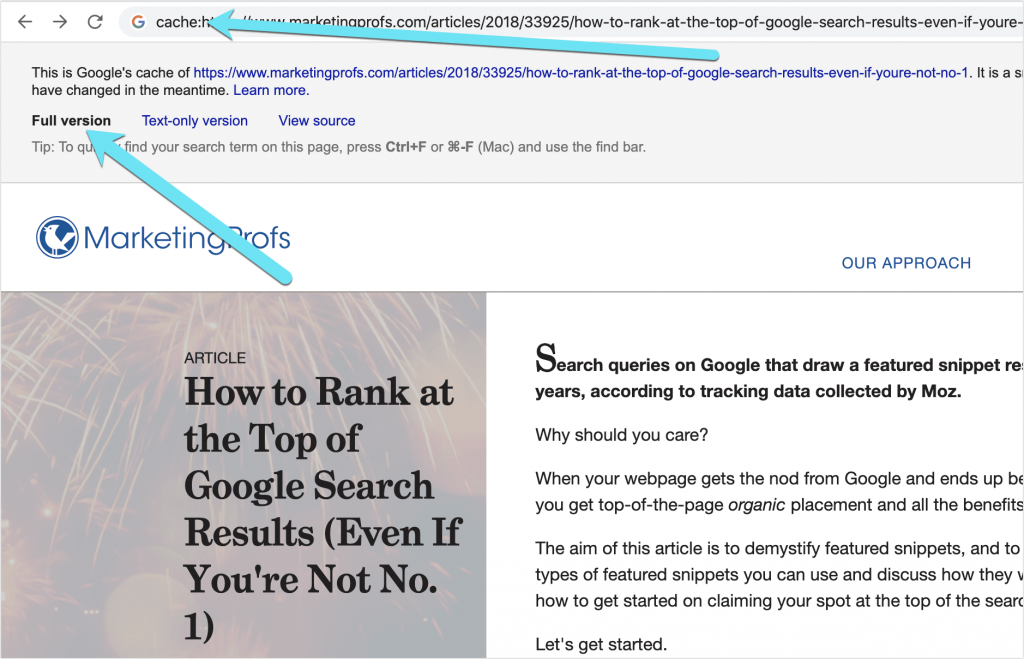 Not all pages will have Google's saved copy but many will. So check this hack before trying anything else.
How to Bypass Most News Paywalls Speech Tools
You may be able to listen to the full article using text-to-speech tools and extensions (we've tested some here), even if you are not able to read it. This is a good idea for background reading / listening too.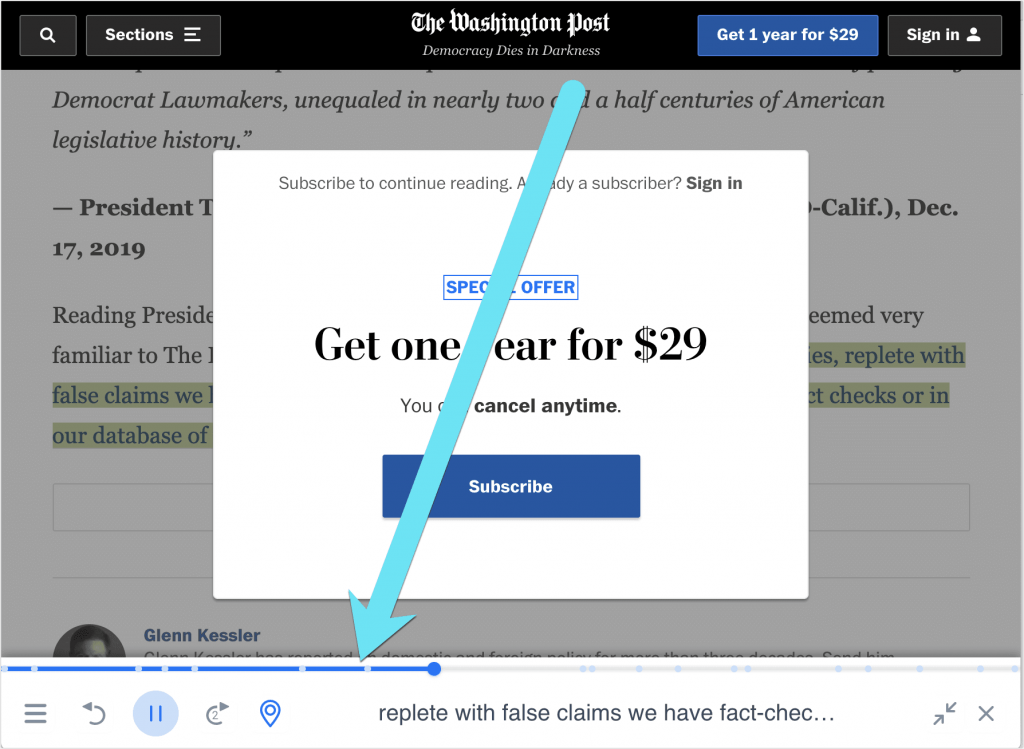 [Using Natural Reader's extension to get past Washington Post paywall and listen to the full article. Surprisingly, the voice does sound almost natural and I am able to understand anything. This method is perfect for people with low vision or even for just giving your eyes some rest]
What if I Can't Find the URL?
Recently, some news outlets started hiding URLs of the articles behind the paywall making it hard to copy them.
In this case you can go back to the previous page (where you clicked the link from) and copy the URL from there:
On Google Chrome: Right-click/Double-tap on the link and select "Copy link address"
On Safari: Right-click/Double-tap on the link and select "Copy link"
On FireFox: : Right-click/Double-tap on the link and select "Copy link location"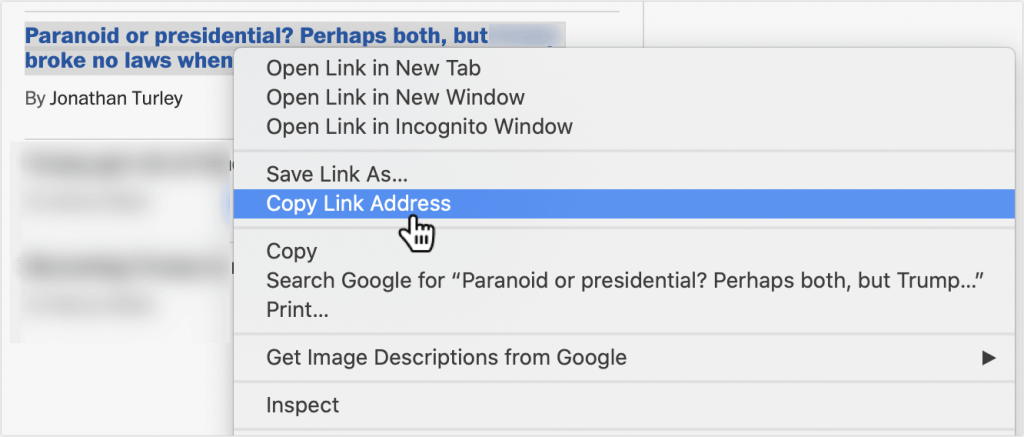 Yes, that's a lot of workarounds for one-time reading which is why I recommend subscribing to a publication if you find yourself having to go through these steps too often.
How to Get around New York Times, Washington Post, WSJ Paywalls
Use Google's cache to access the full copy of the article saved by Google
Try text-to-speech tools to listen to the full article if you cannot see it
Paywalls may work slightly differently on different newspaper sites, so you may try to use a number of methods to get past those. I've tested the above methods on NewYork Times, WSJ, Washington Post, Business Insider and Financial Times paywall and it worked in most cases.
Finally, all the methods above only work for one-time reading. If you love your newspaper and read it every day, go ahead and support it by subscribing. I truly believe that personal payments help support independent journalism, so it is a good cause.
After all, if you want to read the same publication on a regular basis, it is likely to be doing a very good job to deserve your subscription.
Paywalls may be annoying but you can still bypass them using any easy methods above.