Twitter lists are usually very misunderstood. No one is exactly sure how to use the feature, what it means to be added to a Twitter list, let alone how to get yourself to be removed from one.
Twitter has been around for almost 15 years but some of its features are incredibly under-developed. It is like they are still in the startup mode still figuring out what some of their sections need to work.
One of such weird features which we are nonetheless using is Twitter lists. I think Twitter itself is not quite sure how their lists work. There's no clear way to monitor your list from their web-based version or mobile app. You cannot easily access the list of users you have added to a specific list. Almost any aspects of how Twitter lists work requires some time or searching figuring out.
How to remove yourself from a twitter list? There's no default way for that meaning that Twitter engineers didn't quite think this through when creating the feature. But there's a workaround:
How to Remove Yourself from a Twitter List
Click the "List info" icon to the top-right
Click on the list creator's Twitter profile link (first link in the list info section)
Block the list creator's account on Twitter
Unblock the account right away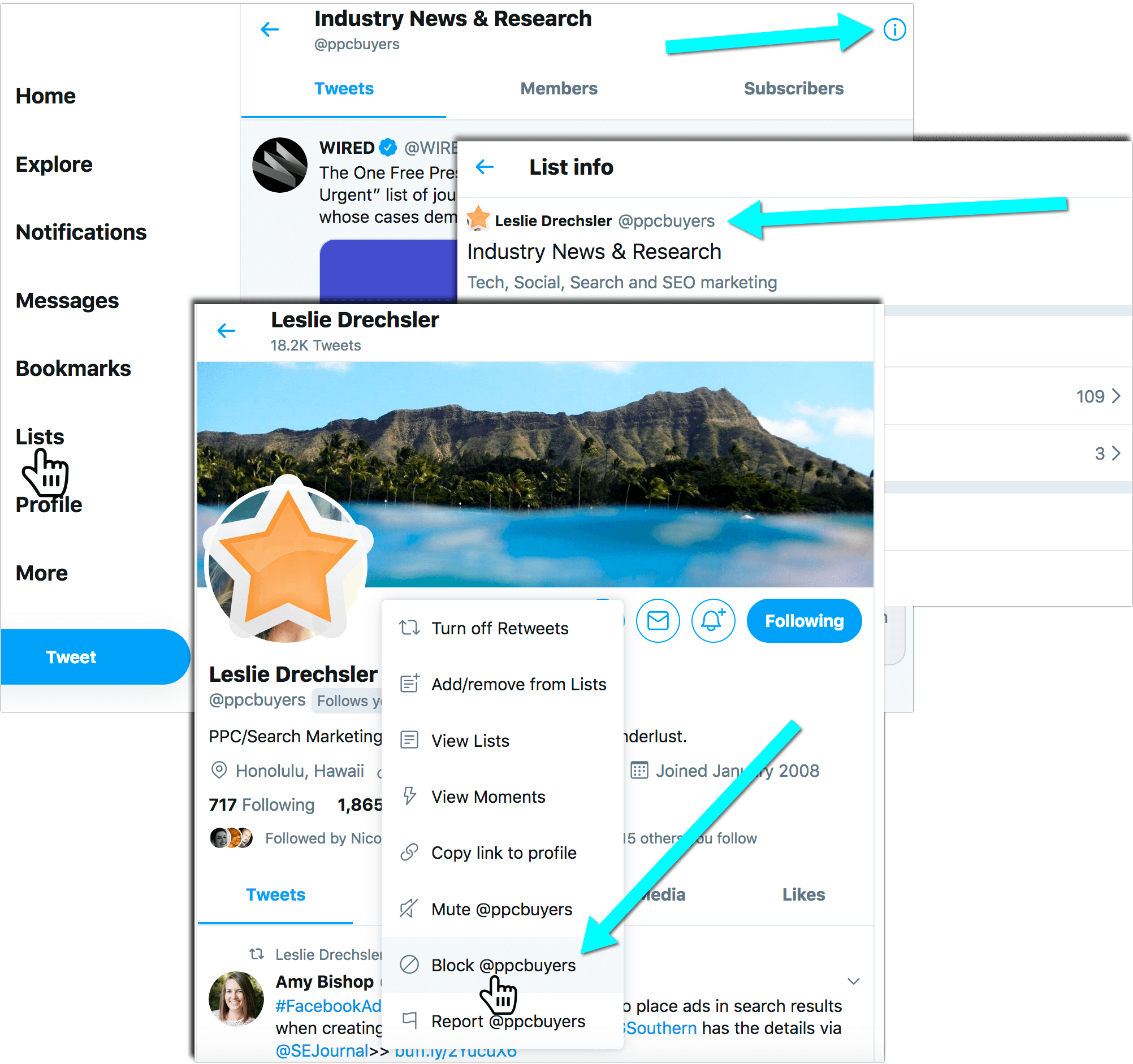 The list creator will take no notice that you blocked them for a second but you will be released of all their lists.
This workaround is especially useful if you are added to an offensive Twitter list or if you think the list may be a bad neighborhood.
How to Remove Yourself from a Twitter List on Mobile
Removing yourself from a Twitter list using Twitter's mobile app may be a bit of work, since there's no "List info" icon, so it is not easy to get to the owner's profile page to block him/her:
Note the name + profile picture of the list owner when viewing it from your "Lists" page
Tap on the list to open it
Look for the list owner either in "Members" or "Subscribers" sections
Tap on the user's name / profile picture to open the profile page
Tap … (three dots) on top of your screen
Select "Block" and confirm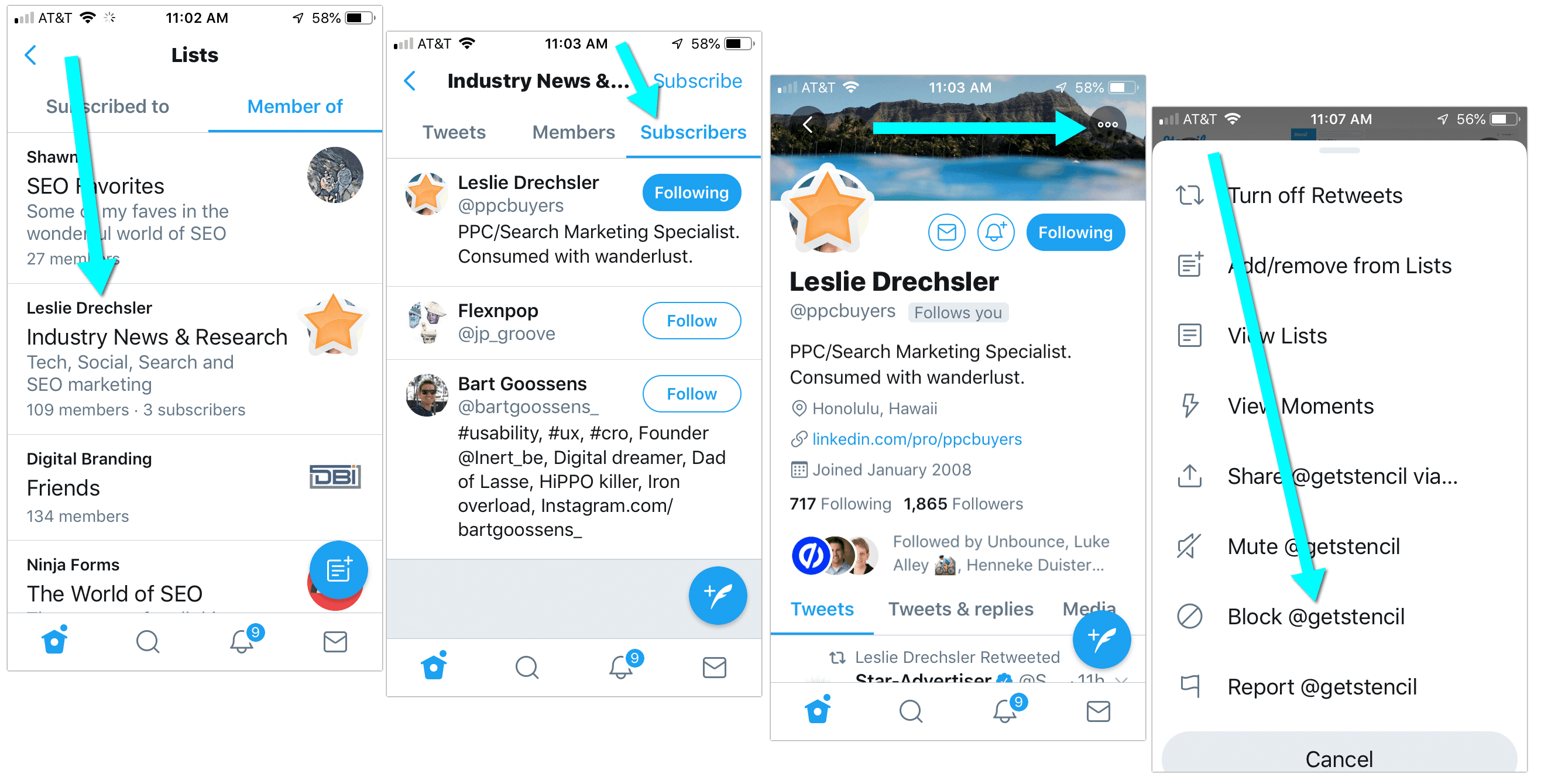 Whether you "Undo" blocking or not right away, you have already been removed from this user's list. You can go back to the your "Lists" to make sure you are no longer on that list.
How to Find out What Twitter Lists You Are On?
From anywhere on Twitter, click "Lists" to the right
Click "Member" (the third tab on that page)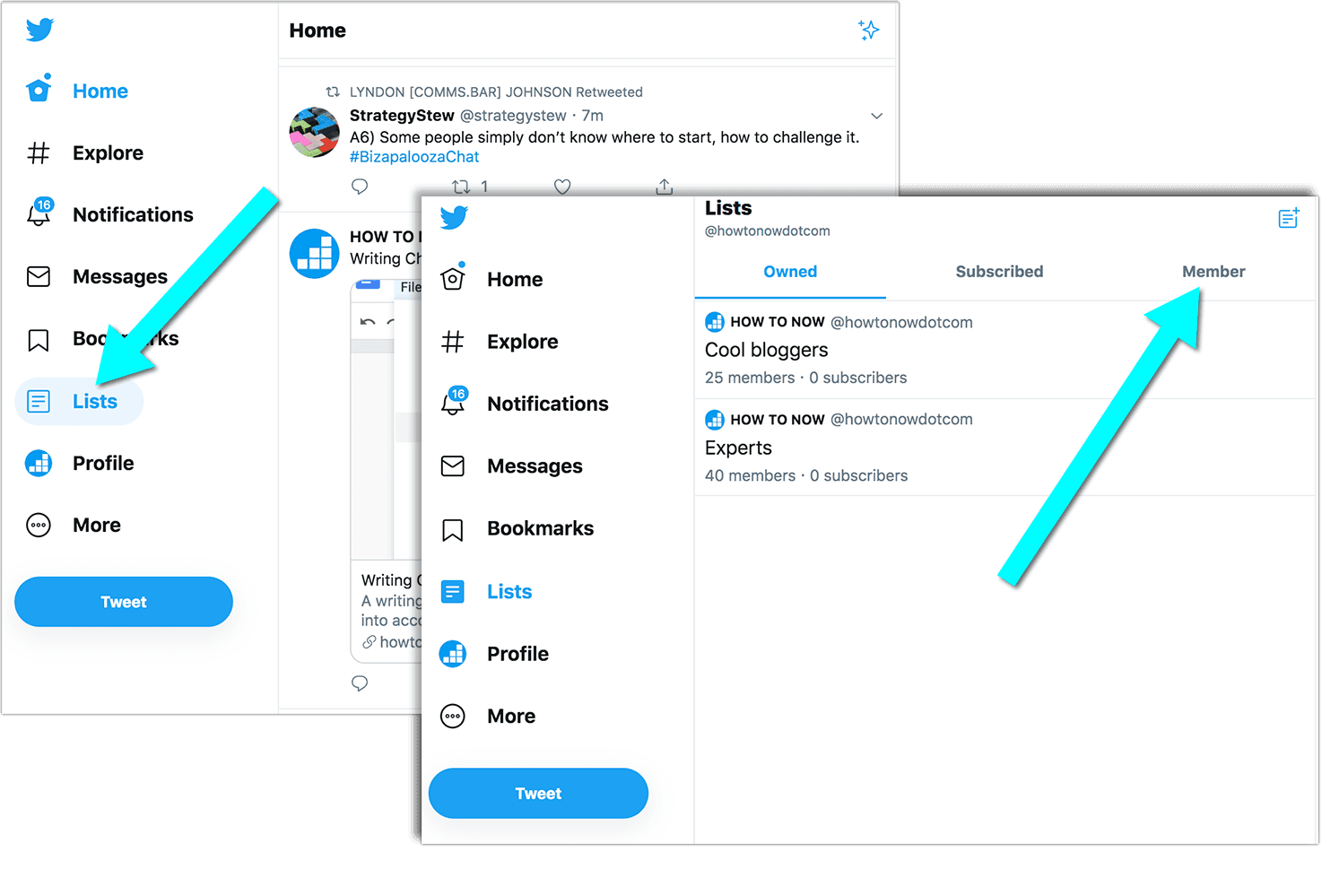 Here you go! Here are all the Twitter lists you are added to.
Note: You cannot see private Twitter lists you have been added to. A private list is only visible to the owner of the list. When you look at your own lists, you can see private lists labeled with a lock icon: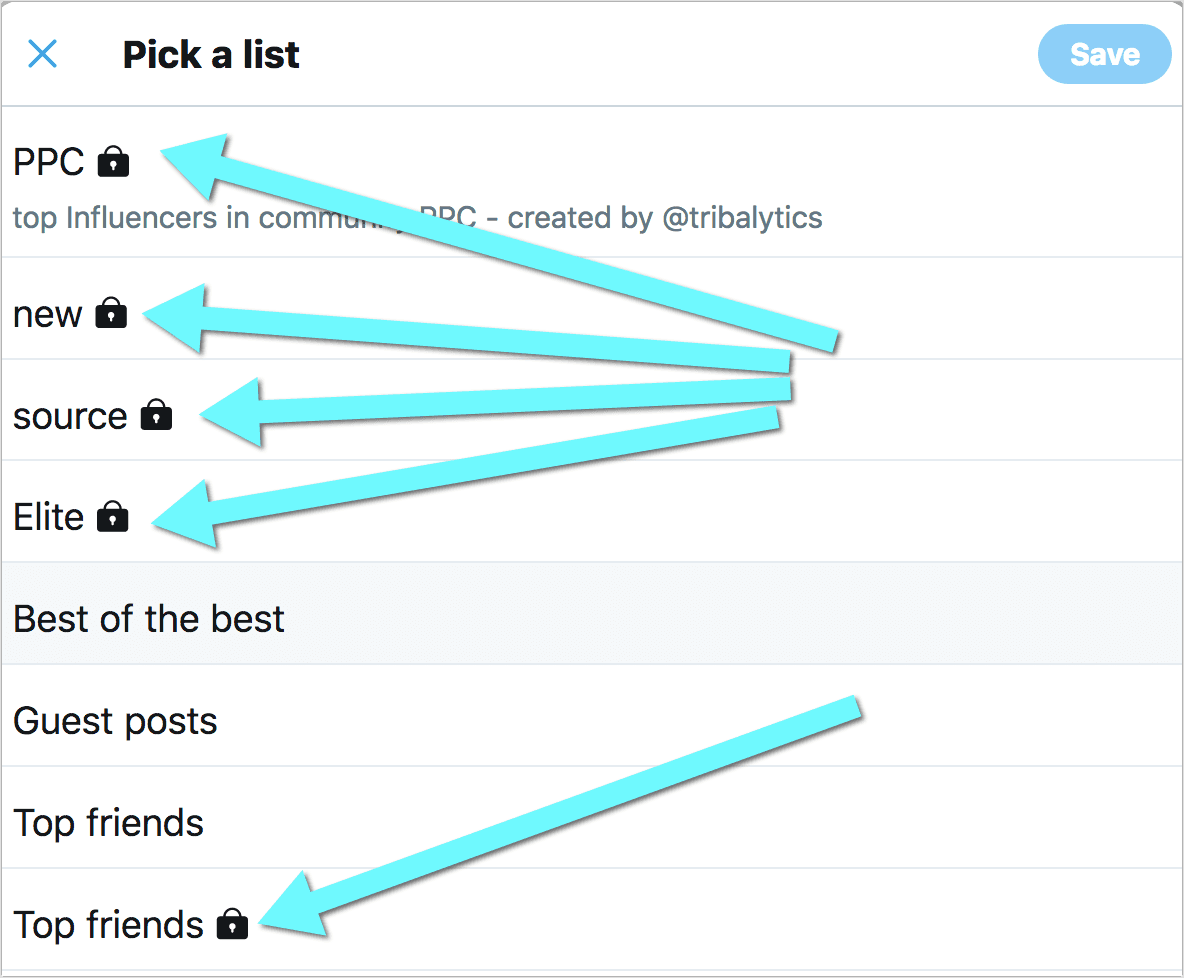 How to Find out What Twitter Lists You Are On (Mobile):
Open Twitter app on your mobile
Tap your profile icon in the top-left corner
In the left-hand menus, Tap on "Lists"
Next, Tap "Member of"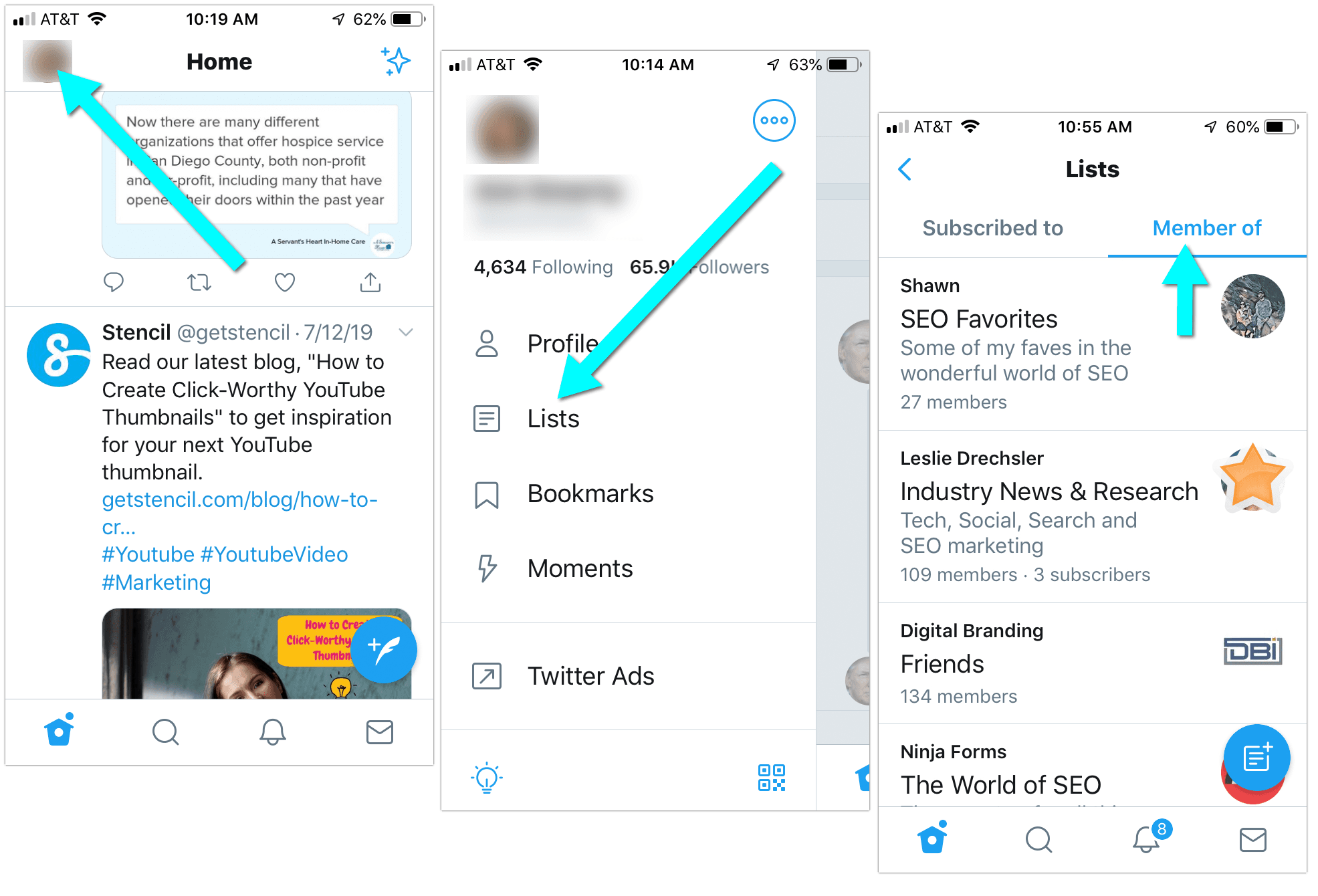 Here are all public Twitter lists you have been added to. You can remove yourself from any of them by temporally blocking the owner.
What Does It Mean to Be Added to a List on Twitter?
Twitter lists are user-created Twitter groups. These can be groups by topic, by common interest, by your profession, city, etc. Different Twitter users have different reasons why they add Twitter users to lists.
For example, you can be added to a list because someone wants to follow your tweets through third-party apps like Tweetdeck or Hootsuite, without actually following you. Some people may add you to a list because they want to remember to contact you. You can be part of a Twitter list because you post particularly great content and your friend doesn't want to miss any.
Like many other Twitter features, Twitter lists are incredibly flexible. There are no strict rules on how to use lists and if you never use them, you are unlikely to miss out.
No one knows whether Twitter uses the list information somewhere else. For example, would they assume that two users that appear in the same lists a lot are somehow similar? And would they suggest one of these users to the other's followers? That would definitely make a lot of sense, but there's no confirming they do that from Twitter.
How to Discover Interesting Twitter Lists to Subscribe to
This is another Twitter's unfortunate miss-out: Since they already have lists in place, you'd think there should a search option allowing to find interesting public list and thus discover more people to follow and interact with.
Yet, there's no easy way to find cool lists on Twitter. Instead, you can find which lists your friends created or were added to.
If there's a Twitter account you particularly enjoy, there's a very good chance he/she has a good collection of Twitter lists too:
Click their Twitter name to go to their profile page
There click … there dots next to the "Follow"/"Following" tab
Select "View lists"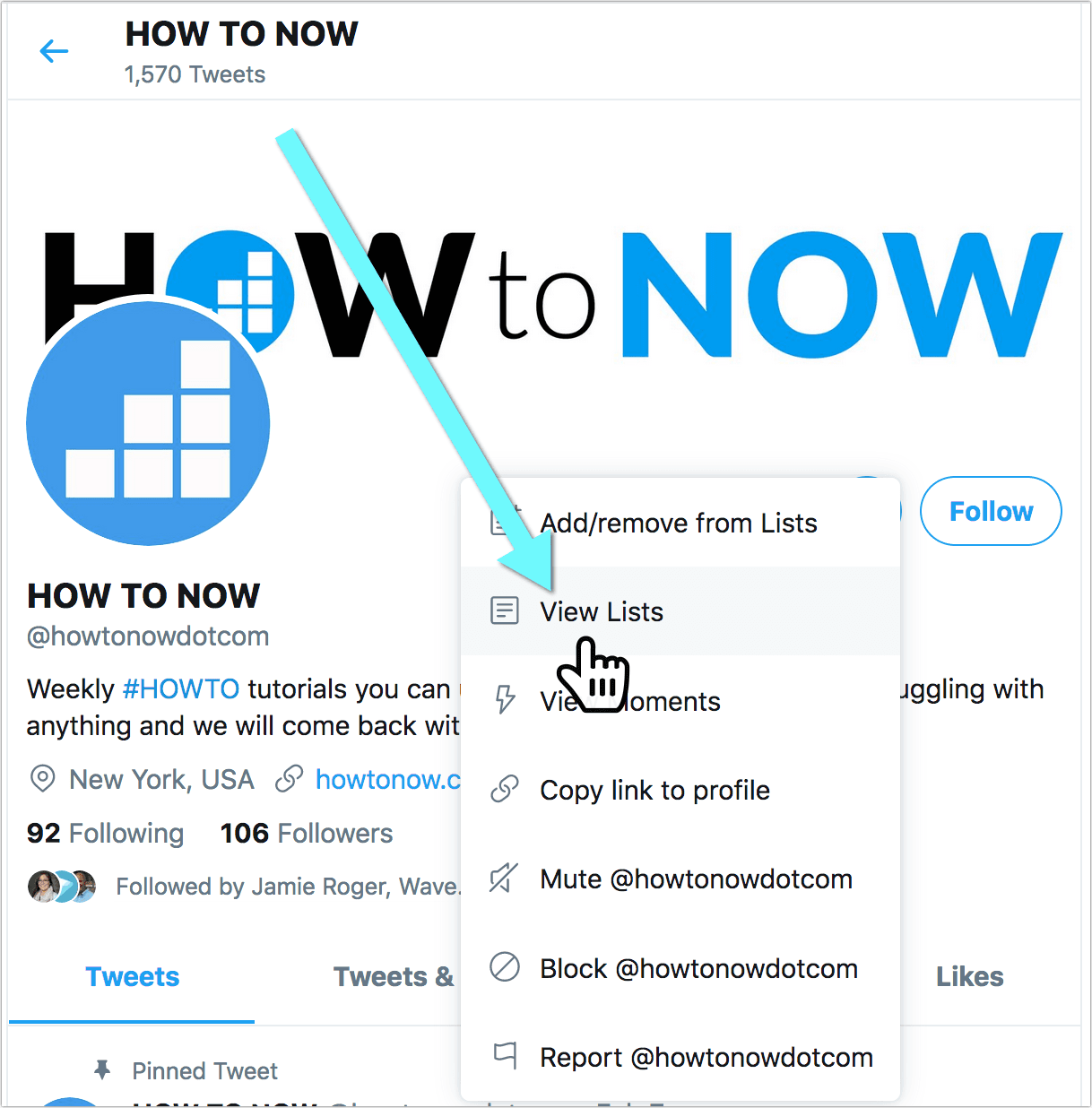 There you can see lists the user created ("owned") and lists the user was added ("Member")
Now you can consider subscribing to any of those lists.
Takeaways: How Do I Remove Myself from a Twitter List?
There's no built-in mechanism allowing you to remove yourself from any Twitter list
You can still remove yourself from a Twitter list by temporally blocking the list owner on Twitter
Once you block (and then optionally unblock) any user on Twitter, you will be permanently removed from all Twitter lists this user ever added to
"Permanently" means you won't be added back automatically to the lists once you unblock the user on Twitter
However once you unblock the user, he/she will be able to add you (back) to their Twitter lists any time
Overall, a Twitter list is a good way to follow anyone on Twitter without actually following them. If you create a private Twitter list, those people you add there might ever know.
Watch on Youtube: Get yourself removed from a Twitter list