If you are a semi-active user of any social media site, you are likely to contribute content there on a regular basis. But how easy is it to mass-delete that content? What if it backfires? How much control do we have over our own social media updates?
In other words, who owns your social media content and how easy is it to mass delete Tumblr posts, tweets, Facebook photos and updates, Yelp reviews, Quora answers, posts on Reddit, etc.?
Is it possible to quickly erase or hide your online identity in case anything goes wrong?
The answer to that is: Not quite, sadly. While all social media sites confirm that you are the only owner of the content you put on the web, hiding it from a public eye may take days of work and sometimes it's not doable at all.
All social media sites work slightly differently when it comes to giving you control over your updates. This chart will give you a better idea of all kinds of hurdles you may face when trying to mass-delete your social media posts.
How to Mass-Delete Social Media Content You Own:
So Who Owns Your Social Media Content?
As you can see from the chart above, in some cases your content may get life of its own once it on the web (e.g. Pinterest re-pins get out of your control completely). And in some cases, your content will remain on the site even after you delete your account (i.e. Reddit and Tumblr group blogs).
In other words, social media sites are not always willing to part ways with the content that they claim you own.
Dealing with Misleading Content Ownership TOS
While you are the only owner of the content you post to social media, all these platforms have almost unlimited (i.e. "non-exclusive, worldwide, royalty-free, transferable") freedom to use your content as they see fit, including deleting and distributing it without your permission.
For example, Tumblr allows itself a variety of actions they can perform to your content and boldly claim they have ultimate freedom when it comes to modifying it:
to use, host, store, cache, reproduce, publish, display (publicly or otherwise), perform (publicly or otherwise), distribute, transmit, modify, adapt (including, without limitation, in order to conform it to the requirements of any networks, devices, services, or media through which the Services are available), and create derivative works of, such Subscriber Content…
Furthermore, Yelp in their TOS says it as it is: There's not always a good way to remove content from the site once you upload it:
You alone are responsible for Your Content, and once posted to Yelp, it cannot always be withdrawn. You assume all risks associated with Your Content…
Social Media Content Ownership is Simple… in Theory
In other words, social media content ownership is not as straightforward as it's stated in the U.S. law which grants the copyright of all intellectual property to the creator by default, even if they don't have a copyright claim on file.
That being said, once you put your content out there, you somewhat lose control over it, in some form or another, and that's something to bear in mind. Sarah Kornblet Waldbuesser, JD, is an attorney for online entrepreneurs, thinks this is the reality we need to accept:
For those concerned about ownership of content on social media there are a few things to consider – and maybe the most important one is accepting that once things are out there on the Internet, you may very well loose control and you need to be okay with that.

The best way to control (and protect) your content is through
1) understanding the Terms of the social media platforms you are using (and being okay with those Terms)
2) protecting images with watermarks and copyright registration and
3) keeping an eye on it and policing for infringement.
The bottom line is that social media platforms are there to spread and share content, it's not often in their best interest to control spread and they usually don't unless they have to.

One way to protect your content is to use watermarks/logos on images so that its that much harder for someone else to take credit. Another is to register copyright for images and content so that if someone does use it without permission then you have the means to file a legal claim, of course, this means actually keeping an eye on your content which can be difficult to do.

There is no clear answer to this question, each person must weigh the pros and cons of putting their content on social media and make the decision of whether it is worth it!
By Joining a Platform You Are Giving Them Control
All of the above platforms are very similar in this respect. Bear in mind that most of these platforms allow other users to re-use your public content by re-blogging (Tumblr), re-pinning (Pinterest), re-sharing (Facebook and Quora), and retweeting (Twitter).
Nerushka Bowan, an emerging technology law specialist, legal technology innovator and international speaker, says that you license a social media platform to use your content once you join it:
When you post content on social media, you are bound by the terms of the platform you use. The terms vary between the different platforms, and it is hard to keep track of exactly what you can control on different sites. Most often, when you create and post content on any social media platform, you remain the owner of that content.

However, it does not mean that the platform does not gain strong rights over your content too. Most platforms will have a license to use any content that you post, in some instances including for advertising purposes, and in some instances, are allowed to retain that content even if you delete it off your personal page.

There is little that you can do when the platform you post on decides to re-use or retain your content, even though you are still the owner, because you have licensed them this usage. However, with developments in data privacy laws globally, more and more platforms are empowering users to be able to control the content on their pages and do assist in removing content after deletion. This is not always a straight forward exercise, and sometimes after you "delete" a post from your page, it may remain on the platforms servers for a period of time before it is able to be deleted.

If another user copies your posts or re-uses your content in an unauthorized manner, most sites allow you to make a complaint against the infringing user. If the platform decides that the user is indeed infringing your content, they will likely delete the copied content. In certain cases, some users are suspended or even banned, usually when they are repeat offenders. However, if someone copies your social media content and re-uses that content on a different platform or "offline" and "in the real world", the social media platform will not get involved.

Once the content leaves the social media platform, the platform will not take responsibility or assist. In these instances, you will need to rely on enforcing your intellectual property rights using traditional legal methods. One example are the ongoing cases against photography artist Richard Prince, who copies other users Instagram photos, makes minor amendments to them, and then places them on canvas and exhibits in art galleries.
But here's what you can do:
How to Mass Delete Tumblr Posts, Tweets, Facebook Photos, and More
How to Make Your Tweets Protected / Private
Login to your Twitter account
Click your profile picture to the right
Select "Settings and privacy"
Click "Privacy and Settings" and enter your password
Check the box next to "Protect your Tweets" and save changes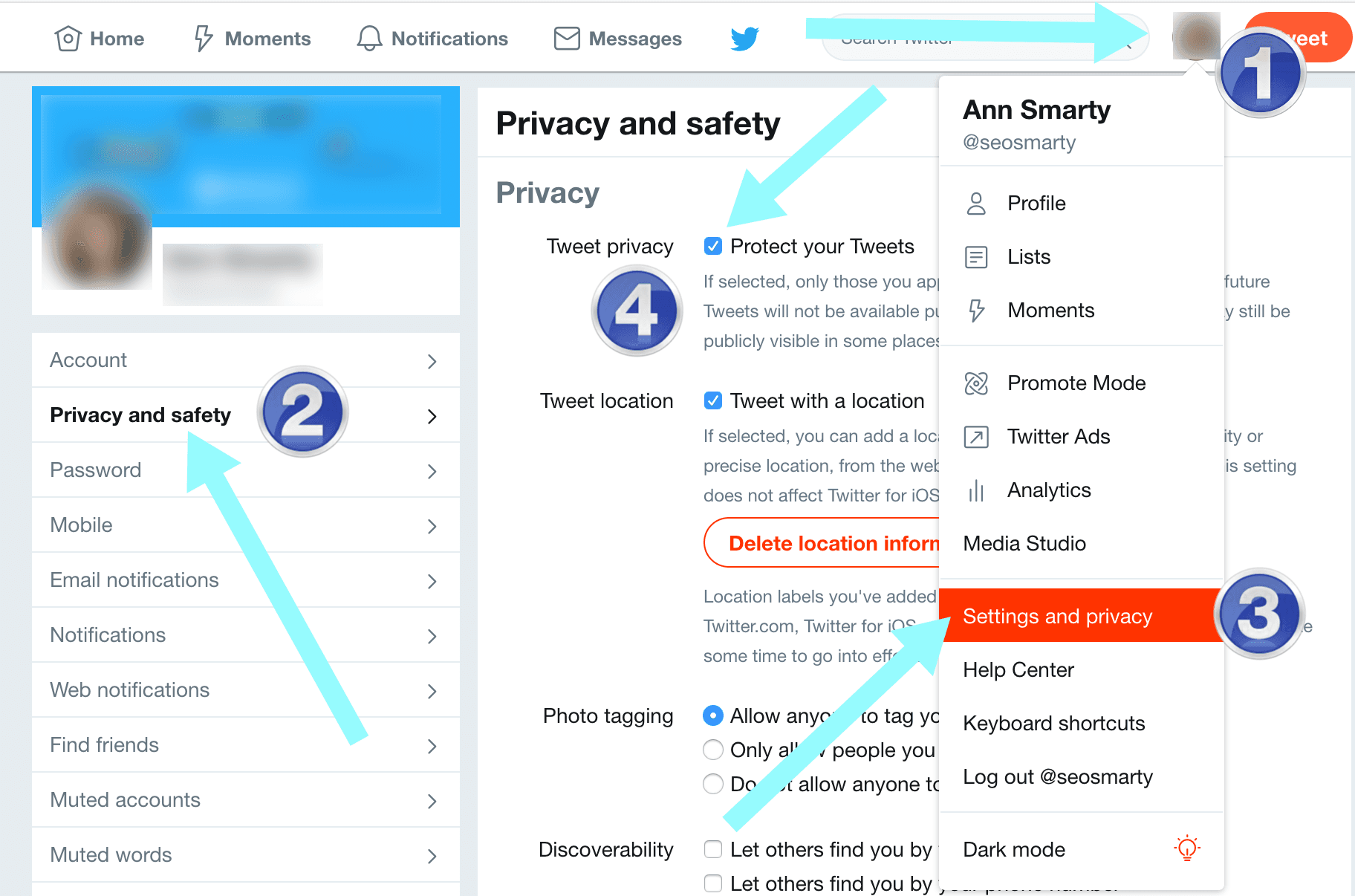 From now on, only those you approve will receive your old and new Tweets. Your current Twitter friends will be able to see your tweets until you block them.
How to Hide Your Old Content on Facebook
Log into your Facebook account
Click this link and choose "Privacy" in the left-hand panel
There click "Limit Past Posts"
Now click the button "Limit Past Posts" to confirm
This will override your past privacy selections and limit all your past content to your friends only. If there are tagged people in your old content, they will still see those updates, even if they are not your friends.

You can also edit or delete your posts, one by one, using your Facebook Activity Log.
How to Mass-Delete Your Tumble Posts
Login to your Tumblr account using any desktop browser and click profile icon to the top-right
Click "Posts" and there click "Mass Post Editor" to the right
There you can click on posts in a grid and click "Delete" button to delete all selected posts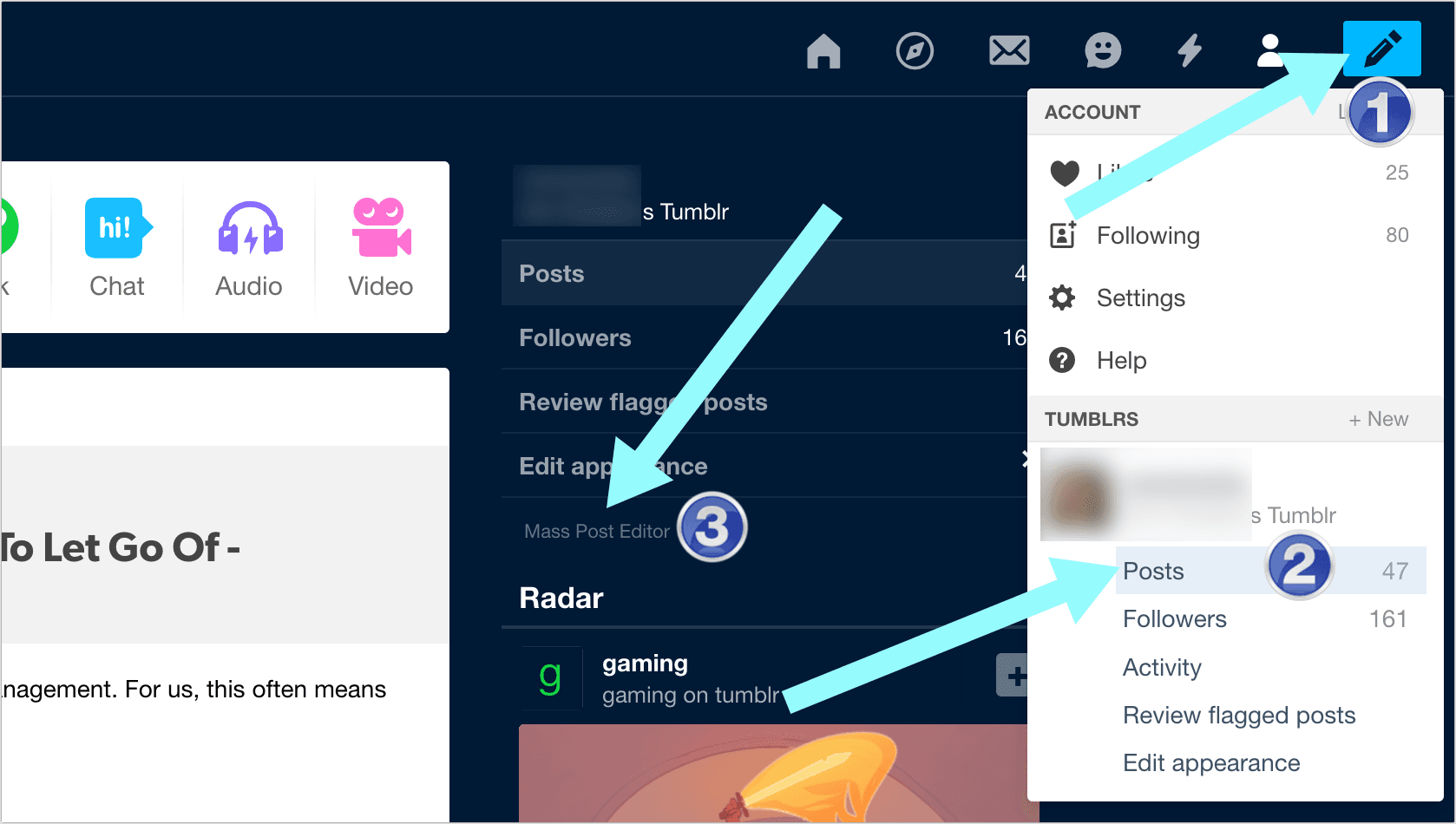 How to Mass-Delete Youtube Comments and Videos
Go to the YouTube Advanced Account Settings
Click "Delete channel".
Provide your Google account password associated with this account
Click "I want to hide my channel" to expand the section.
Double-check everything and click the "Hide my channel" button.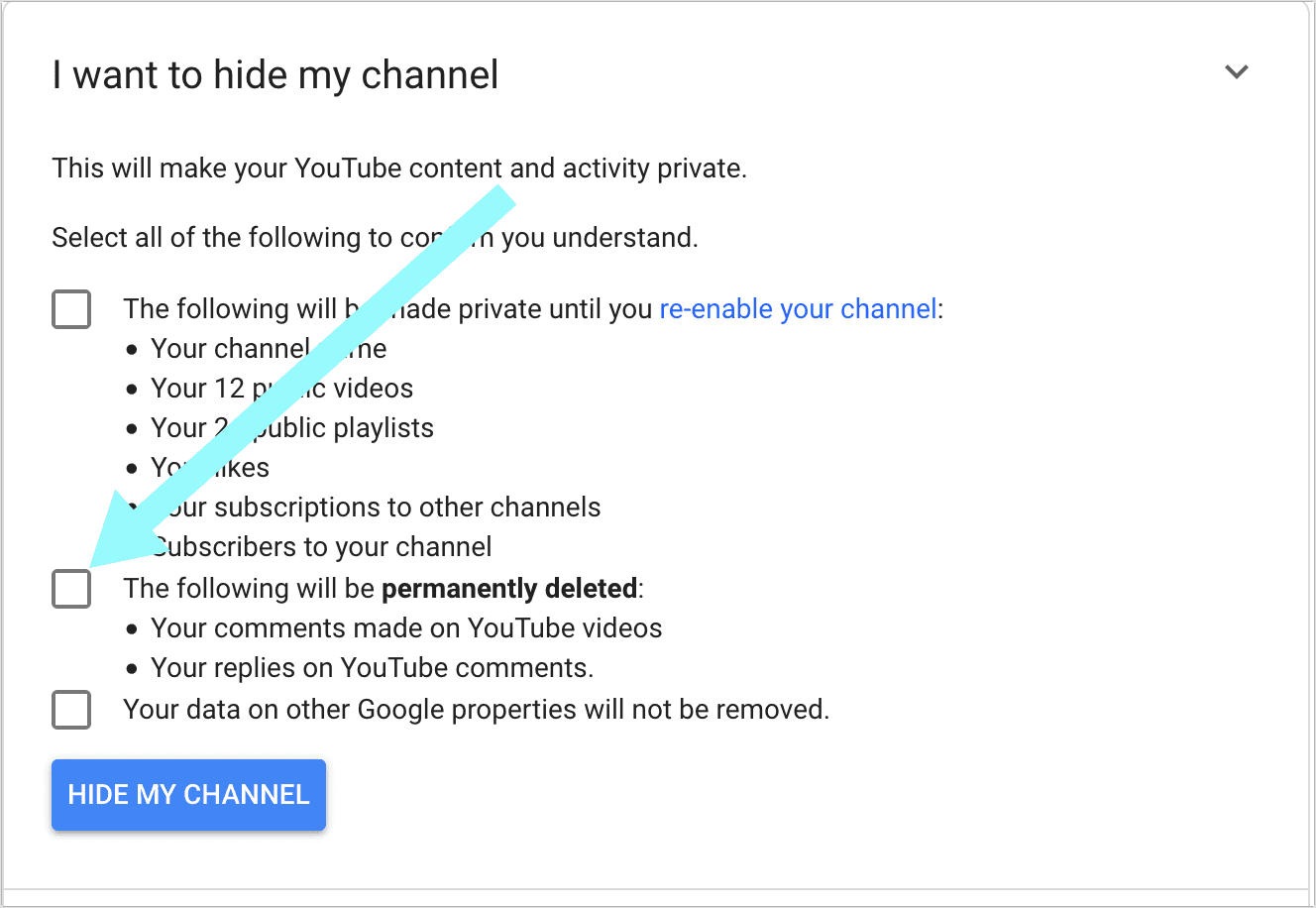 This will delete all your comments for good.
How to Mass-Hide Youtube Videos
You can also mass-hide all your videos using Youtube "Studio". There:
Click "Videos" in the left-hand panel
Check the top checkbox to mass-select all Youtube videos
Click "Edit" and there select "Visibility"
Select "Private" to mass-hide your Youtube videos
Expert Contribution: The Future Is Brighter
Justin Hughes, the William H. Hannon Professor of Law at Loyola Law School, LA thinks this lack of control may change in the near future:
First, it's helpful to understand that all social media have an incentive to retain everything that their users post because all this stuff forms a vast database of human experience – a database that can be valuable for 'big data,' including artificial intelligence algorithms using that data to improve performance, whether recognizing images in photos or understanding emotions conveyed in text messages. So, a company might say, 'it's valuable and why should I delete it all as long as you aren't identified?'

But I think all these practices may change if California's new privacy law comes into effect as planned on January 1, 2020. The new California Consumer Privacy Act of 2018says that in 2020 "A consumer shall have the right to request that a business delete any personal information about the consumer which the business has collected from the consumer." And "collects" means "buying, renting, gathering, obtaining, receiving, or accessing any personal information pertaining to a consumer by any means."

So all the stuff you input and upload to Reddit, Facebook, LinkedIn, Pinterest, Instagram, etc – that all becomes personal data that the consumer can request be deleted in its entirety from the company's systems.
Take Time to Clean up Your Digital Clutter
Hari Ravichandran, founder of Aura, recommends cleaning up your digital clutter on a regular basis. This includes:
Address your privacy settings (especially for those accounts that you set up years ago)
Update your passwords
Clean up old and unused devices
Tune up your browsers, etc.
Conclusion: Better Informed Than Sorry
David Harley, anti-malware researcher and author, urges everyone using social media web to read their terms of service and do some research:
The only rational advice I can give is this. Don't publish anything on social media (or the Internet in general) if you wouldn't be comfortable with its being spread far and wide. Obviously, not everything that is published is shared or used inappropriately, but it makes sense to assume that there's an uncomfortably high risk of such exposure and self-censor accordingly.
What use does a social media platform make use of the data harvested from its subscribers (and indeed from individuals are not subscribers)? Clearly, you should pay close attention to the service's terms and conditions, policies, and any other relevant documentation, before agreeing to share information that might be (and usually is) shared with other parties. And check every time such documentation is updated for unacceptable changes.
If the platform's policies (etc.) seem acceptable, can you trust it to keep to those policies? In general, the answer is no. There are several clear examples where a service has either made dishonest claims about how rigorously it preserves its subscribers' privacy, chosen not to mention some of the uses that are made by the service or its partners, or failed to observe its own policies through incompetence, poor security practices, or failure to communicate effectively with staff, customers or subscribers. I discriminate between customers and subscribers since so many are essentially selling their non-paying subscribers' data to companies who are their real customers.
All that aside, can you trust your friends/contacts not to misuse stuff you publish? If the answer is yes, can you be sure they're technically savvy enough not to accidentally expose your data inappropriately, for instance to people you don't know? And can you trust friends of friends/secondary contacts to take the same care that you expect from your friends?
If you want me to include any other platform to this guide, please post in the comments!